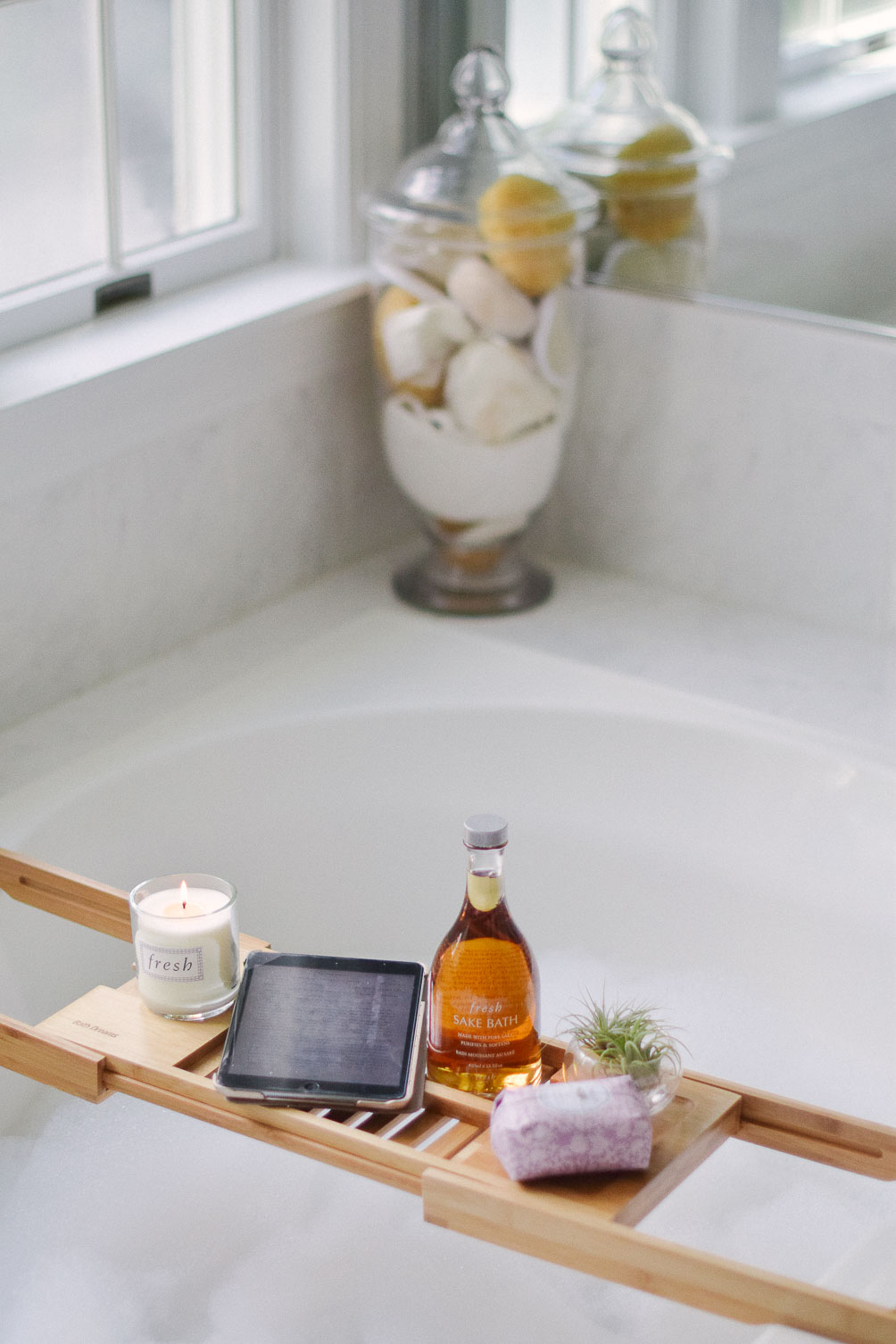 Now, being on the other side of pregnancy, I'm all the more convinced that "glow" everyone talks about is a myth. My nails got brittle, hair got stringy, and skin felt constantly dry. Apparently that's the 'other thing' that can happen if you don't get all the lovely benefits of a supposed radiance. So all the skincare routine products I'd been using before are no longer cutting it. With all the internal changes a body goes through in that time, it's no surprise to expect a change in what we use externally.
While I've tried out all sorts of brands with a pick-and-choose approach, the majority of my skincare is by Fresh cosmetics. Everything from ingredients to scents, packaging to effectiveness has got me hooked. So, since having baby Colton, I'm sticking with my favorite brand but switching up products. I've found their Rose Deep Hydration line to be exactly what my dry skin is craving. On top of that, a few indulgent items for relaxation has me on cloud nine.
Today I wanted to give you a look at what I'm dubbing the best skincare routine for a new mom (plus an assortment of things to help you enjoy some moments to yourself). Scroll down for the full scoop.
start with a soak + mask: draw a bath and drizzle in a bit of Sake oil (after all, you've been off alcohol for ten months so why not throw it in the tub). light a candle, swipe on a black tea perfecting mask, and let your baby cry cares melt away.
lather a layer of full body moisture: following the bath, while you're still a bit damp, apply a hydrating body lotion. this will lock in the moisture on your skin and jut maybe give that 'glow' after all.
tone it up: remove any residue or remaining dirt from your face with a rose toner (from personal experience, the floating rose petals make me feel like the Queen of Sheba every time I use it).
eyes + face: keep the hydration train chugging along with luxurious eye cream and rich face moisturizer. a tip on the eye cream: since skin in that area is so thin and prone to damage, use the fourth finger of your non-dominant hand to apply (it's the weakest and won't hurt any eye tissue).
lips for days: let's not forget the puckers–after all, kissing those baby cheeks all day means we better have soft lips on demand. use a lip treatment to complete the skincare routine. and, if you're headed out for the day (as opposed to taking a much-needed nap), smooth on an enriching lip balm with a rosy tint.
Thank you to Fresh for partnering with us on this post.