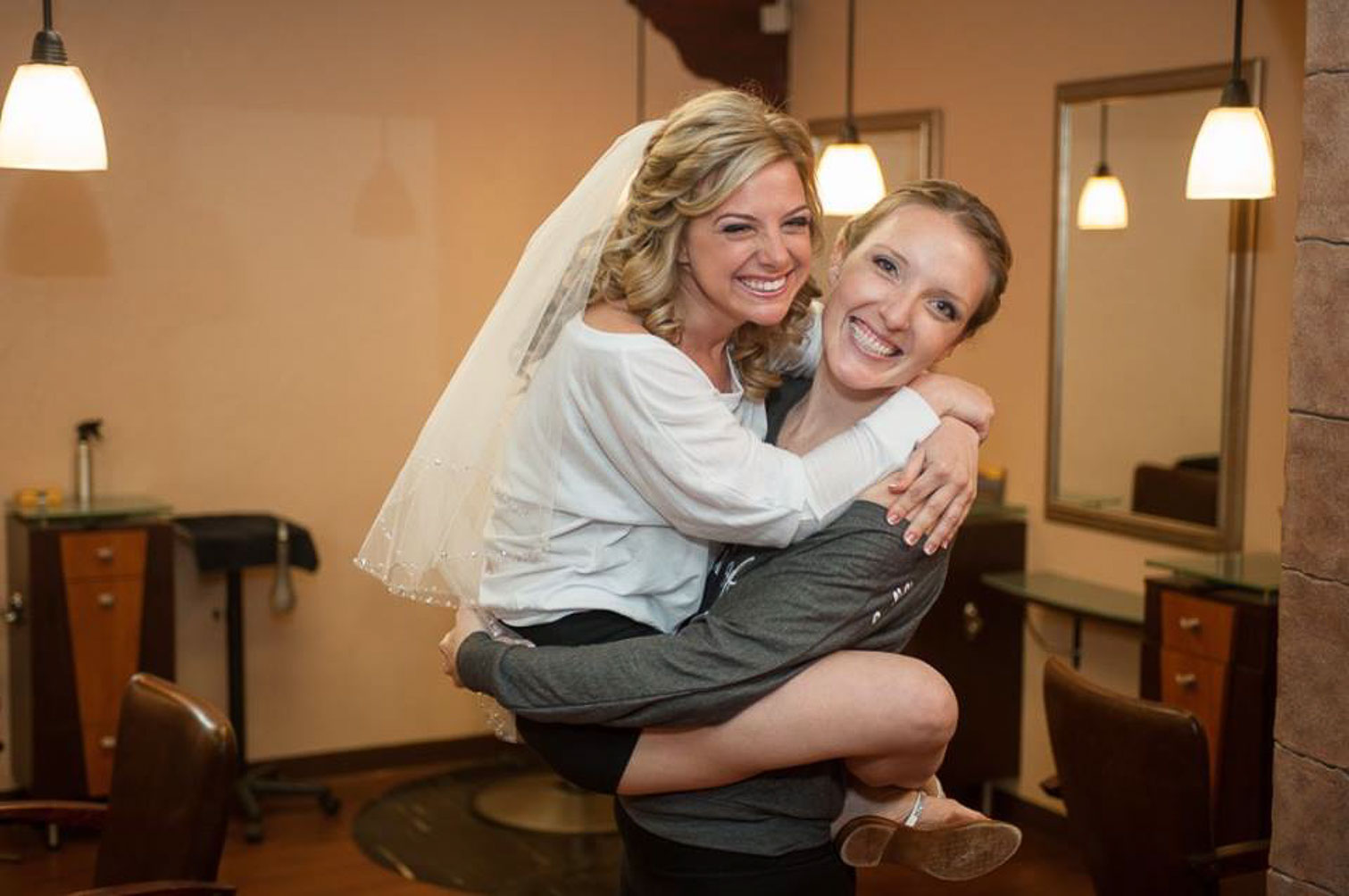 The picture above perfectly describes my relationship with Ashley (from when we were getting ready for her wedding in 2015). I've known her for sixteen years now and she's one of the dearest people in my life. Since I have two sisters of my own, it's even more incredible that she's swooped in perfectly to feel like that third one. We laugh constantly, have our own little 'world of weirdness' together, and sing more carpool karaoke than may be healthy. So it's been truly amazing to witness the growth of one another over (almost) two decades. I learn from her daily. And one of the ways in which that's shown most prominent is with organization. As an elementary school teacher, this girl is the master of scheduling. Year after year she balances a classroom of little ones while remaining sane and holding onto a positive attitude. So I asked her to share some expert organization tips on how she accomplishes that feat. Although she speaks from a specialized background, her insight is invaluable for every line of work or day of life.
1. When it's time to get organized for a new school year, where do you start?
The first step to a successful school year is a great teacher planner. I always start by choosing the planner I think will work best for the specific grade I am teaching. I look at things like space for lesson plans, grade book options, and an area for weekly notes. I find that if I really organize my planner, I begin to feel ready and prepared for a new year. I highly suggest Erin Condren teacher planners! The website allows you to personalize your planner and add exactly what you'd like to make it perfect for your needs. Not to mention, her styles and designs are super cute! It's always nice to have a little splash of color or sparkle in your daily plans 🙂
I also spend a great deal of time decorating my classroom. Some may say this is a lot of extra work. The way I look at it, I'm going to spend more time in this room than my own home! It's so important that my classroom feel comfortable and inviting. I add little "homey" touches like throw pillows and regular home furniture. I use lamps all around the room instead of overhead lights to create a more comfortable atmosphere. I try to create lots of reading corners and cubbies for the students and I incorporate rugs throughout the classroom. This sets a great tone for the beginning of the year. It creates a cozy place for me to get work done, and also provides and warm, inviting, and calm environment for my students as they begin the year.
2. How do you frame your week to not get overwhelmed?
It's all about planning ahead! I do my best to stay a week ahead in my plans so I can spend the prior week prepping and the work doesn't pile up. It doesn't always work out perfectly, but being sure to plan ahead certainly helps when it comes to making copies, presentations, or prepping classroom activities. I also make it a goal to grade daily papers as they come in. I try not to let homework or daily class work accumulate, because it will quickly become a massive pile of grading for the weekend.
As teachers, it's important to let yourself have time off. It's completely possible to spend 24 hours a day, 7 days a week prepping and grading, but that's not realistic and ultimately will not be the best for your students. You need to take care of them, but also leave time to take care of yourself so you can be the best for them. This is why another important aspect of my week is exercise and healthy eating. Time at the gym allows me to relax and unwind from the busy day, while healthy eating provides my body with the nutrition and energy it needs to have a successful week at school.
3. What products do you use to manage your schedule?
Again, my planner holds the key to my week! I write all my parent meetings, school commitments, tutoring sessions, and reminders in my planner. I check it each morning when I arrive at school and each afternoon before I leave. When I receive any e-mails or important dates, they go right into my teacher planner. If I didn't make this habit, the countless number of meetings, events, and reminders would absolutely get lost! I find that I can't commit to the smallest of things before consulting my planner. This is why a solid start to a new school year truly does begin with a well-organized planner.
4. How do you set your short-term and long-term priorities?
It completely depends on the class and the students needs. It's important for kids to grasp basic concepts before moving onto more complex ideas. True understanding begins with foundations, so I always need to return to the fundamentals of a concept if the students are struggling before moving onto more complex concepts. This frames a lot of my planning and priorities. It may mean that I need to restructure my long-term planning to be sure my students are comprehending ideas being taught in the present. It's always good to have short and long term goals, but paying attention to your students and their needs should always be the top priority, even if that means adjusting your plans!
5. If you fall behind, what helps you get back on track?
I tend to fall into the category of perfectionist when it comes to planning, so it's hard for me when I fall behind and need to re-adjust my schedule. If this happens, I have to take a minute, breathe, and realize that it's okay and that I'm probably behind because I was doing the necessary things to meet the needs of my students. After that, I take a look at my long-term and short-term planning and see where I can add or omit items to fit everything into the time I have. I often have to re-arrange schedules or spend longer on a certain subject than I normally would. It's all about balance and flexibility–being willing to change your schedule (even daily!) to meet the needs of the kids in your class. This can be a challenge, but it's such a necessary skill to learn and practice as an educator, as each day can be unpredictable and each class holds a new room of students with ever-changing needs!
6. Are there any additional resources for organization that you can suggest?
I'm not sure this counts as a "resource", but always remember to HAVE FUN when organizing! It can make things so much less stressful when you color-code your subject areas, or add some fun stickers for birthdays or important events. Just like we love dressing clothes that express our personality, you can stay organized with a little flare as well! Get a planner with encouraging quotes at the top of each page, or spend the extra money on those great felt pens you love. I promise that a fun and organized classroom will result in a much more pleasant and stress-free year. Of course, there will be hard days and lots of unexpected challenges, but start the year strong and add a little of your personal style to your classroom and your planner! It will kick the year off with positivity and set you up for success!
shop this expert organization tips post