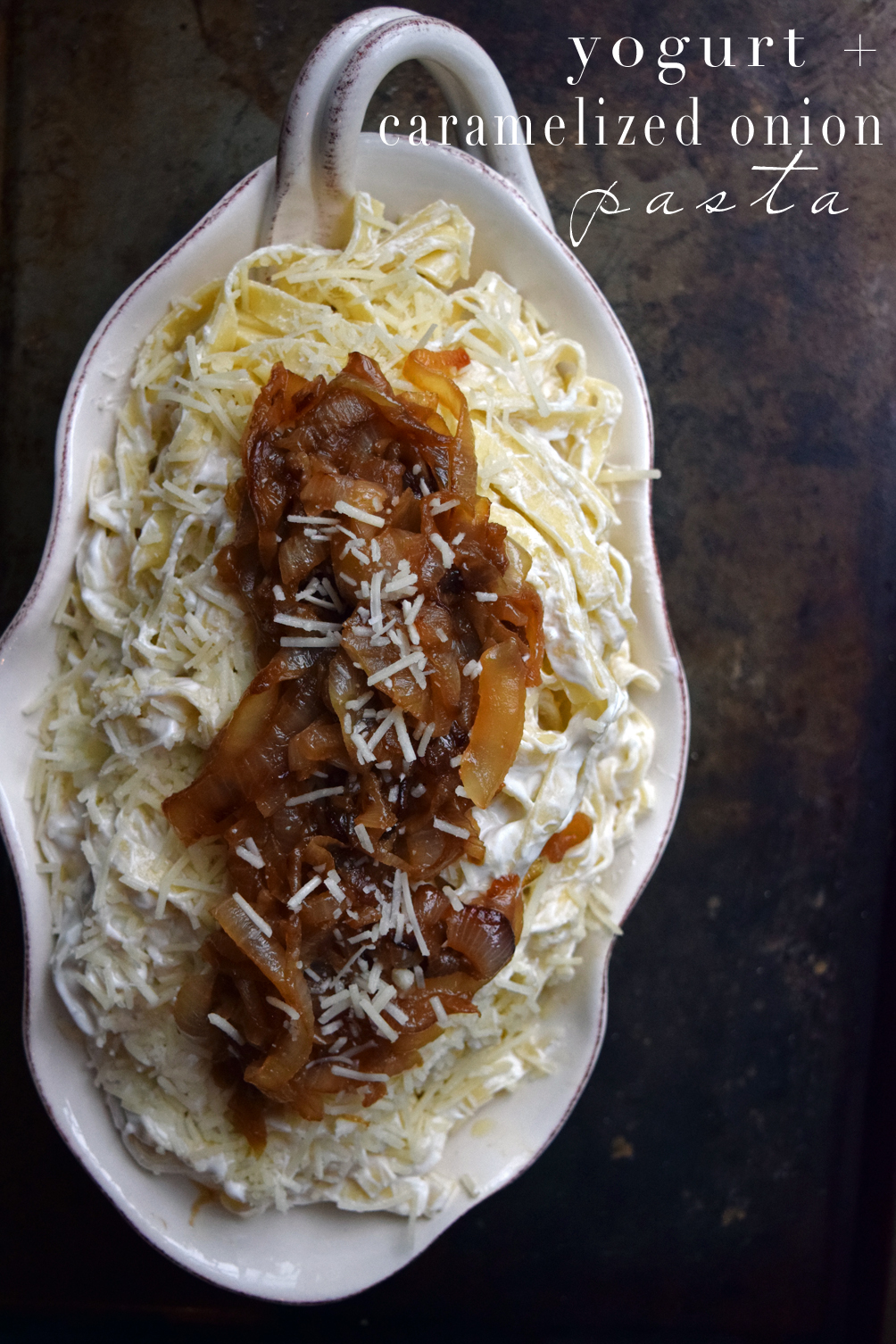 Comfort food, meet your slightly healthier alter ego: the yogurt sauce. For those skeptics out there (and E was one of them), I promise this tastes remarkably close to a full-fat dish. Using a Greek options gets in all the creamy goodness while leaving off a few extra calories. Although, when you go as cheese happy as us, it might have evened out. Regardless, this simple recipe for yogurt and caramelized onion pasta easily takes center stage for any winter table. And if you want to get a little fancier on presentation, plate individually then garnish with fresh herbs.
---
INGREDIENTS
5 tbsp. extra-virgin olive oil
6 cups coarsely chopped or sliced onions
Sea salt
1 lb. tagliatelle or other fresh pasta
2 cups thick, strained Greek-style yogurt
1 cup coarsely grated kefalotyri or Pecorino Romano cheese
DIRECTIONS
Heat the olive oil in a large skillet over medium-high heat and add the onions. Decrease the heat to medium-low and cook, stirring frequently and seasoning with salt to taste as you go, until the onions are soft and golden brown, 20 to 30 minutes.
Meanwhile, fill a large pot with water and bring to a boil. As the water heats, add enough salt so that you can taste it. Add the pasta and cook until soft, just past al dente.
Drain the pasta, reserving 1⁄2 cup of the pasta water.
Combine the yogurt with 1⁄4 cup cooking water and mix well. Add more of the reserved pasta water as needed to get the sauce to your desired thickness.
Toss the pasta with the yogurt mixture.
Serve the pasta immediately, sprinkled generously with cheese and topped with the caramelized onions and their juices.