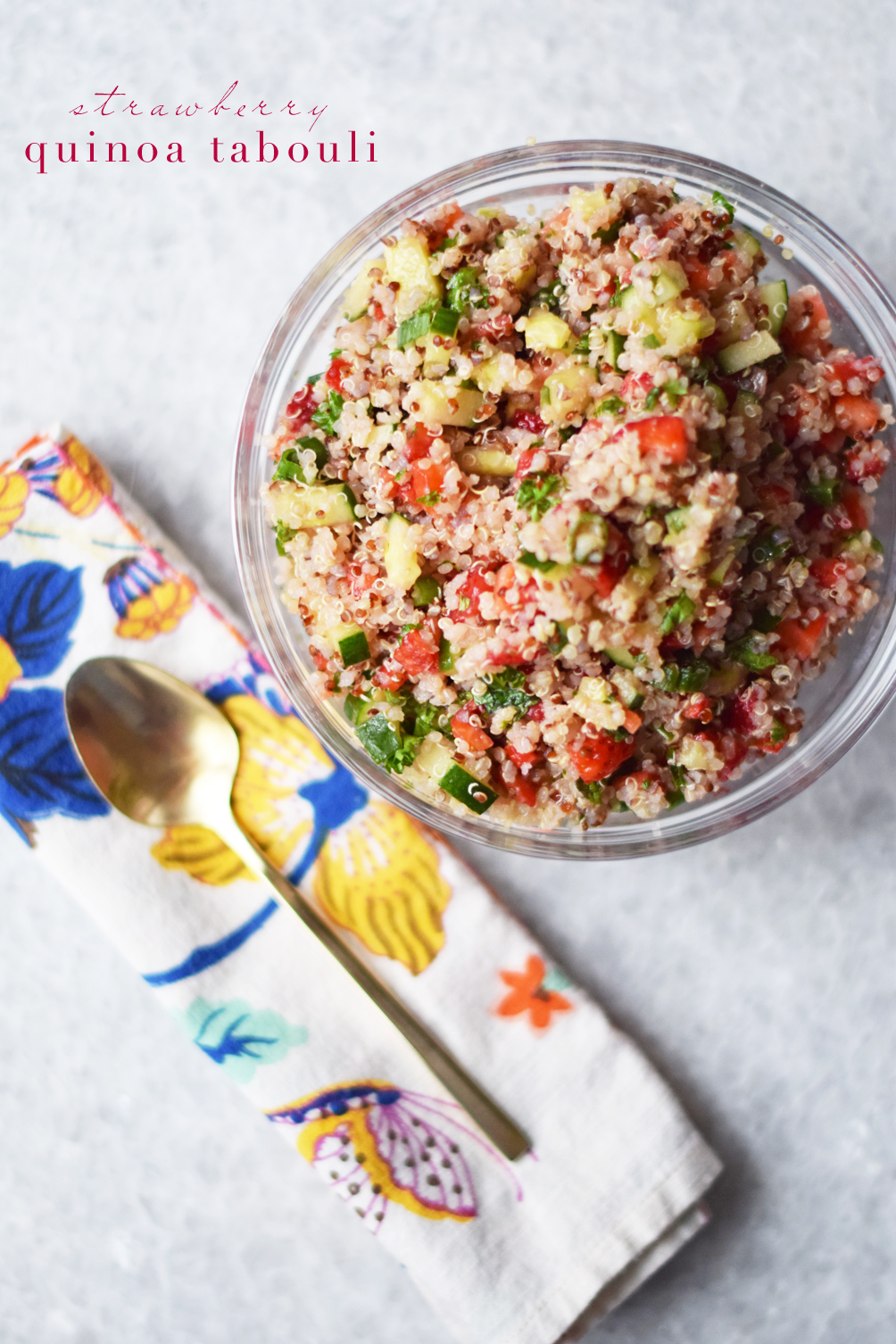 No matter what picnic, barbecue, or potluck I attend during the summer I've found my signature dish. This strawberry quinoa tabouli is equal parts hearty and refreshing. The acidic lemon paired with sweet strawberry makes for an ideal flavor compromise. It's packed with nutrients and tons of farm fresh ingredients. I served alongside grilled chicken breast to add that protein element. See full details below.
---
Ingredients
1 1/2 c cooked quinoa, cold
1 c punnet strawberries, washed, hulled + finely diced
2 – 3 Lebanese cucumbers (or 1 medium telegraph), finely diced
a handful chives or 3 spring onions, finely sliced
a big handful mint leaves, finely chopped
a big handful flat leaf parsley, finely chopped
1/4 c extra virgin olive oil
1 tbsp red wine vinegar
finely grated zest + juice of 1 lemon
1 tsp freshly ground black pepper
1 clove garlic
1/2 – 3/4 tsp fine sea salt
Directions
Combine cold cooked quinoa, strawberries, cucumber, chives/spring onions, mint, parsley, olive oil, vinegar, lemon zest + juice and black pepper in a large bowl
Finely chop the garlic, sprinkle over 1/2 teaspoon salt, then using the side of your knife blade, mash it to form a paste
Add to the bowl and give everything a good stir to evenly combine
Taste and add the remaining 1/4 tsp salt if needed
Serve chilled or at room temperature.