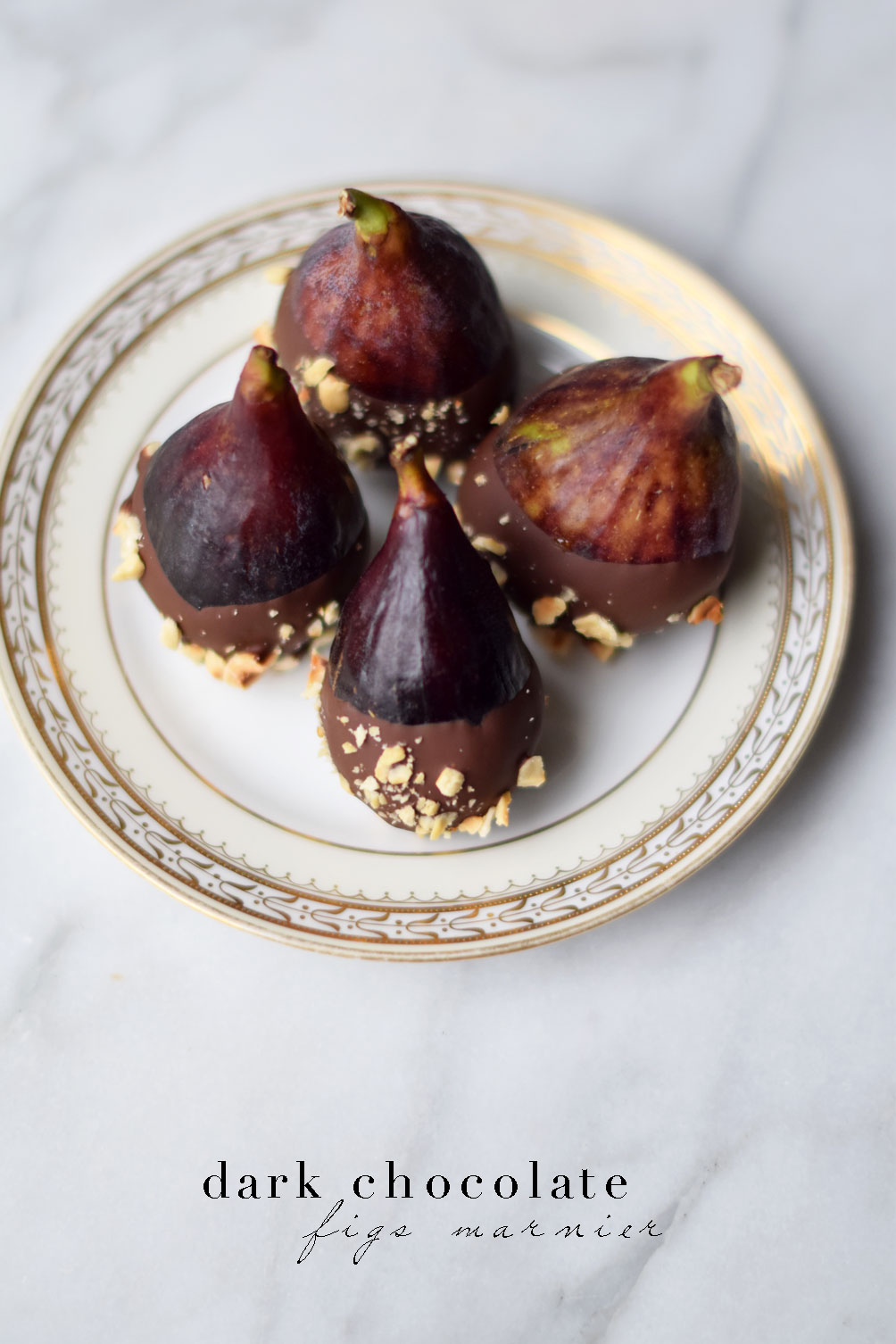 This recipe can be summed up in three words: simple, decadent, versatile. I've been on the hunt for some easy dessert option to keep up my sleeve for summer entertaining. My criteria was that it be fuss-free, a touch sophisticated, and somehow include chocolate. So these dark chocolate figs marnier perfectly fit that bill. Whether eaten alone, paired with a cheese course, or used to top off an ice cream sundae, their taste combinations are endless. The fresh fruit isn't overly indulgent but it's sweet enough to satisfy any craving. See full recipe details below.
---
Ingredients
12-15 Brown Turkey Figs rinsed
1 cup Grand Marnier (optional)
1 cup Dark Chocolate (Dairy Free can be found at Trader Joes)
Toppings: Raw unsweetened coconut, sea salt, zest from 1 orange and chopped pecans for crunch.
Directions
Pour your Grand Marnier into a bowl.
Cut a small slit in the bottom side of each fig and sit your them upright (stem side up) in the bowl of Grand Marnier. They should be about half submerged in liqueur.
Allow to infuse for 1-2 hours.
Once infused, remove figs from dish and pat dry on a paper towel.
Slice into halves (I left mine whole for presentation).
Line a baking sheet with parchment paper and set aside.
Heat your dark chocolate in a double boiler or in 30 second intervals in the microwave, until fully melted.
Dip your fig halves in dark chocolate and top each with toppings. Raw coconut, sea salt, orange zest or chopped pecans (I used hazelnuts here instead).
Set aside to cool and allow the chocolate to harden, about 30 minutes.
You can make the figs in advance and place them in the fridge in a sealed container for a few days if you choose, however they turned out best for me when made the night before.
Serve with your holiday cheese course, favorite red wine, or use them to top ice-cream.