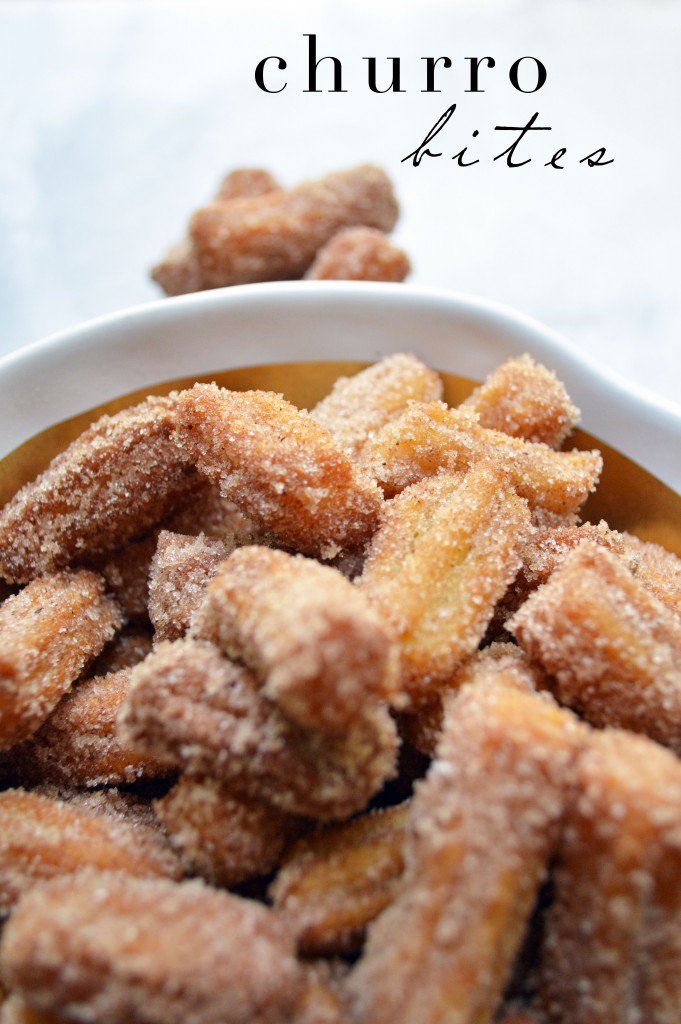 Father's Day in our family has to be a delicate balance of healthy and borderline-terrible-for-you. My Dad is always very careful about his eating (but he loves to indulge now and again). So we can't overdo the sweets and make it obvious. But if we left them out altogether, he'd definitely hunt for an indulgent finish. I think this year I found the perfect marriage: churro bites. This recipe is almost too simple to believe and makes a ridiculously good treat. If you can swing the timing, they are most delicious when served warm.
Need more inspiration? See my Father's Day treat from last year.
Ingredients
1/2 cup milk
1/2 cup water
3 Tbsp butter, diced
2 tsp granulated sugar
1/4 tsp + 1/8 tsp salt
1/2 tsp vanilla extract
1 cup all-purpose flour
vegetable oil, for frying
Cinnamon Sugar Coating
1/2 cup granulated sugar
2 tsp ground cinnamon
Directions
1. Heat 1 1/2 inches of oil in a heavy bottom pot over medium heat to 360 degrees (Keep a close eye on the temp while you prepare the churro dough, you don't want it to become too hot, so you may have to reduce the temp or remove the pot from the burner for a moment).
2. In a medium saucepan combine milk, water, butter, 2 tsp sugar, and salt and bring mixture just to a boil.
3. Once it reaches a boil, remove from heat and immediately stir in vanilla and flour. Stir mixture with a silicone spatula while running dough along bottom of saucepan to smooth any lumps and stir until mixture comes together and is smooth.
4. Transfer to a piping bag fitted with a large open star tip and carefully pipe about 1 to 1 1/2 inches of dough out over oil and using clean scissors, cut dough at top to allow dough to drop into oil (to make it faster I'd pipe about 2 – 3 inches out at time and would cut 2 at once then pipe more and repeat). Work in fairly small batches being careful not to overcrowd (which will reduce oil temperature too much. You want the oil to remain close to 350). Allow churros to fry until golden brown (stirring occasionally near the beginning of frying will help keep them from sticking to each other) and remove with a wire skimmer and drain on a plate or baking sheet lined with several layers of paper towels.
5. In a small mixing bowl, whisk together 1/2 cup granulated sugar and cinnamon. Toss warm, drained churros into sugar mixture to evenly coat.