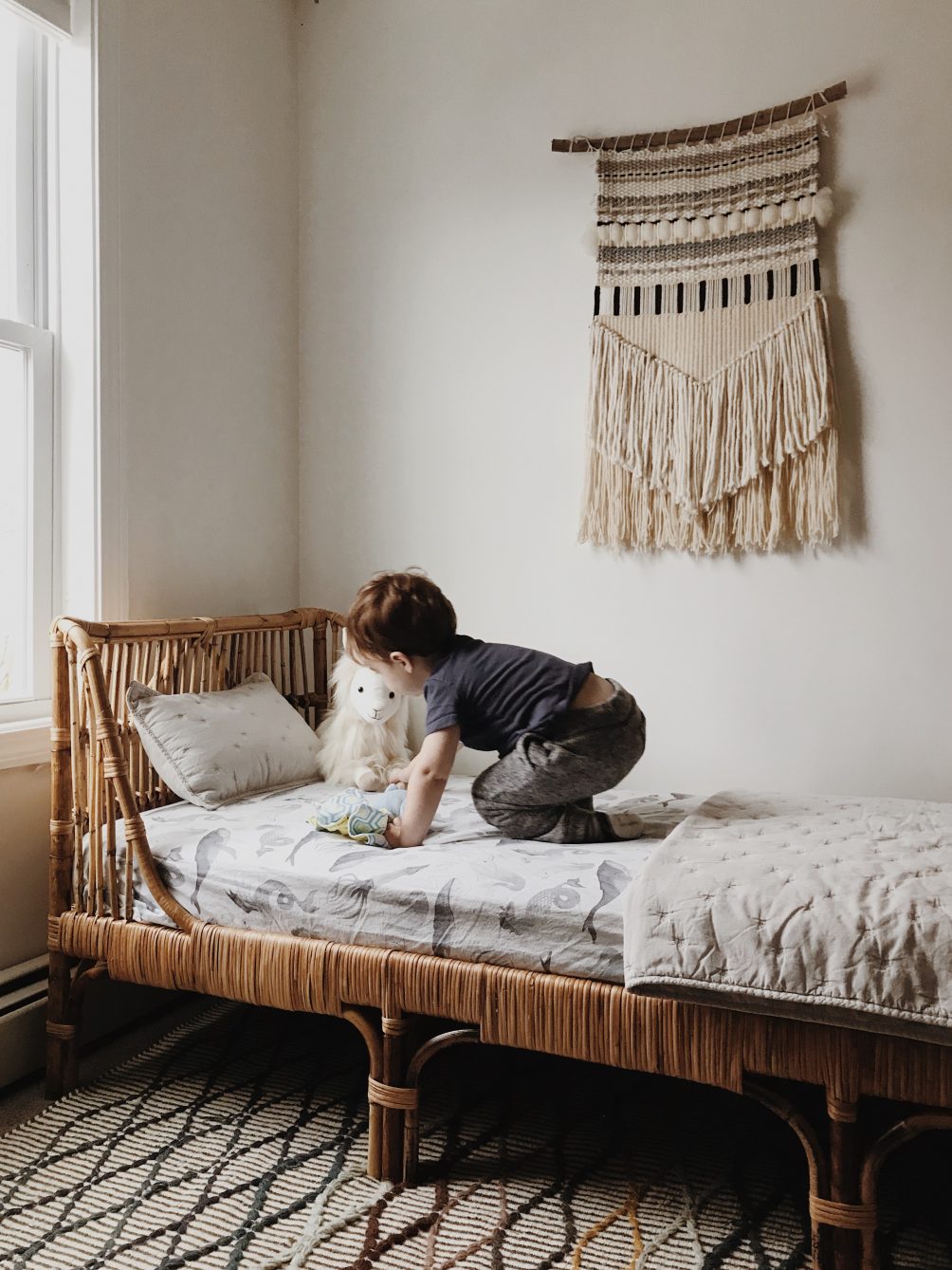 Let me just put it all out there: Colton went through his big boy bed transition way too early. And if I could have prevented it from happening at 17 months, I would have. But unfortunately our little man had other plans. He's never been a super adventurous climber; however, he somehow managed to Houdini his was out of any crib or pack-and-play situation. So for safety's sake, we made the switch.
It took longer than I imagine it would for an older kid. He was in the midst of some age-related separation anxiety and that didn't help. But eventually we ditched the crib toddler bed and went straight to this gorgeous 'Sol' daybed from Article. It was the final successful step in getting him back to sound sleep. Here are a few tips I wanted to share about how we accomplished the big boy bed transition.
one: use an 'OK to Wake' clock — I was skeptical about this option because of Colton's age. I figured he'd be too young to understand. But he really took to the concept of our Hatch Baby Rest light changing from orange (sleep) to blue (wake time). it also gave us something concrete to point too. if it wasn't time to get up from nap or wake in morning, we'd show him the light and explain the light needed to be blue. now he waits for us to change the light to know when mama and dada will get him.
two: gradually disengage — as I mentioned above, our transition took a long time. one of the ways we had to start out was to be in the room with Colton while he fell asleep. it wasn't my ideal scenario but I knew he needed that comfort. the sudden independence of a no-walls crib plus full access to the room could be overwhelming. we would gradually move closer to the door then sit outside the room. if he started to get out of bed, we'd vocally reassure him of our presence. eventually we could walk away without him noticing.
three: involve the child in the process — when this Article daybed was on the way, we talked it up for a week. we showed Colton his new sheets as soon as they came in the mail and kept touting the fact that he'd be in a 'big boy bed.' the moment this daybed arrived Colton exclaimed , 'New bed! New bed!' it was clear that he felt special as well as excited for the change. engaging him along the way built up anticipation and kept it from being too scary of a switch.
four: celebrate little victories — even now, a couple of months into the process, we celebrate Colton's little victories. we tell him how proud we are of him staying in bed all night. we chat about all the stuffed animals he gets to sleep with. we continue to reinforce the idea that he's growing, independent, and a big boy now. my mom heart gets a little sad about him maturing so fast, but it's also a blessing to see his pride when we show our support of him.
Finally, we chose this Article daybed for a few reasons. I wasn't eager to buy a twin bed knowing down the road we'd replace it for a larger one. Instead, I wanted a versatile piece that could later be used as a beautiful statement piece in another room. It's also large enough for Colton to grow into, unlike small toddler beds. And lastly, it's gorgeous. I can't deny that was a major plus in my book! The quality is unmatched so I know it'll last our family years to come.
Do you have any other big boy bed transition tricks that worked for you?
Thank you to Article for partnering with us on this post.