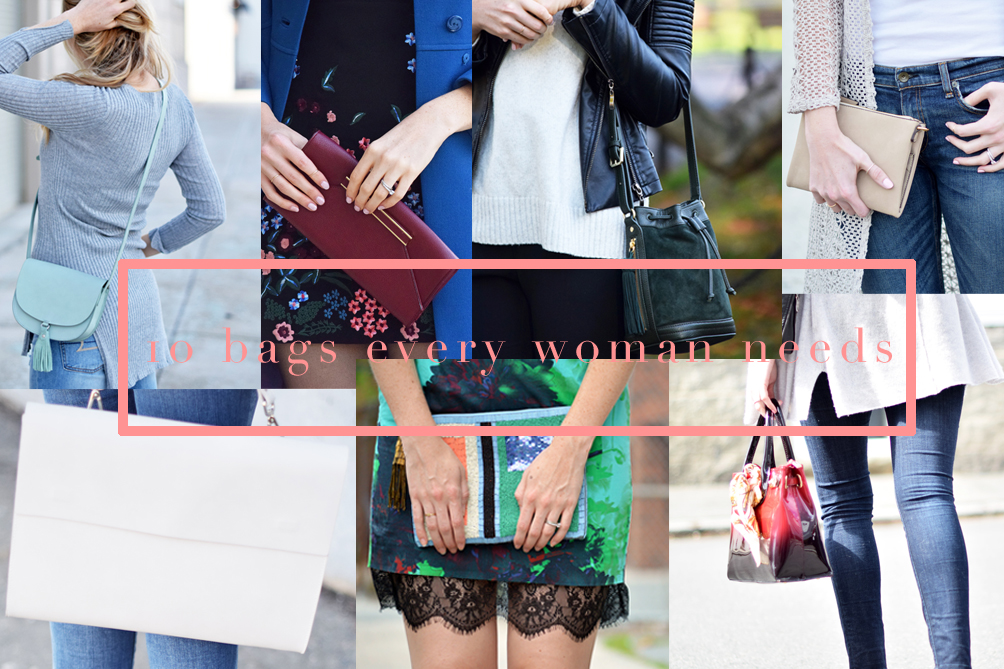 I have a rolling inventory of purses. To be honest, I have way more than I use on any sort of regular basis. But what I've noticed is that I'm consistently reaching for the same options time and again. Certain shapes lend themselves to countless outfit combinations. So I pulled together my list of the 10 bags every woman needs. These staples cover any occasion and make sure I'm never left without a solid accessory selection.
playful cross-body: any time I'm jumping out to a quick mani/pedi or meeting a friend for coffee, I gravitate toward a no-fuss bag with some spunk. this Zara version has a fun little tassel that keeps it fresh without looking overly embellished.
neutral tote: this style wins the award for Most Valuable Player. whether headed to the beach, on an afternoon of errands, or boarding a long flight, my tote is the top choice. it's pliable fabric makes it comfortable to wear all day and chock full of odds + ends.
business portfolio: as a more recent addition to my closet, I can't say enough about a sleek and solid portfolio bag. it's practical enough to house a laptop while elegant enough to pass off as any typical designer accessory. it's the epitome of style meets functionality and serves as my little workhorse.
carry all bucket: initially I wasn't confident in the versatility of a bucket bag. I thought I would tire of the design or wish it was a standard closure. but this little number proved me wrong. it's feminine yet modern and the gold hardware adds a bit of edge. plus, the fact that it's vertically oriented makes it easy to throw a whole lot inside without looking bulky.
evening clutch: black with metallic is my unrivaled date night pick. it's a simple and classic combination that will never be off trend. and I always appreciate some modern improvement like this swivel latch to glam up an otherwise muted bag.
daytime clutch: I am increasingly impressed by the stellar selection of bags at Old Navy. this $10 purse has proved to be a top contender among my brand name options. there are no frills, just clean lines with (surprisingly) ample space. from sunup to sundown it's a force to reckon with even on my toughest day.
structured box bag: what started as a Christmas gift has since become my daily tag along accessory. I'd never owned a patent look before and probably wouldn't have bought it on my own. yet the solid structure and sturdy handles make it ideal for constant use. it's not one to be broken in; instead, what you see is what you get and that can feel liberating.
classic day bag: after college E bought me a designer bag and I felt I'd graduated to the big leagues. I was so nervous to tarnish it that I barely filled it with anything. but the luster wore off and I came to realize how versatile it can be. I never feel underdressed or overly primped regardless of the day. plus, the Mary Poppins factor is high–I've lost many a chapstick to the bottom of my purse.
textured clutch: embracing the minimalist trend doesn't mean things have to get boring. so I love the contrast of vegan leather with fuzzy shearling to keep an ensemble simple yet interesting. while I don't break this one out as much since winter ended, it's staying in my wardrobe for many years to come.
beaded clutch: I regularly scour the sale bins at Anthropologie for their 'last item' bags. I've found multiple options just like this that are eccentric and endlessly offer a one-stop upgrade to any outfit. the beading is eye-catching while a touch of sequins gives some extra flair. it's absolutely my warm weather pick for special occasions.