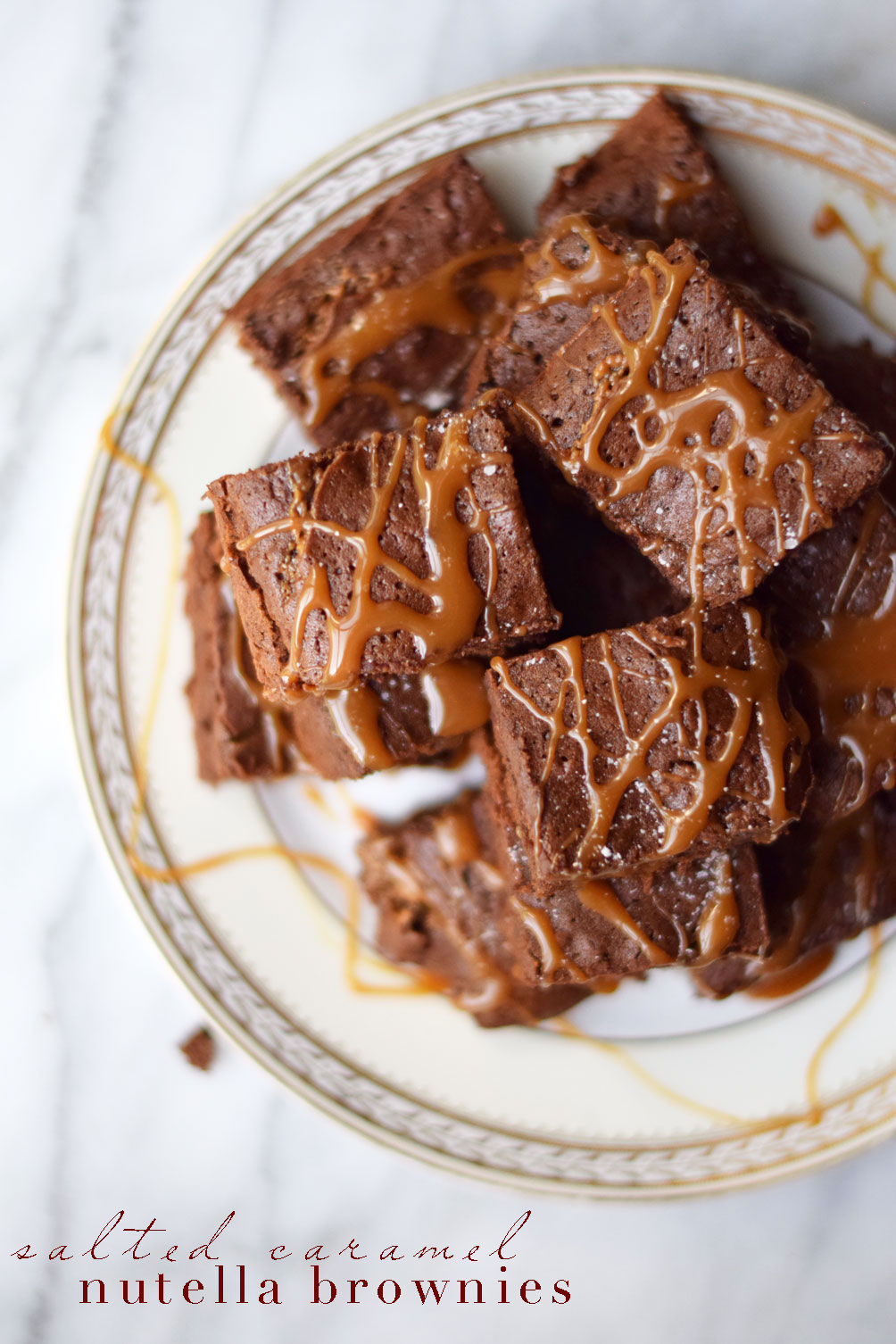 There are a few recipes on this blog that are the result of pure sibling-guilt. One of my sisters has the tendency to find dynamite recipes, send them my way, and then not-so-gently insist that I make them, pronto. To be fair, she does have good taste. Because these salted caramel nutella brownies are every ounce as decadent as they sound. For fear of undercooking them, I went a bit over on the time suggested. And I wish I hadn't–so stick closely to the recipe below and you're in for a world of sweet goodness.
---
Ingredients
2 sticks (1 cup OR 16 tablespoons) unsalted butter
4 ounces milk chocolate, chopped
1 1/2 cups granulated sugar
2 tablespoons instant coffee
1 tablespoon vanilla extract
2 tablespoons kahlua (optional, but not really!)
4 large eggs
1 cup unsweetened cocoa powder
1 cup all-purpose flour
1/4 teaspoon kosher salt
1/2 cup nutella
1 1/2 cups caramel sauce
Directions
Line an 9×13 inch baking dish with parchment paper or foil, letting the edges over hang from the pan so later you can easily lift the brownies out of the pan. Preheat the oven to 350 degrees F.
Add the butter and milk chocolate to a medium size mixing bowl that is microwave safe. Microwave the butter and chocolate on 30 second intervals, stirring after each interval, until melted and smooth. This takes me about 1 minute and 30 seconds.
To the melted chocolate mixture add the sugar and instant coffee, whisking until completely combined.
Add the vanilla, Kahula and eggs and whisk until smooth.
Stir in the cocoa powder, flour and salt until smooth and just combined, try not to over mix the batter. It will be thick.
Pour half the batter into the prepared pan.
Dollop teaspoon size amounts of Nutella over the batter. Drizzle with three-fourths of the caramel. Spoon the remaining batter over top, using a spoon to lightly smooth out the batter. It's ok if the batter does not cover up all the Nutella + caramel.
Bake for 25-30 minutes, until the brownies are set on top. Remove from the oven and allow to cool.
Just before slicing, heat the remaining caramel over the stove. Cut the brownies into bars and then drizzle the warmed caramel over the brownies. Sprinkle with salt.