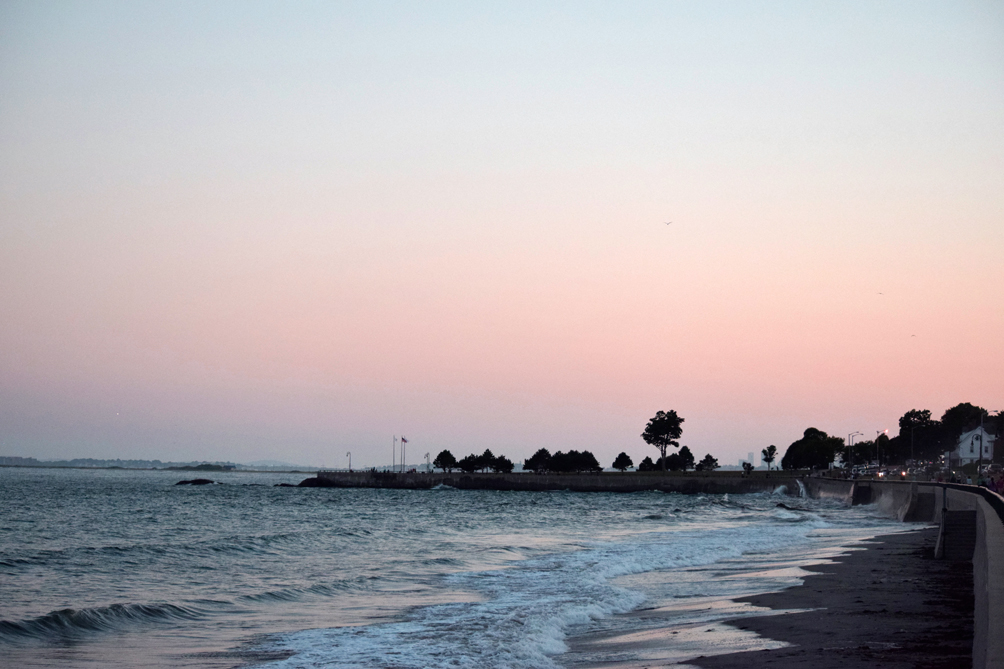 We're a pretty low-key couple. Okay, I'll admit, we do like fancy nights and jet-setting getaways but on the average week we're kind of simple. And that works for us. Maybe it helps that we started dating as broke college kids who had no real income to spoil each other. That definitely made us get creative with our outings. So while we're not in the Ramen and Pop-Tarts phase of life anymore, we still enjoy those 'unfussy' times to play the goofball, be romantic, or just enjoy intentional moments. We've put together a list of our TOP EIGHT favorite cheap date night ideas to share with you. And if you have suggestions of other options you love, please send them our way!
(Also, we snapped these photos on a recent sunset walk along the water in Swampscott)
one: people-watching – I know, that might sound slightly creepy to start, but hear us out. whenever we're in a crowded public place (think shopping mall or airport) we play this game. one of us picks out a person/group of people and the other one has to tell a convincing backstory. we get into careers, pet names, and the coffee we're sure they order 3x a day. it makes for big laughs and gets those creative juices flowing.
two: free music – in New England this is more of a spring/summer option, but we love it while they last. check your local park websites or resources like Eventful that provide a list of local happenings. worst case scenario? go sit in a park and wait for a street performer to show up. E and I have uncanny luck with this. whenever someone around us starts randomly playing an instrument, he looks at me and says, "I paid them–that's for you."
three: dinner at home – this definitely harkens back to those poorer college kid days. when we couldn't afford to go out on dates all the time, we'd run to the grocery store, grab some ingredients, and whip up a tasty meal in the apartment (leftovers then quickly ravaged by his roommates). for some easy recipe inspiration, hop onto Simply Recipes and pick one together.
four: outdoor activities – I leave this one broad because everyone's skill levels/interests/tolerances are different. we don't fit the mold of an earthy-crunchy couple yet we love doing things outdoors. we take hikes in a woodsy reservation near the house, jump on the courts for E to teach me tennis, or run along the beach on weekends. it's refreshing to be in nature and enjoy the other person's company. plus, endorphins are a win win situation.
five: game night – we both had fiercely competitive grandmothers. they never let us win and taught us some serious card shark ways. so we're big fans of rummy, gin rummy, or this ridiculous (non-related and totally random) game called Pass the Pigs. we find that board games are usually harder or less fun with two people, so they're mostly reserved for when friends visit.
six: coffee shop stop – there's one place we go when we need our java fix and some sweet face-to-face time. it's a cafe called Jaho, right on the water in Salem. it's pretty out of the way for us which makes it all the more special. they craft a mean coconut chai and homemade gelato. so the treats just keep rolling in! set aside the cell phones, slip into comfy chairs, and do a little life dreaming.
seven: movie night – weirdly, neither of us likes going to the movies. we just don't love the ordeal, the cost, or sitting through 20 advertisements before the movie previews even start. but, on the other hand, we love movie nights. different from a Netflix binge, this should be planned (i.e. eliminate hours of scrolling through titles and never picking one). E makes a cocktail, we grab some chocolate, and cozy into the couch for rest + relaxation time.
eight: sushi picnic – I saved this until last because it's our favorite. and I guess it doesn't have to be sushi–any takeout will do. but this is our standard weeknight option. we'll pick up the order on our way home, grab a blanket (we always keep one in our trunk), then sit somewhere pretty and enjoy. it gets rid of the need for clean-up and makes for a good pick-me-up after a long workday.
me: Levi's jacket, H&M sweatshirt, AYR jeans, GAP loafers, MAC 'Russian Red' lipstick // him: J.Crew hoodie, Gap tee, Rainbow sandals