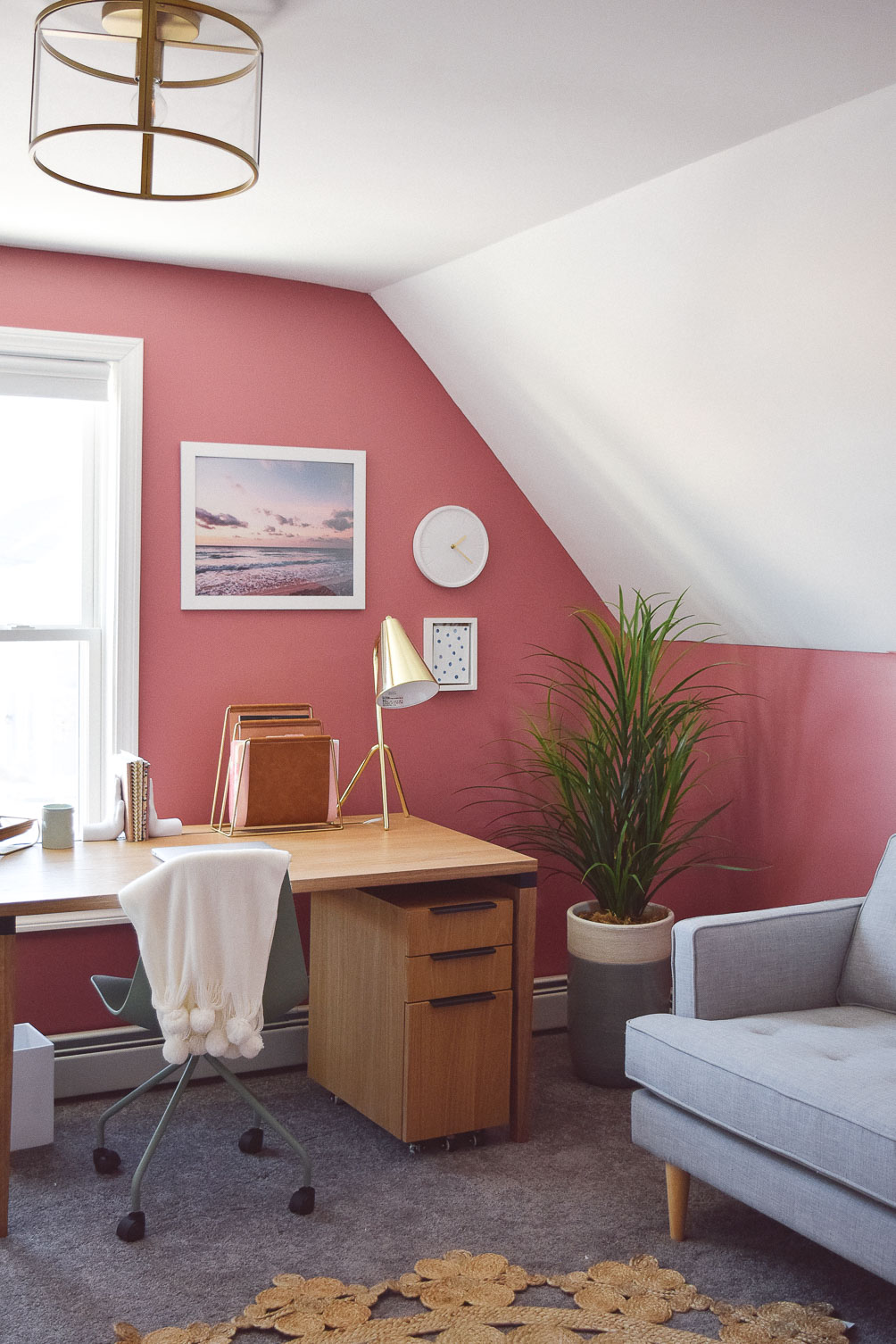 When we moved to this house in January of 2017, I was pregnant and rather unmotivated to sit in my upstairs office all day. I took to working from the couch (hello, sweatpants all day every day), opting for comfort over function. Well it's no shock that life didn't slow down after having a baby. So here we are, eight months later, finally addressing that space. Now that we've settled into more of a routine with Colton, I wanted to finally utilize my office and create a motivating, inviting room. Working with one of my favorite furniture brands, Article, I jumped on this office refresh project just in time for spring.
I've shared a bit about Article in other posts (here + here), but let me just recap why I love them. This brand crafts modern furniture at a fair and manageable price point. They don't skimp on quality in any regard. Moreover, they sell directly to consumer so you won't encounter crazy markups from the middlemen. And I know it can be hard to imagine buying furniture without sitting in it, lying on it, etc. However, their 30-day satisfaction guarantee means you can get your hands on their beautiful products with the safety net of a simple return policy.
I chose four pieces from Article's office collection to revamp my workspace:
desk + filing cabinet – both are made of oak and have this gorgeous woodgrain look. i love that the filing cabinet also has two smaller drawers for desk essentials (by the way, it feels super adult-ish to get this excited about a filing cabinet). besides its modern, minimal design, my favorite part of the desk is its compartment for hiding cords. a small portion of the top flips up to keep clutter at a minimum. what we ended up doing is putting a power strip inside the compartment and just feeding any other plugs through it. i'd say that's fairly good life-hacking right there.
chair – our office space isn't huge, so in choosing a chair we wanted something functional yet understated. this mid-century swivel version was the perfect mesh of both. plus, it comes in a wide variety of colors.
desk lamp – it's probably no surprise that i'm a sucker for gold goodness. the tripod base of this lamp minimizes its takeover of desktop space; additionally, a moveable head offers flexibility for different lighting needs.
To complete the office refresh we swiped on a coat of berry-hued paint, picked up a few organizational accessories, and hung complementary artwork. What was recently a sad, neglected room has now become one of our favorite hangout areas in the house!
Thank you to Article for partnering with us on this office refresh post.