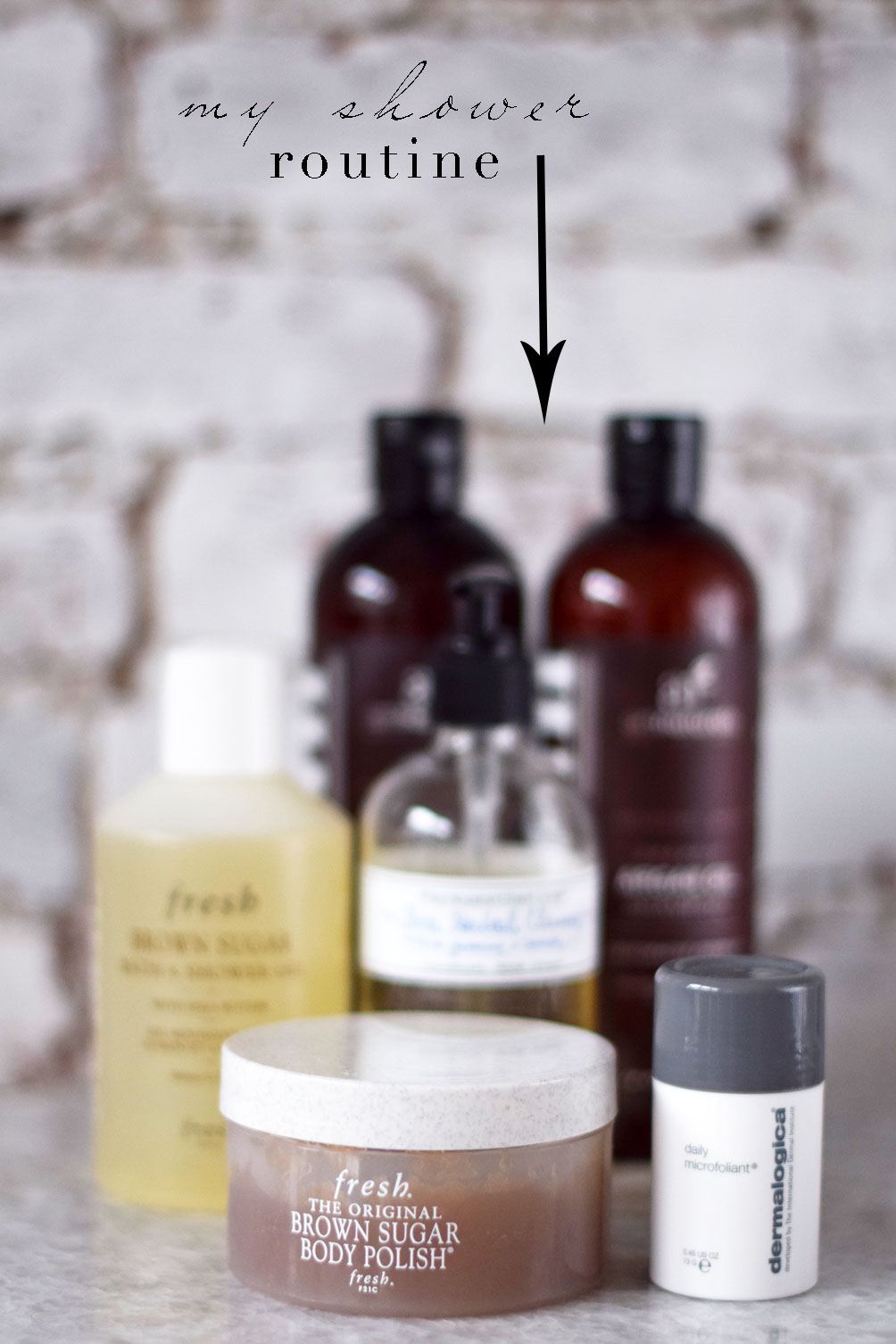 One thing that's come from building my business over the last few years is often having brands send me products to test. To be fair, they're not all winners. But I've found a few that were worth their while. Those, coupled with my own tried-and-true favorites, have formed my shower routine. And although it's sure to change somehow in the coming months or years, I wanted to share what is currently in the summer mix for silky smooth hair, buttery soft skin, and a blushing complexion.
shampoo + conditioner: For as long as I can remember buying my own hair products, Argan Oil always fit somewhere in the mix. Whether that was leave-in conditioner or a post-shower spritz, I love the nutrients that go along with lightweight shine. But this Art Naturals duo is the first time I've had that be part of my shower process. And honestly it feels as though my hair is both stronger + longer already.
body scrub: Within two days of using this Brown Sugar Body Polish, E commented on how much softer my skin felt. I love that the granules are large enough to really give a vigorous exfoliation. There's something (kind of grossly) gratifying about knowing those dead skin cells are washing away.
body wash: Going right along with my body scrub, the Brown Sugar Bath & Shower Gel is the most heavenly scent mixed with a refreshing cleanse. I've never liked the way bar soap feels on my body yet have also encountered gels that leave a some filmy residue. This, on the other hand, bubbles up beautifully and then slides right off with water–sans weird, slimy aftermath.
face cleanser: I was introduced to the Farmaesthetics brand by Follain, my go-to store in Boston for natural skincare. They carry quite a large line and always spoke highly of the company's results. So this Fine Herbal Cleanser is the first (but certainly not the last) of things I'm trying. It's watery consistency was odd at first but quickly won me over with such a fresh-feeling finish.
daily exfoliant: First things first is that this smells like a doctor's office. At first that turned me off to it. I know it has no real consequence on the function of a product, but I always prefer a nice scent. Yet this dermalogica microfoliant is an absolute dream. The powder turns slightly creamy when mixed with water and offers a gentle yet effective scrub. I've noticed a brightening of my skin since using it and have no plans of quitting.