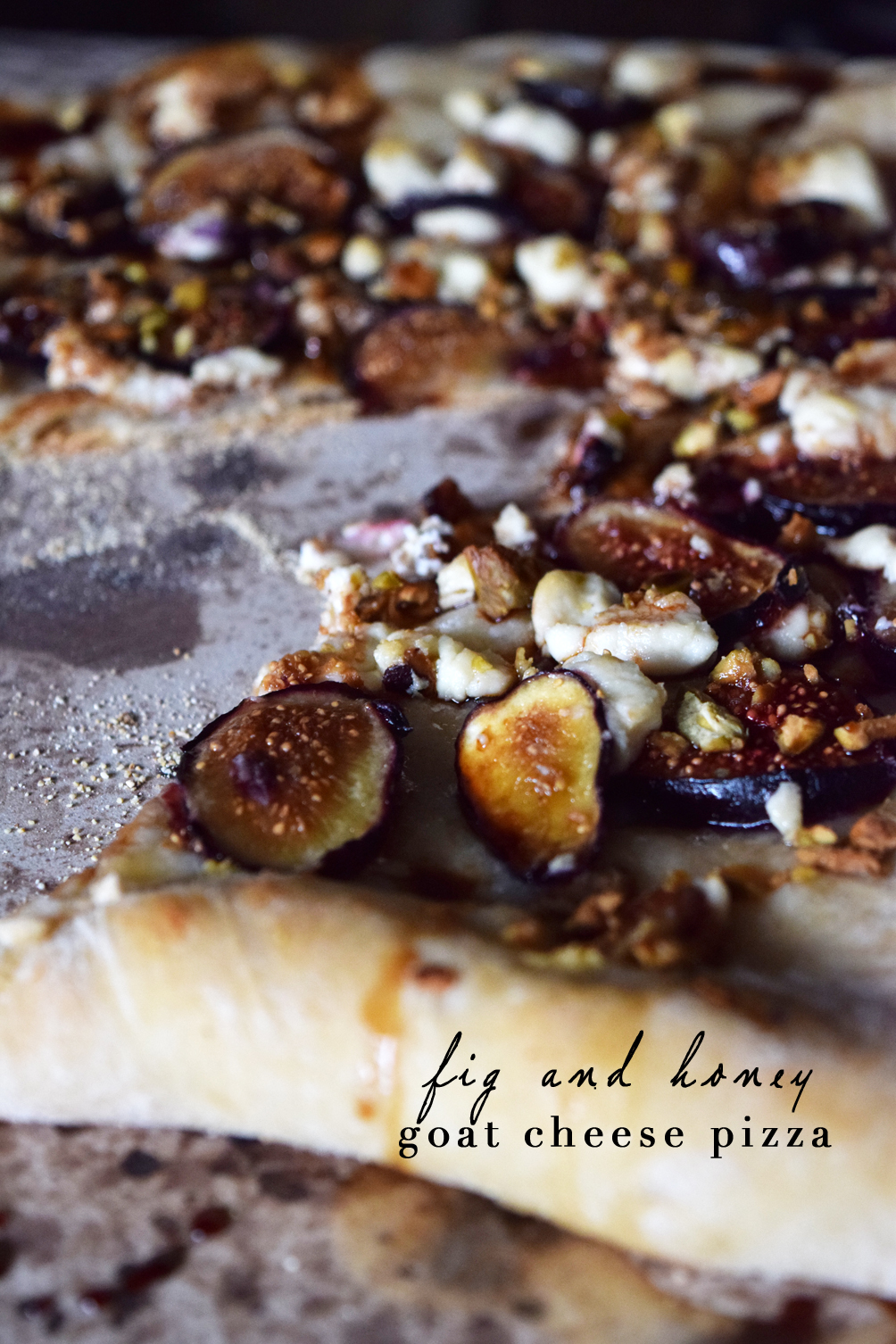 I thought about calling this a flatbread. Because it is pretty flat, and for some reason people seem to think those are healthier. I really can't speak to the nutrition factors either way, but a recipe this timelessly delicious deserved the "pizza" name. And for future reference, it would have been super helpful to have one of those pizza peel boards that takes things in and out of the oven. Because transferring this from my prep area to the warm stone was a struggle. But other than that it came out hot and deliciously fresh. The contrast of sweet, savory, and salty made every bite of this goat cheese pizza better than the last.
---
INGREDIENTS
12 ounces store-bought or homemade pizza dough at room temperature
1½ tablespoons extra virgin olive oil
Salt
Fresh ground pepper
8 ounces fresh goat cheese, divided
6 ripe black mission figs, divided
1/3 cup balsamic vinegar
2 tablespoons honey
1/4 cup pistachios, crushed
DIRECTIONS
Place the balsamic vinegar and honey in a small saucepan over medium-high heat. Bring to a boil, reduce to a simmer, and cook for about 10-12 minutes until it has reduced by half and become nice and syrupy. Set aside until ready to use.
Pre-heat the oven to 450 degrees.
 Roll out the pizza dough on a floured surface into a large circle about ¼-inch thick.  (Don't worry, it doesn't need to be perfect.) Transfer the dough to a parchment lined baking sheet.
Brush the dough with olive oil and season with salt and fresh ground pepper. Crumble 6 ounces of the goat cheese onto the dough. Cut the figs into a small dice, and sprinkle them over the dough.
Transfer your flatbread to the oven and bake for 12-15 minutes, until it is lightly brown and cooked through. When your flatbread is cooked, carefully remove it from the oven.
Crumble the remaining 2 ounces of goat cheese over top.
Drizzle with the balsamic reduction. Slice and serve immediately.
adapted from this recipe