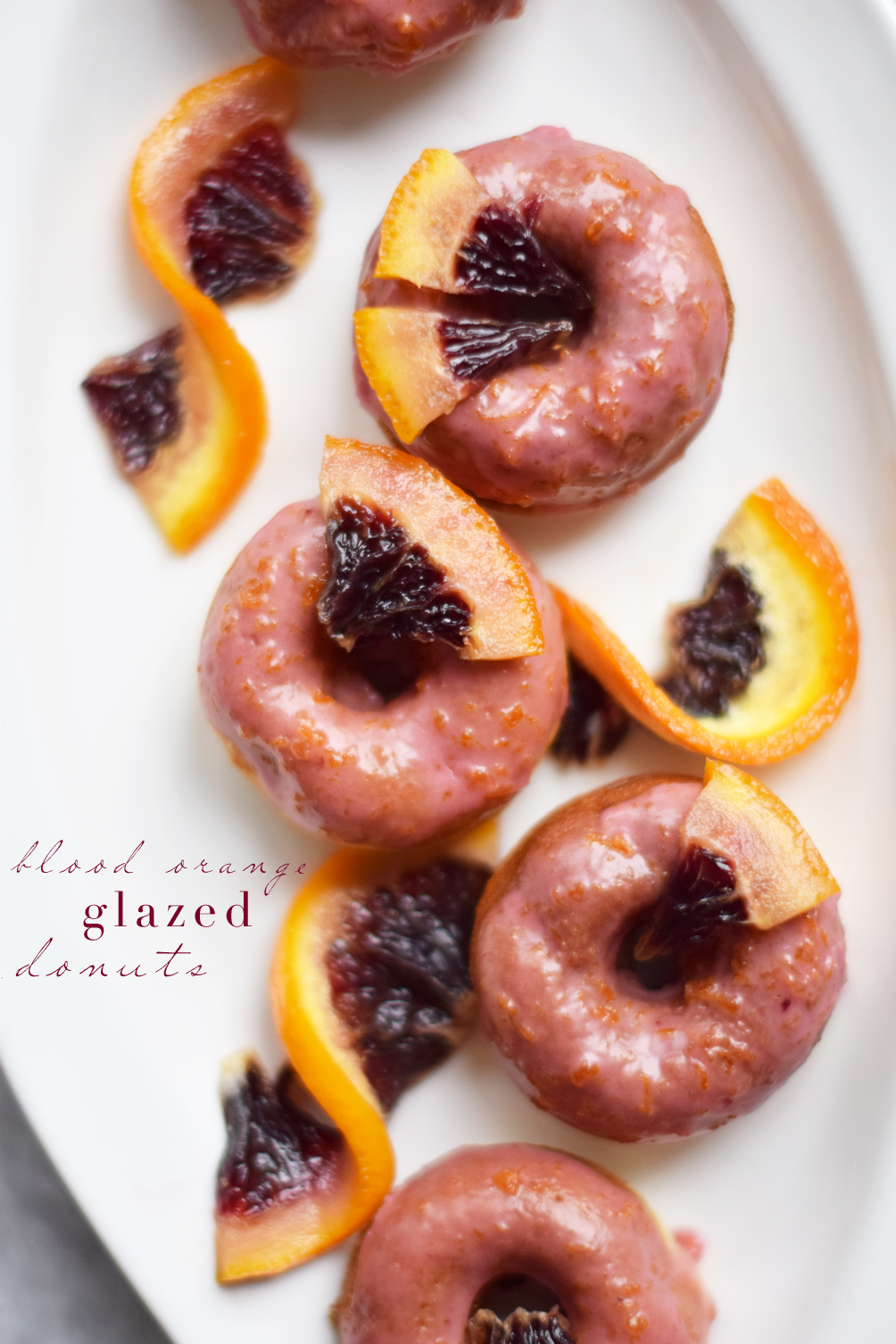 Before this recipe, I'd never worked with such a gorgeously colored fruit. These blood orange glazed donuts were every bit as gorgeous as I'd hoped. Their sweet, zesty flavor was perfectly complemented by candied toppings. And, come to think of it, I'd never candied anything before, either. So this was a true "first" on many fronts that turned out to be a grand success. As summer is right around the corner with more fresh produce available, I'm thinking of remastering the recipe with a variety of options. See full details below!
---
Ingredients:
1 cup all-purpose flour
1 tsp baking powder
1/2 tsp baking soda
pinch of nutmeg
1 tsp ground cinnamon
1/2 cup granulated sugar
2 Tbsp light brown sugar
2 large eggs
1 tsp vanilla extract
3 Tbsp vegetable oil
3 Tbsp buttermilk
Candied Blood Oranges:
3 cups water
1 cup granulated sugar
1/2 cup honey
1 blood orange, thinly sliced
Blood Orange Glaze:
1 1/2 cups powdered sugar, sifted
zest of half a blood orange
pinch of salt
3-4 Tbsp fresh squeezed blood orange juice, depending on desired consistency
Directions:
Preheat oven to 350 degrees F. Coat donut pan with cooking spray. Set aside.
In a large bowl, whisk together flour, baking powder, baking soda, nutmeg and cinnamon. In another bowl, whisk together sugar, brown sugar, eggs, vanilla, vegetable oil, and buttermilk. Add wet mixture to dry flour mixture. Stir to combine until there are no longer than dry streaks of flour. Try not to overmix.
Spoon batter into prepared donut pan. Fill molds about 3/4 full of batter. Bake for 12-14 minutes until the donuts have puffed up. Remove from oven and allow to cool in pan for 2 minutes before inverting and unmolding. Allow donuts to cool to room temperature on wire rack before glazing.
Candied Blood Orange:
In a medium heavy bottomed saucepot, combine water, sugar and honey. Bring to a boil over high heat. Stir until sugar dissolves. Once syrup has come to a boil, add orange slices. Reduce heat to low and let simmer for 30 minutes until orange slices are tender and syrup is fragrant. Remove orange slices from syrup and transfer to a parchment lined sheet tray. Arrange slices in a single layer and allow to cool. Strain syrup and save to sweeten tea, cocktails, etc.
Blood Orange Glaze:
Whisk together powdered sugar, orange zest, salt and 3 tablespoons of blood orange juice. Adjust thickness by adding additional orange juice, 1 teaspoon at a time. Dip cooled donuts into glaze. Garnish with a piece of candied orange. Place glazed donuts on wire rack to allow glaze to set.