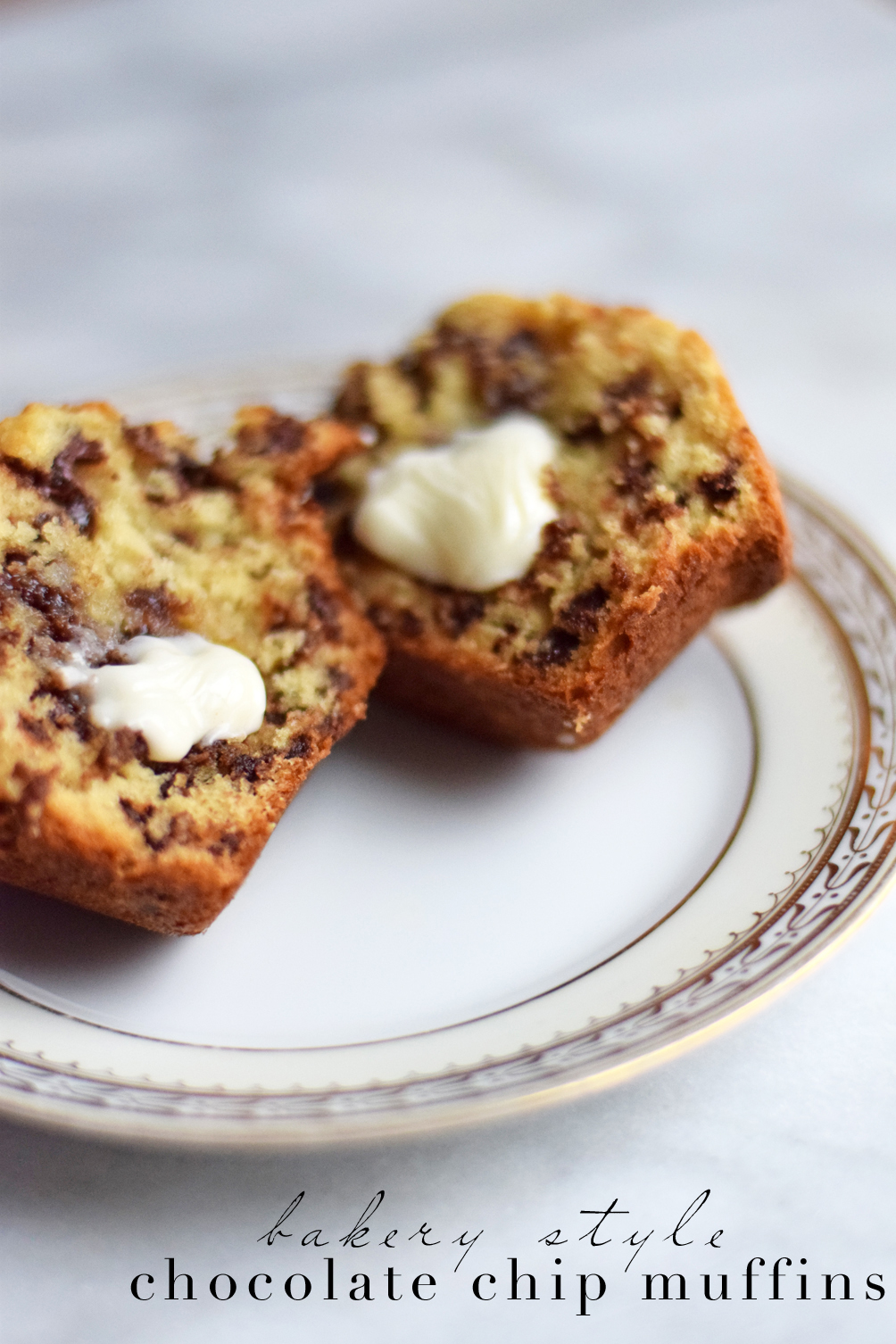 Do you ever get embarrassingly glued to the bakery display window? Because I do. And oftentimes it's not even the chocolate pastries but the muffins that draw me in. Their fluffy golden domes and perfectly cooked center are mesmerizing (no? just me?). Well, I finally found the recipe to accomplish those bakery style chocolate chip muffins. I chose to use mini chips instead because the ratio is always a bit better that way. These may be a weekly offender to our household now that their deliciousness has been discovered. See below for full details.
---
Ingredients
2 & ½ cups (308g) all-purpose flour
1 tbsp (13g) baking powder
1 tsp (5g) baking soda
½ (2.5g) tsp salt
½ cup (114g) unsalted butter, melted and cooled
1 cup (200g) granulated sugar
2 large eggs
1 cup (250ml) milk (whole or buttermilk is preferred)
1 tbsp (15ml) vanilla extract
1 & ½ cups (275g) chocolate chips
Directions
Preheat oven to 425°F and spray a 12 cup muffin tray with non-stick cooking spray.
In a large bowl, toss together the flour, baking powder, baking soda, salt and chocolate chips. Set aside.
In a medium bowl, whisk together the melted butter, sugar, eggs, milk and vanilla. Slowly add to the dry ingredients. Gently fold together until JUST combined.
Divide the batter into the 12 muffin cups and bake at 425°F for 5 minutes, then turn the oven heat down to 375°F and bake for another 13-15 minutes. Let cool for about 5-10 minutes and enjoy warm.