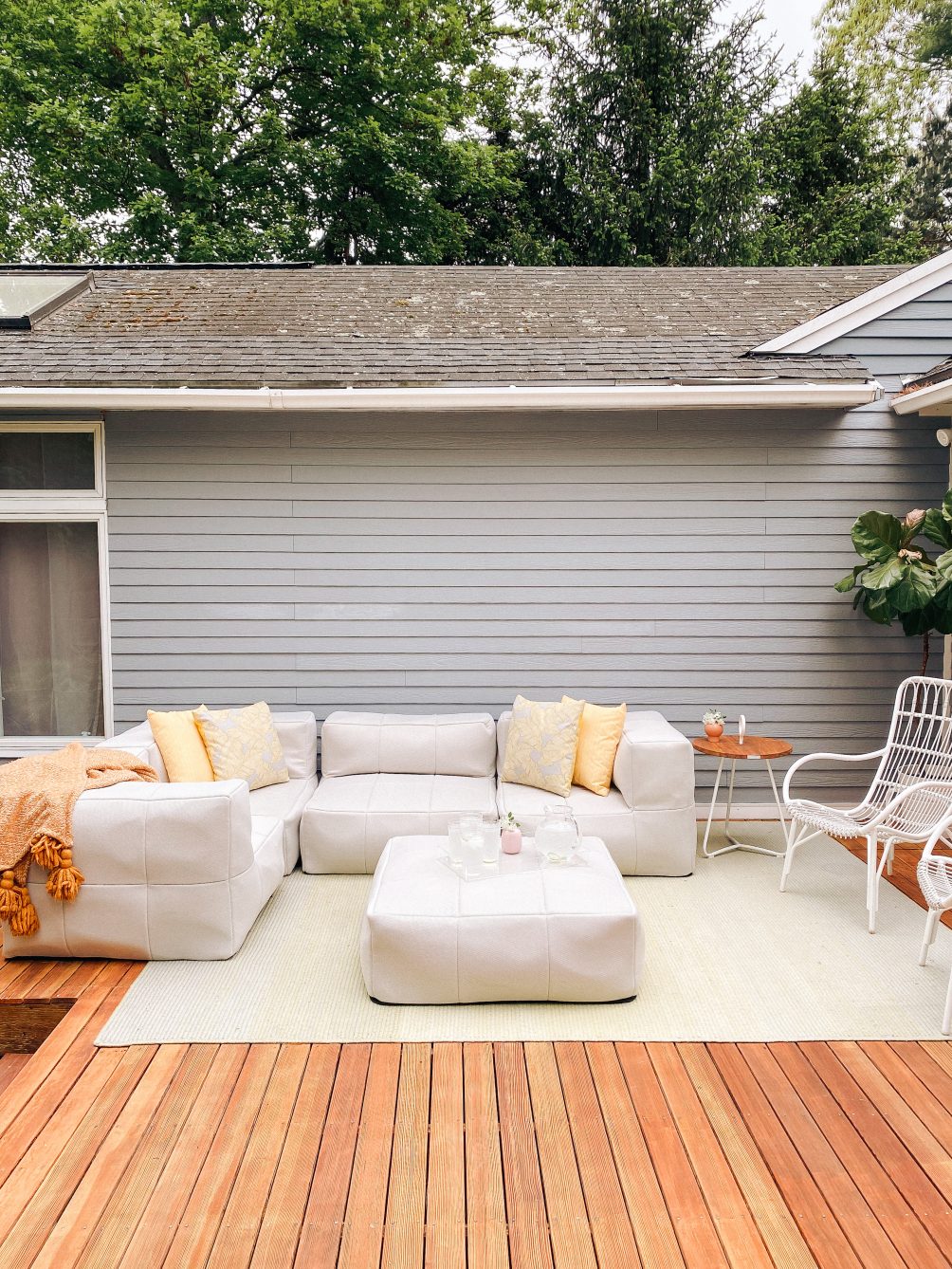 HI! Welcome back. Did you forget I have a blog? Yeah, it's been a while. But no time like the quarantine present to pop back on with this before and after home segment. I think I speak for the entire world when I say this will be the summer of home. Attractions are closed, sporting events postponed, many still working from home, and kids off from school. Those realities can feel daunting and somewhat sad. But to shift our perspective we've been working on investing in our space instead. We want to embrace family time, make precious memories, redefine the chaotic world around us. Enter, this backyard deck design.
I am a serious fangirl of Article furniture. In fact, when we moved to our new home I bought a couch from a different company but immediately regretted it, returned it, and purchased an Article one instead. Their quality is unbeatable (read: durable for rambunctious toddlers) while their price point is attainable. Plus, this outdoor space came together in a breeze thanks to contactless home delivery.
Alright, now to the good stuff. Below are our before pictures. Since we moved last September I've been itching to finish this deck. The potential was huge but it needed some TLC. Here's a rundown of what we (and by 'we' I mean my husband) did to rehab the flooring.
Hammer down loose boards
Power wash with a heavy duty home system
Sand any rough patches
Coat with a sealant stain combination (we used Behr Semi-Transparent Deck Stain)
Once that manual labor part was finished, I got to the fun of designing. First and foremost, this had to be kid-friendly. Any piece of furniture in our home now needs to pass the toddler test. Can it be jumped on? Spilled on? Thrown? Great, we're sold. Beyond that, I aimed for a neutral aesthetic to flow seamlessly from our interior.
Here are the pieces we chose to add to our collection and the reasons why we settled on them:
Corvos Whisper Gray Modular Sofa: I adore this modular, moveable design. It's incredibly comfortable with durable fabric and easily assembled. The base is aluminum and therefore lightweight yet sturdy.
Corvos Whisper Gray Corner Module: Our backyard deck design is laid out in such a way that it perfectly accommodates the corner sectional. I also love the way it enhances conversation space–not having to sit right next to
Corvos Whisper Gray Ottoman: This is the real MVP piece of our deck. It's a table, it's a footstool, it's an extra wide cushion–you name it. Colton has taking to running from one side of the deck and jumping on top of it. See? Durability really is key.
Citrus Yellow Ebba Pillow Set: I love utilizing pillows to bring in some color. As I mentioned above, we have a somewhat minimalist aesthetic. But I never want that to read as 'boring,' so bright yellow pillows did the trick.
Our backyard deck feels like an oasis. Now all we need are a few post-quarantine days to start entertaining on it. In the meantime, our family of four is soaking up couch cuddles, scheming our next s'mores night, and plotting out epic pillow fights.
Thank you to Article for partnering with us on this post.