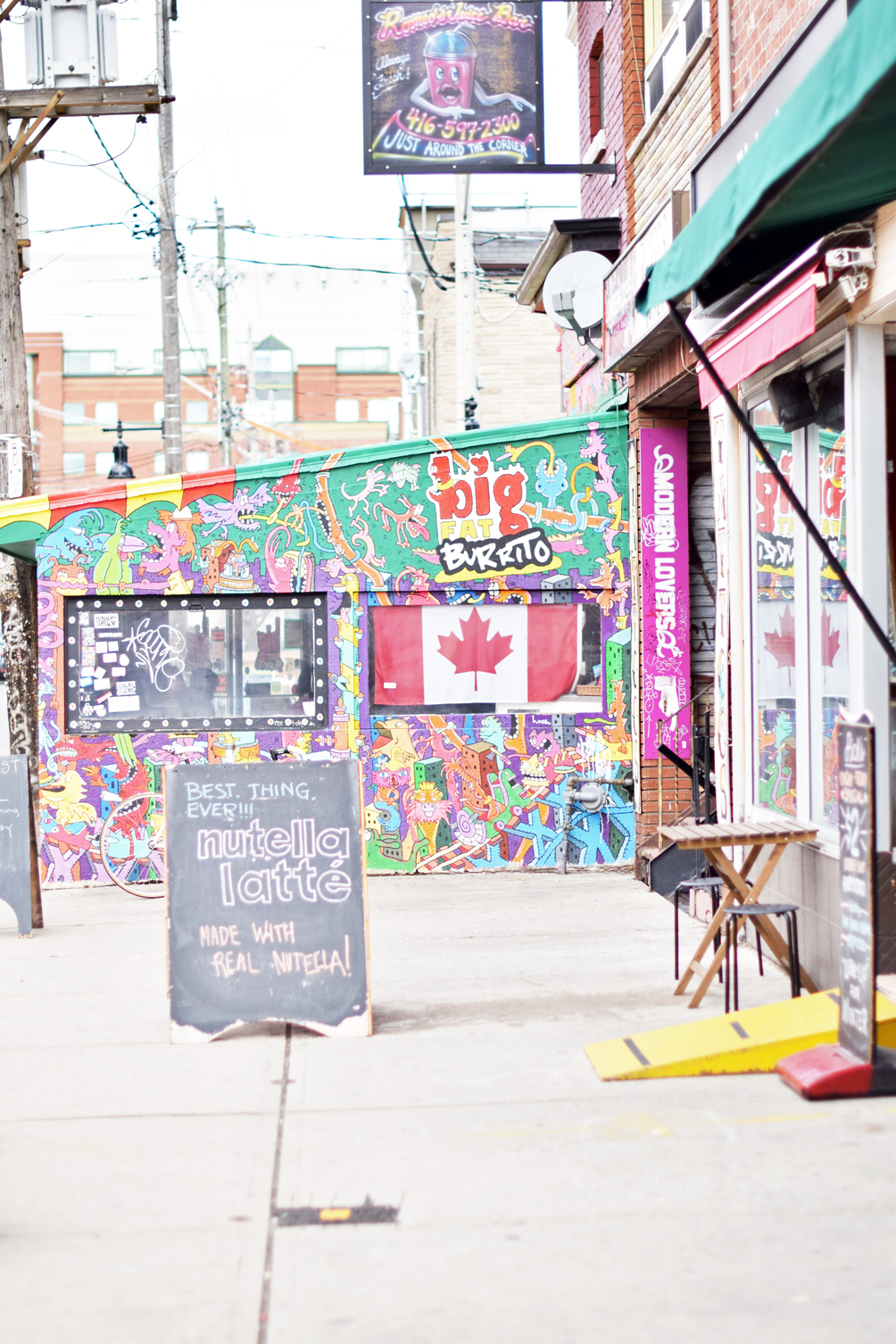 Here's how I described Toronto Ontario after our recent trip: it's closer to a New York than a Boston but has evident European flair. All in all (spoiler alert) we loved it. The streets are easy to navigate while the varying neighborhoods offer little oases within their larger city limits. Today I want to take you through a few of our favorite spots (not excluding the hotel spa), top meals, and what we hope to see next time.
where we stayed: location is key for us on short, weekend trips. so The Ritz-Carlton, Toronto was a perfectly central place within walking distance of top attractions. they placed us in a gorgeous city view room with the most gloriously spacious bathroom (i'm talking heated floors, people). we took Porter Airlines to get there and that landed us on a little island just outside the city. they had a free shuttle right to downtown with a six minute walk to the hotel. and, side note, we noticed Toronto is all about that free convenience: wi-fi everywhere, transit options, you name it and they give it away like candy (quite unlike Boston).
our favorite 'hoods: we spent the most time in Kensington Market and the Fashion District. we walked all over and explored a lot of different areas but found ourselves drawn back into these two. the Fashion District is more than clothing; it's chocked full of fun boutiques ranging from housewares to customized candles. thank goodness we stuck to carry-on because, otherwise, my checked suitcase would've housed all the goodies. and Kensington Market was all about that funk. from ridiculously gorgeous graffiti to foodie spots galore, we couldn't get enough. i also found my (new) favorite book in the whole wide world at the good egg. that whole area was a treat for the eyes as well as the taste buds.
next time, we want to delve into their Distillery District and the waterfront. apparently the summertime (and dead of winter) bring lots of fun festivals, markets, etc.
the stores that stole our hearts:  I already started gushing above about our favorite spots (i.e. Yummi Candles + the good egg). but a few more places stuck out in our minds. first, Kid Icarus conquered a good thirty minutes of our time just reading their adorable cards. with tons of homemade stationery and quirky gifts, the shop boasts some serious Canada homegrown talent. then, needing a midday snack for our afternoon, I pulled E to Bunner's Bakery–a gluten free and vegan storefront that handed me their most delicious pumpkin chocolate chip muffin. finally, I couldn't stop photographing, gramming, and snapchatting the Cocktail Emporium. their pink exterior is eye-catching enough. but add to that a champagne tower and assortment of bitters as well as vintage glassware? sold and sold again.
how we pampered: alright, this is where every penny at The Ritz-Carlton, Toronto is exceedingly well spent. they house a spacious and relaxing spa available to any guest complete with steam room, sauna, vitality pool, and aromatherapy showers. to top that off, we spent time in their co-ed lounge where snacks, infused water, and hot tea were provided. suffice to say if the spa didn't have a closing time, we may have just stayed there overnight.
while we didn't wind up having any actual services at their facility, I did find my way to a gorgeous spa just down the road. i'll admit, the name caught me off guard, but stepping one foot in Her Majesty's Pleasure changed my mind forever. they've got a full bar offering everything from pastries to cocktails. moreover, their services cover hair, nails, waxing, and more. I want one in Boston STAT. anytime I'm back in Toronto this salon is first on my list (I had a manicure with tenoverten's "ludlow").
the meals we'd eat again + again: regardless of traveling, we wanted to keep up with our Friday night tradition of Pad Thai. so Pai was the spot to hit and didn't disappoint. they had this hopping interior that suited a funk-filled Toronto vibe. the food was spicier than what we're used to but absolutely delicious. our healthy option for the weekend was Kupfert & Kim. I had this enormous smoothie bowl and E slurped down a pb + chocolate smoothie. also, E indulged on on the in-room dining menu (more than once) with an epic burger + club sandwich. so after a crazy day filled with walking, the hotel had their cuisine right on point. finally, the coffee shops are endless. every one is cooler, trendier, or more avant garde than the last. we fell in love with Dineen Coffee Co. but also had a soft spot for Sweet Jesus' burnt marshmallow latte.