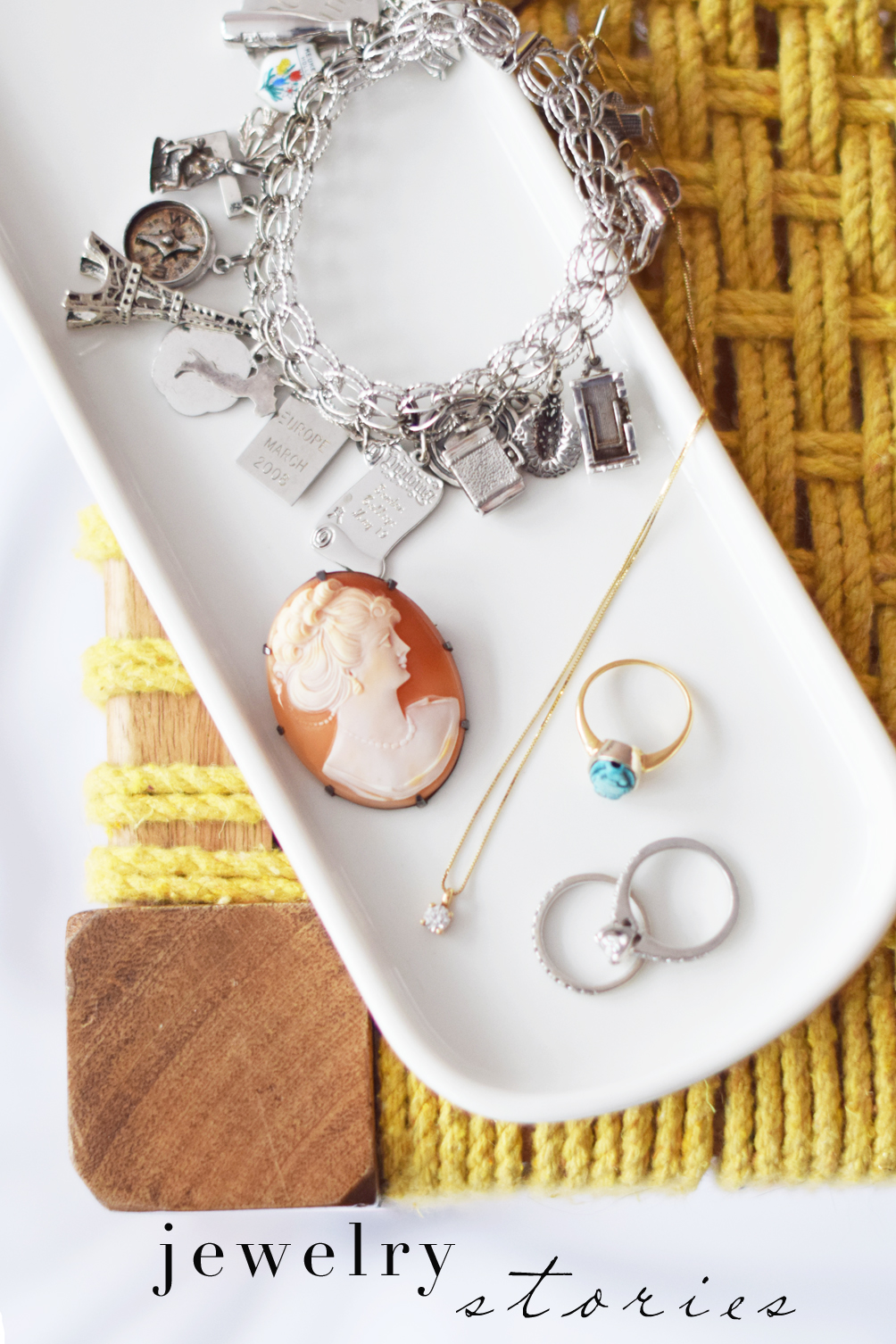 In college, and even a bit back in high school, I was all about jewelry. I'd even make my own, switching up the look daily and hardly wearing the same things twice. Well, at least it felt like I never wore them twice since combinations varied. But, since then, I've gotten more stuck in ruts. As I've tended toward dainty pieces it's easy to forget about changing out my stud earring or altering the ever-present midi rings. So lately I've been trying to keep statement pieces in plain sight. That way I'm likely to opt for chunky earrings or a flashy necklace once in a while. And going through the jewelry case led me to realize the most prized pieces I own. Today I'm sharing some of the more emotion-filled jewelry stories that, whether worn often or not, keep these pieces at the top of my 'favorites' list.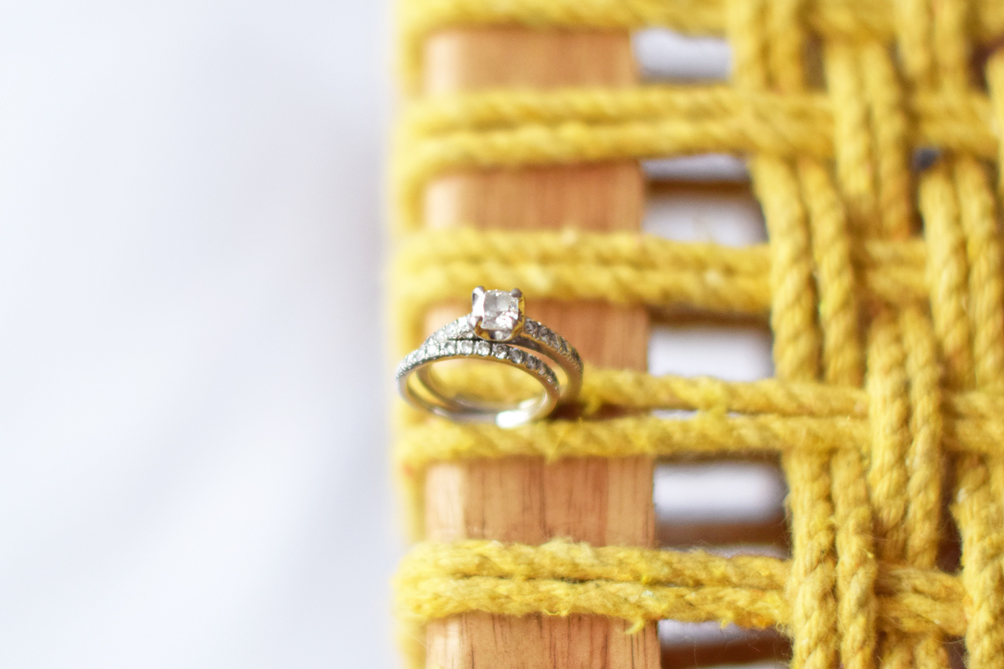 one: this may be a given, but every woman has a special connection to her engagement ring. i'd always dreamed of a cushion cut diamond with added sparkle around the band. but when E and I were at the point of discussing marriage, it was just after college (read: not much money to our name). so I was reeling in my expectations, knowing I'd be happier just to be engaged than to have an iceberg on my finger. so we shopped a few vintage stores and found reasonable and beautiful options. when E popped the question with this custom-designed 1.00 carat cushion cut diamond ring in platinum, I was floored. instead of saying "yes" to his proposal, the first thing I said was, "What is that?" while pointing at the shininess.
two: I'm not a big sentimental crier. I have my moments but, in general, don't shed tears over happy things. yet this brooch is one piece that always causes my eyes to well. my dad gave this to me on the night before my wedding. I was just heading up to bed when he called me back downstairs to hand me a jewelry box. inside was this ornately carved cameo. he proceeded to tell me that his father (my grandfather) had given the brooch to my grandmother as a wedding present. so naturally I've got a serious attachment to it. and while I'm too nervous to wear something so precious on a regular basis, I do occasionally accessorize a scarf with it.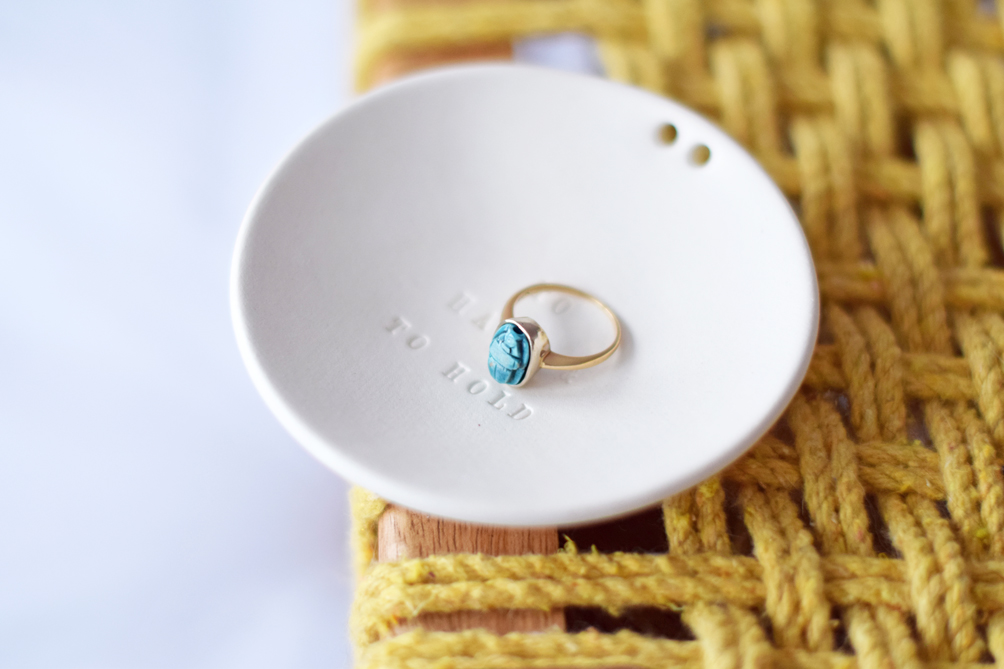 three: my dad grew up in Egypt. and, no, I'm not remotely Egyptian (I know, my freckles and pale skin can be deceptive). but that has made for a lifelong obsession with the country for myself and my siblings. we have yet to travel there and, as I shared in my 26 facts video, it's top of our bucket list. this ring was custom designed by my mom and created with a jeweler friend. the gem is a carved scarab from roughly 5,000 years ago (woah) that my dad collected as a kid. it's strikingly modern even with the ancient centerpiece and makes for a perfect daily addition to any ensemble.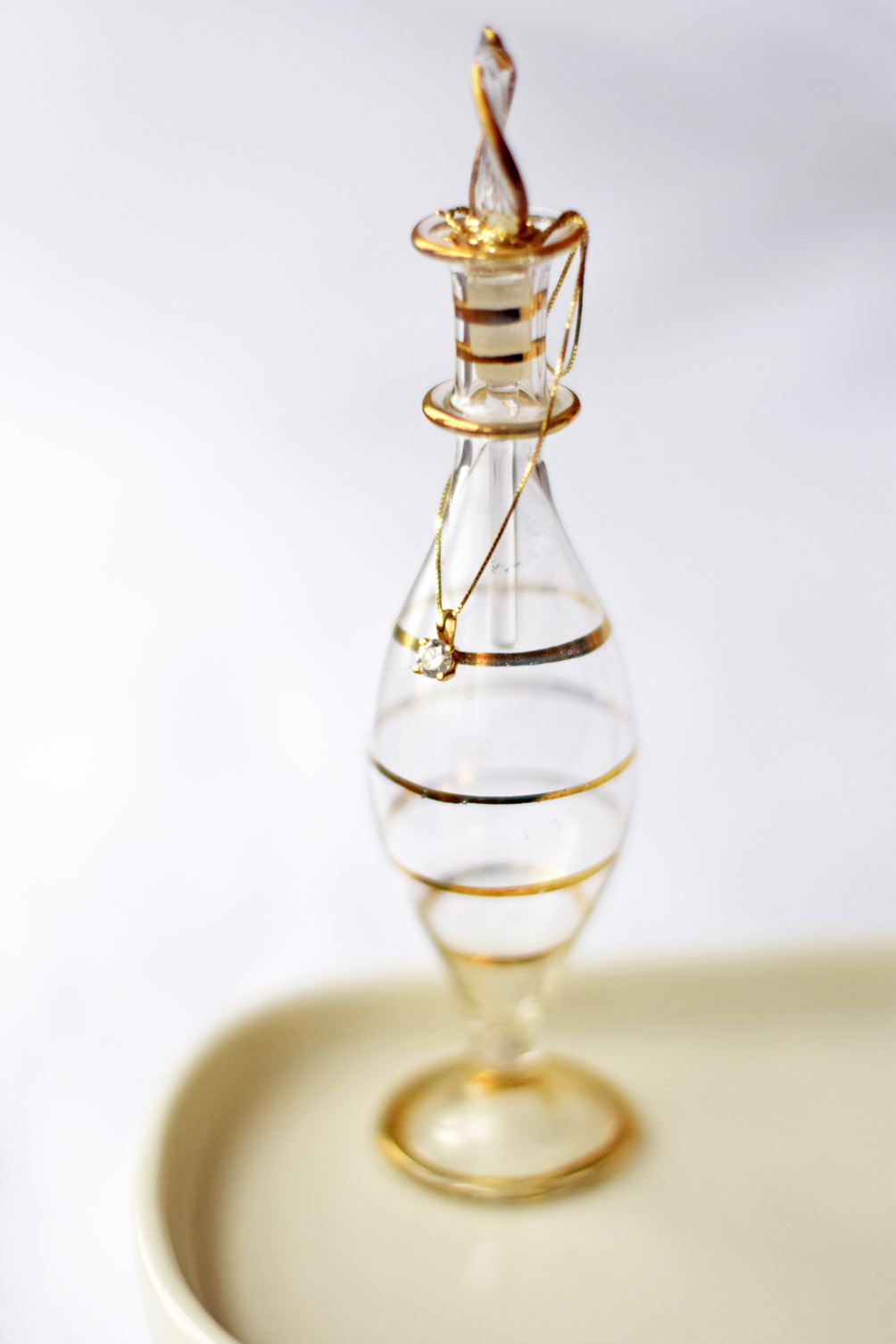 four: out of the five pieces here, this 1/3-carat diamond necklace is the one I wear most frequently (engagement ring excluded). E bought it for me on our honeymoon in Curacao. the one day we decided to be active and leave the resort, we ventured to their nearby city center to browse some local shops. the sweetest store owner showered us with congratulations (fine, we were kind of suckers for that) and showed us his amazing jewelry collection. after playing dress-up with numerous gems, I landed on this classic style with a round cut stone, four-pronged setting, and baby thin chain. I love how simply it layers with other necklaces or wears beautifully alone.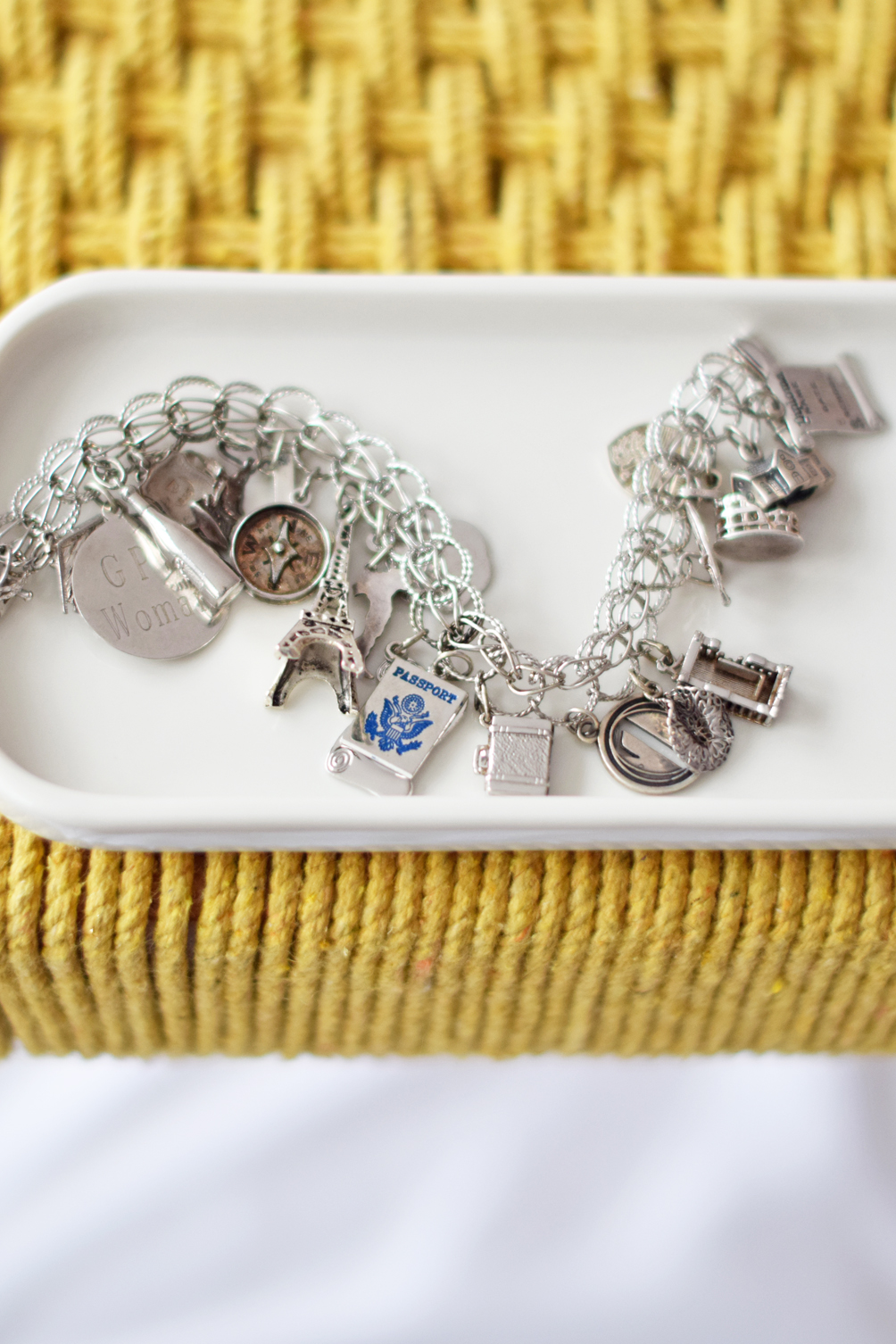 five: this last jewelry story has been years in the making. my mom grew up traveling the world and adding charms to bracelets in order to remind her of those destinations. so it's one tradition she's passed along, commemorating our milestones in life. I feel incredibly nostalgic whenever I wear this jingling number and remember each little nugget of significance. and yes, that big circle on the left does say, "GPS woman." I played navigator during our two week Euro-trip in high school. so that nickname was a blessing and a curse.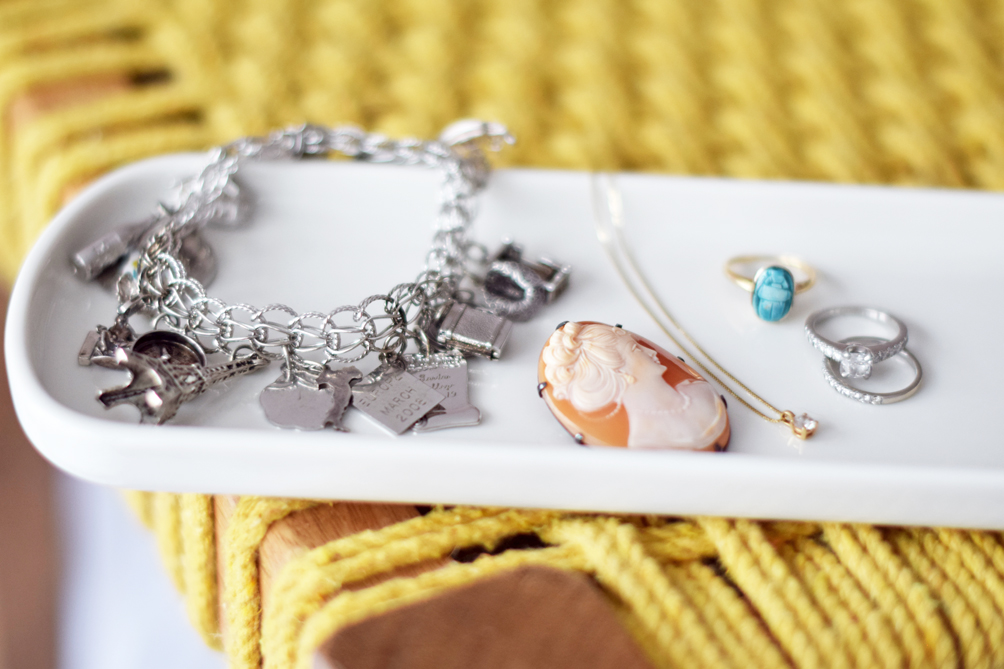 do you have significant pieces in your own jewelry collection?