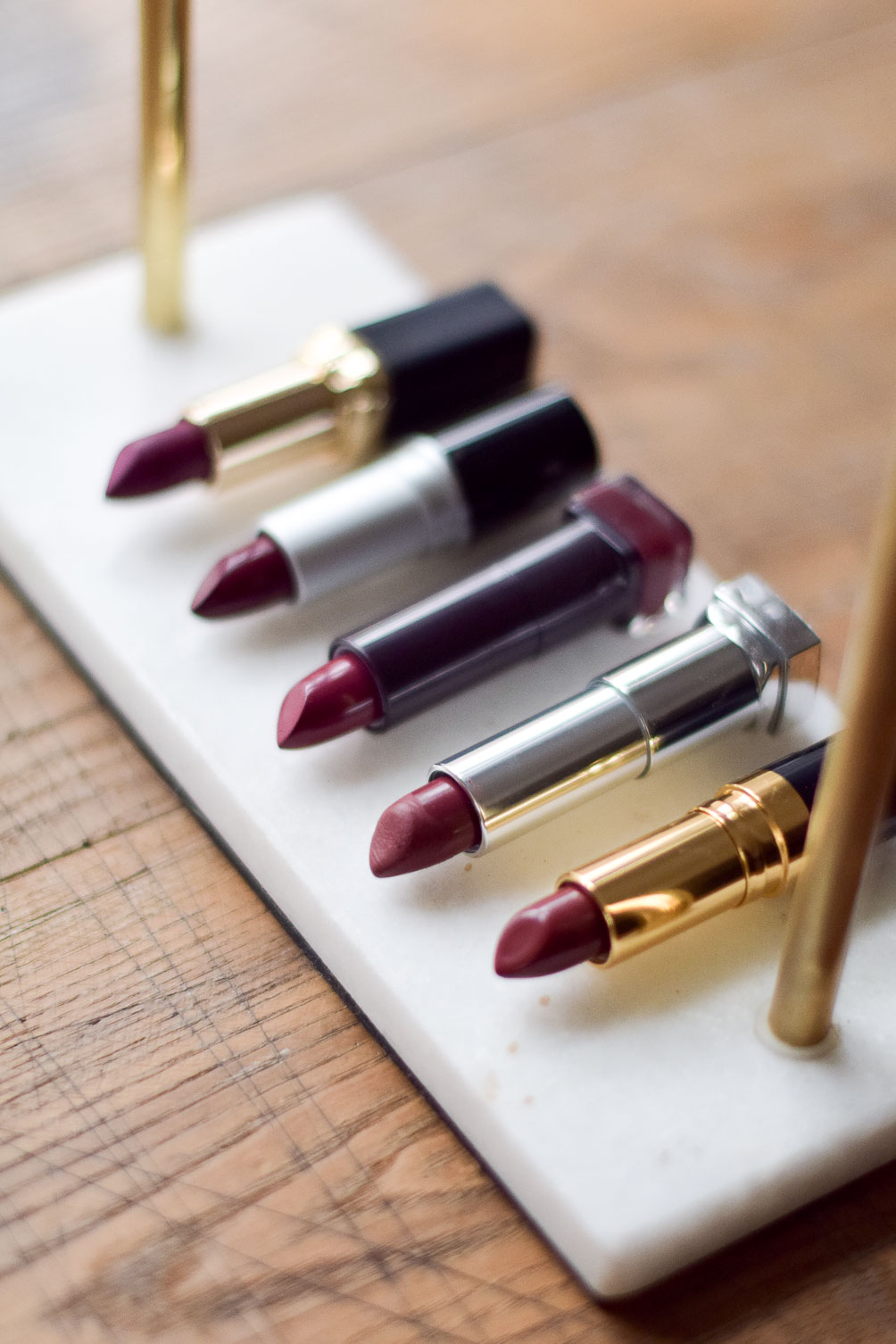 I'm not usually drawn toward darker lip shades. They can feel intimidating or more attention-grabbing than I want on a daily basis. But this season I've been seeing purple lipstick tones pop up everywhere and am loving the berry hue. Because I'm more hesitant with the color, I decided to scope out the best budget buys from my local drugstore. That way, it wasn't a major money pit if I didn't love a particular option or brand. And today I'm sharing the results + rankings from this little at-home test.
Lipstick: Revlon, Raisin Rage, $8
Notes: This shade had a thick application that only required one coat. I loved the rich tone; however, I could've done with a little less I'm-drawing-on-my-lips-in-Crayola feeling. But, I can deal with it since the result was that pleasing, burnt raisiny color.
Lipstick: L'Oreal, Jennifer's Pink, $6
Notes: Right off the bat, this had two strikes against it: the color applies about three shades lighter than what appears in the tube and it bleeds. Application was pretty much impossible without Q-tip cleanup. And, in my book, the magenta hue really didn't suit what was advertised.
Lipstick: MUA, Plum, $8
Notes: Spoiler alert: I'm a little bit in love with this one. It's my first experience with the brand and nothing disappointed. The name is definitely appropriate because, once applied, it resembled the inside of a perfectly ripe plum. In addition, it went on much like a gloss but with better 'setting' power.
Lipstick: Maybelline, Raging Raisin, $5 (yea, it's weird that the name is almost identical to Revlon)
Notes: Mirror, mirror on the wall this is the most dramatic of them all. And based on color alone I really wanted to grade this with the A's. But, unfortunately, it comes out of the tube rather dry and challenging to apply. But the hue is exactly as it appears. And once applied, it offers good, lasting coverage.
Lipstick: Covergirl, Euphoria, $6
Notes: This was a solid contender. With a more pinkish, lip stain feel, it offered easy application and durable color. Out of all the ones pictured here, I think this could transition best from day to night without feeling moody either way.
shop purple lipstick – best budget buys