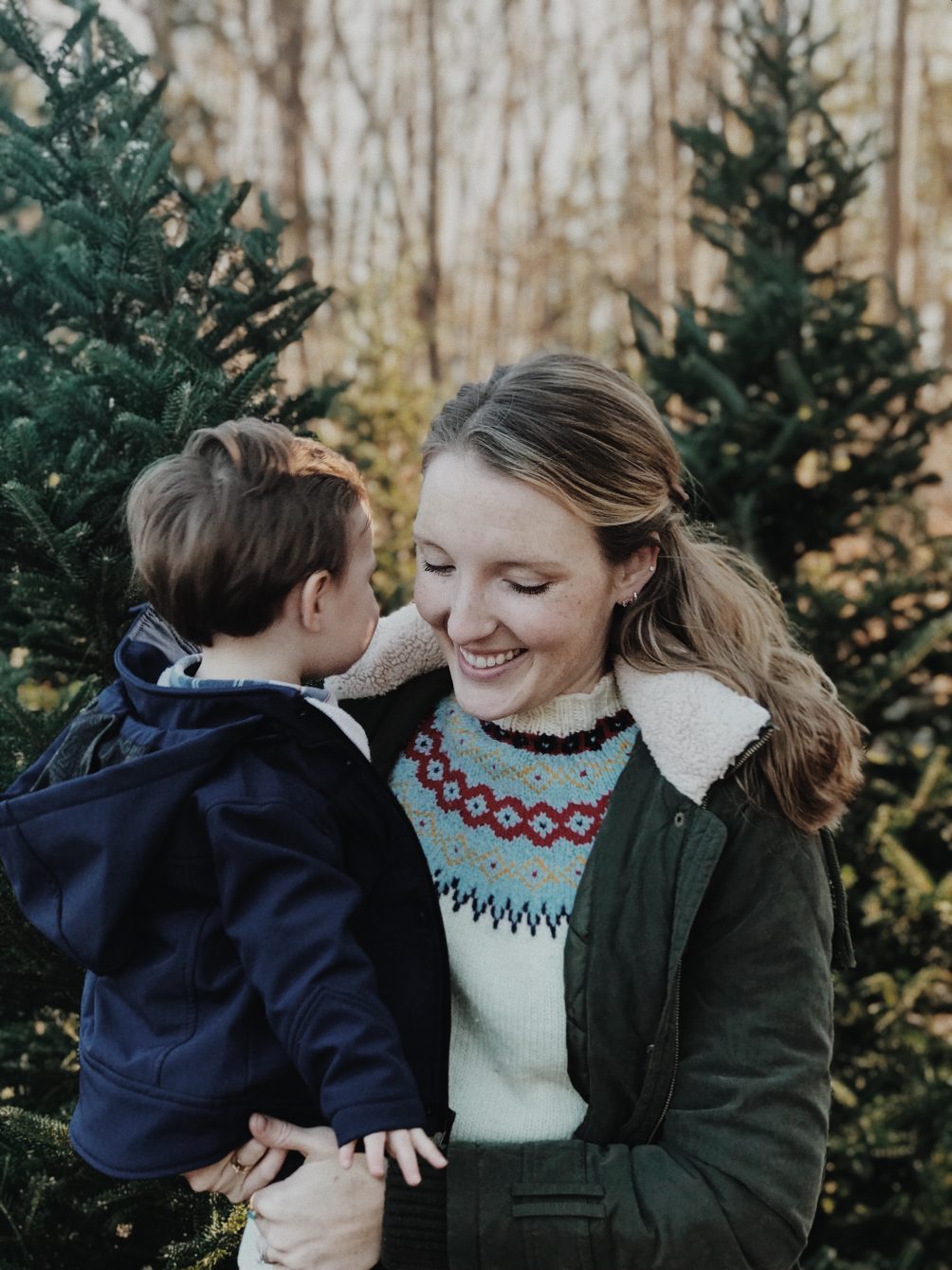 Some of my fondest memories as a kid are rooted in our christmas traditions. As a little tyke, those constant holiday habits were something to look forward to every year. Even before we had Colton, E and I would talk about what we wanted to continue from our childhood. Seeing as last year Colton was just an infant, this feels like much more of a real celebration with and for him. So I wanted to share our christmas traditions with you if you're looking to start some new ones or just interested in knowing what other families do! We hope you enjoy this peek into our festive fun. xx
THE DECORATING
I am completely uncompromising on getting a live tree. I know it's more work and a pain to move in as well as out, but nothing beats that ambiance. Though I didn't look into it early enough this year, I've heard about the option of buying living (i.e. still potted) trees that get delivered and picked up from you. That way, you're not chopping it down and throwing it away. Some companies even let you get the same tree year after year (assuming your ceiling height allows for it).
ST. NICK
To be honest, I have no idea why my parents did the tradition of St. Nick. It has strong German roots and is a celebration of the feast day of Saint Nicholas. He was a bishop in the Roman empire and well-known for his generosity with children in particular. In Western countries, the day of celebration is December 6th. So, on December 5th, the children leave their shoes outside their door (or in front of a fireplace) and find little presents there in the morning. Frankly, it was a fun jumpstart to the holiday season and didn't bear strong significance beyond that. This year on St. Nick's we gave Colton his first nativity scene that so far has been a big hit!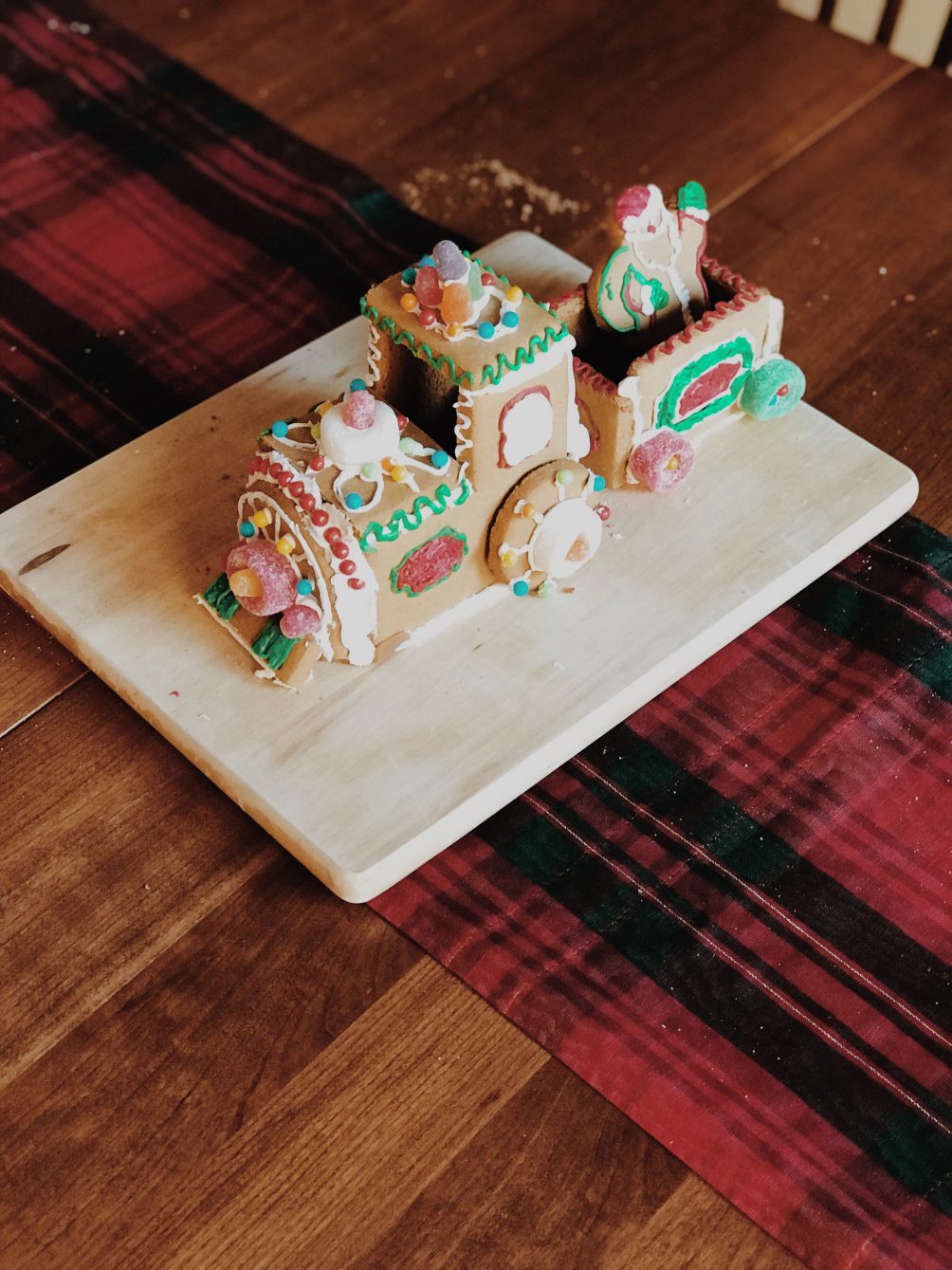 GINGERBREAD…SOMETHING
This one is pretty new, and more a decision of my sister and I than anything else. We love the idea of crafting something out of gingerbread every year. Last season it was a standard house and this year we upgraded to Santa's train (see above). While we say it's just for fun, it winds up being moderately stressful from an artistic standpoint and rarely involves any child input. Nevertheless, the bread of ginger gets decked out and we call it a day.
CHRISTMAS EVE
The anticipation of Christmas Eve is maybe my favorite thing. That entire day is full of happy tension, building to Christmas itself. We do a few things to really embrace those feelings. First of all, we attend our church service. Pre-parenthood, that included a midnight candlelight vigil. But now we opt for the earlier services and times to see friends, sing carols, and revel in God's goodness. After the church service we all open one present. E grew up being able to choose whatever present they wanted to open. In my family, we always knew that would be some sort of pajamas. For Colton, at this point, it's pajamas solely and maybe we'll add in the additional present as he gets older.
Finally, this is a tradition I don't take part in but E is the champion of. He watches It's A Wonderful Life every single Christmas Eve. And I may be committing sacrilege here, but I cannot stand that movie. Every scene of it up until the very last makes me feel uncomfortable. E finds joy in it all but I only see sadness. So last year, he and Colton watched it without me. I'm guessing that'll be the case again this year.
CHRISTMAS DAY
We've arrived at Christmas Day! All the best of our christmas traditions culminate in a few special things: first of all, we do stockings at the foot of the bed. These are always filled with small trinkets like chapstick or hair elastics, etc. For Colton it's snacks and tiny toys. Once the clock reads a reasonable hour, the kids are allowed downstairs. Once again, the night before they leave their shoes out in the family room. In the morning, by their shoes, they find a big unwrapped present. It's usually the thing that requires assembly and is too awkward for ribbons and bows.
Before the full hoopla of presents begins, we sit down to read the Christmas story. We have a sweet, abridged version that holds Colton's attention while still getting the message across. It's so important amidst all the family time and joy of gift-giving that we remember why we even celebrate at all. The love of our Lord to come down in baby form is no small feat to be forgotten!
Finally, we' dive into presents in an orderly fashion. Every year we switch off, starting from oldest to youngest or youngest to oldest. That way everyone gets their turn and each gift can be appreciated. Personally, I take on the task of handing out all the gifts under the tree and absolutely love it.
WHAT ABOUT SANTA?
Since becoming a parent, I realize now more than ever how many different opinions there are on the topic of Santa Claus. Do you have your kids believe? Do you tell them he flat out doesn't exist? It's sort of impossible to ignore the jolly man in red. I've decided to follow in the footsteps of what my own parents did. We pretended there was a Santa Claus. Meaning, all of us kids knew he wasn't real. But we partook in the spirit of Santa Claus. We'd leave out cookies, milk, and carrots (even though we knew my dad would eat them). We would write letters to Santa (even though we knew my mom was really the one getting gift ideas from them). It was a joy to play along without that heartbreaking letdown of someday discovering he isn't real.
Are there any other christmas traditions your follow?