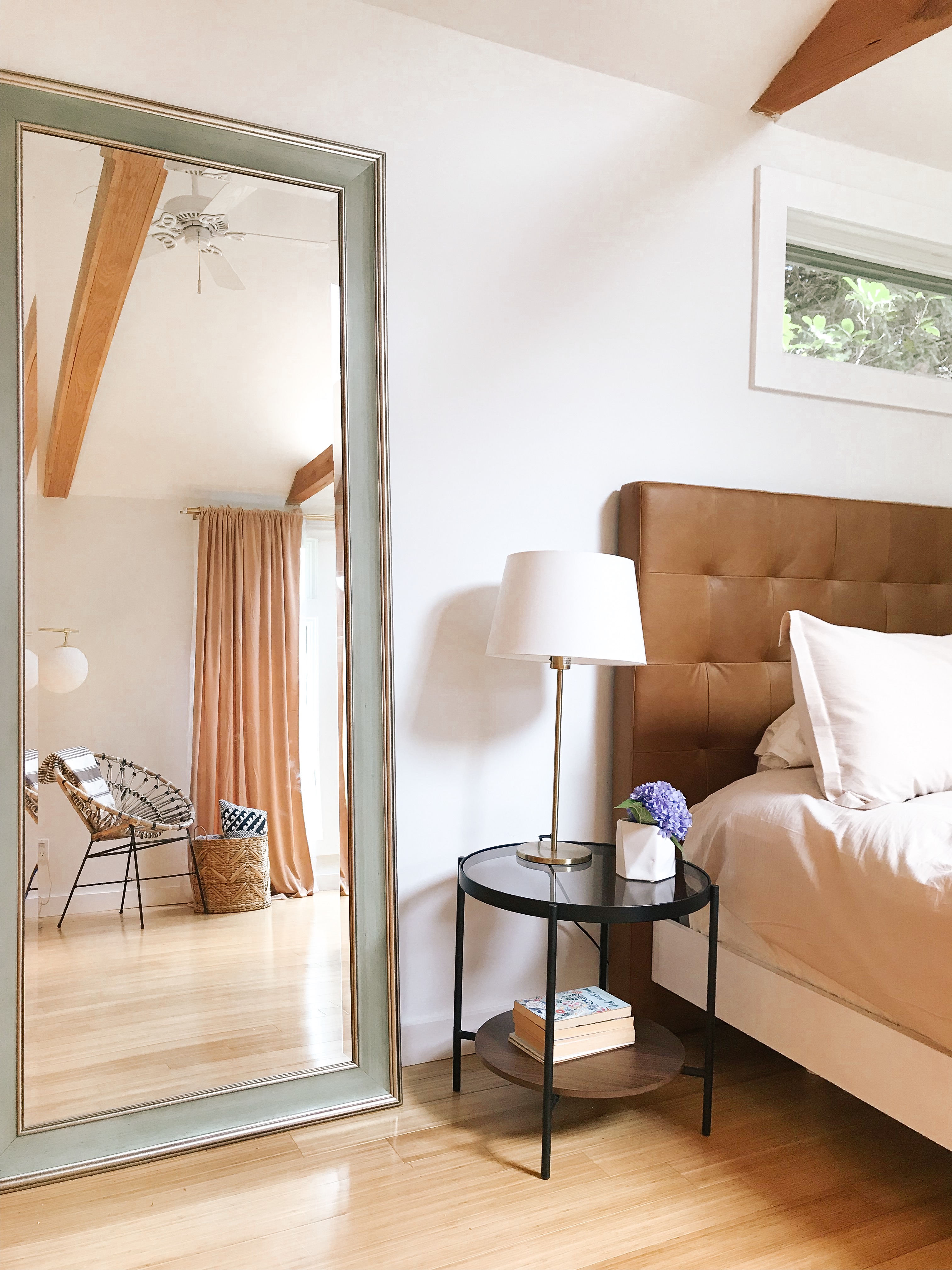 I feel equal parts giddy and honored to share our master bedroom reveal. When we bought this house, I truly had to pinch myself the space was real. E and I are fortunate enough to be on our third round of home ownership. And every property has suited our family better than the last. But this room takes the cake. With walk-in closets and an ensuite bathroom, I essentially never want to leave. The light wood flooring combined with oodles of natural light make it welcoming yet calming. So teaming up with Article to bring my design vision to life was the cherry on top.
We're on baby number two pretty soon. I have no doubt life will simply get more chaotic by the month. That realization shaped what I wanted our master bedroom to feel and look like. This space is meant to be a retreat–a little oasis to step away from busyness and recharge. In keeping with my aesthetic, I opted for neutral tones while mixing textures. As you can tell from our before and after pictures, we left the walls a crisp white. In that way, our furniture makes the real statement while ensuring nothing feels heavy or cluttered.
We chose three pieces from Article's furniture collection to complete our remodel. Here they are (and why we love them):
Lito King Heaboard in Charme Tan
This Italian-tanned leather headboard is a work of art. It becomes the focal point of the room while still feeling comfortable. We wanted a piece that blends approachability with style. And that is always what Article furniture offers. This can withstand kids but simultaneously look like we're ready for a magazine shoot (a girl can dream, right?).
I am all about ditching the box spring and opting for a sleek bed frame. I love the low profile and minimalist appeal this Basi has. It pairs beautifully with the leather headboard and gives a few inches of under-bed storage.
I used to be so opposed to mixing wood tones. I'd want light wood floors to be accented by light furniture or vice versa. But I'm broadening my design horizons. I love how these walnut side tables contrast with our brighter interior. Functionally they also offer a lot of storage space. I mean, where else will I keep all my nighttime nursing snacks?
As time goes on and our family expands, I realize the need for truly durable furniture. Every item we've gotten from Article has hit that mark. We are over the moon about their impeccable product, fair prices, and stellar customer service. It's always an honor to share the brands that we admire and appreciate with you.
Thank you to Article for partnering with us on this master bedroom design.