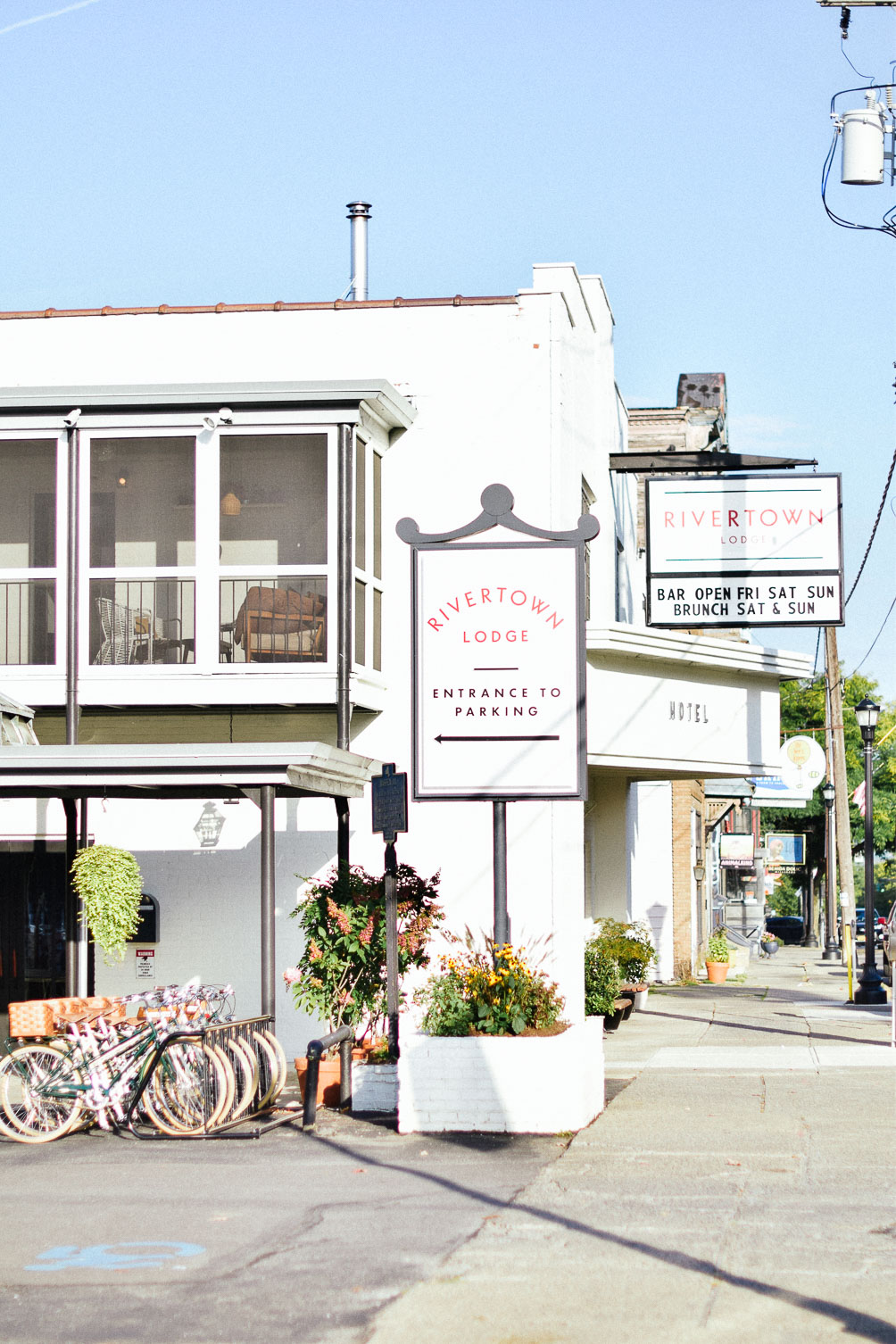 Last week we ventured to upstate Hudson New York for a quick two day getaway. We planned it a few months ago not knowing we'd be desperate for a vacation at that exact time. So it came as the perfect respite. It was a new destination for E + I both and instantly became a favorite. The first walk down their main street felt like a movie set. All the sweet architecture and interesting storefronts totally captured us. So I wanted to share a quick travel guide of highlights.
where we stayed: Okay, Rivertown Lodge is an absolute gem. This movie-theater-turned-hotel is full of funky, hipster decor and details that still feel completely approachable. Our room was this cozy mix of cabin style with modern fixtures. They have an outdoor ping pong table, complimentary bikes for guests, and a lobby complete with communal kitchen. Beyond that, you know you're not in Boston anymore when they offer a pantry of treats that's on the honor system. We felt completely at home from the moment we dropped our bags and truly hated to drag ourselves away.
where we ate: A friend of ours gave some stellar food recommendations prior to the trip. This little town is packed with culinary geniuses and we got to sample just a few. For coffee and pastries we popped across the street to Bonfiglio. It's a teeny space packed with gorgeous croissants. But I was feeling an omelette the first morning and found this semi-dive joint, Nolita. They game be a monstrous portion and I didn't let one bite go to waste.
For lunch we hit up two separate places: The Cascades and Le Gamin Country. The former had a crazy delicious selection of sandwiches and the latter made a dynamite brunch menu. Finally, our favorite dinner was from Wunderbar & Bistro. We both got salads (which, for E, is not so common) and absolutely devoured them. Because it was such a short trip we couldn't fit in all the gourmet destinations; so we have a running list for when we return.
where we shopped: Well, this list gets long because, essentially, we just wandered down the main street and into (almost) every spot. But, I will say it's more of a weekend town. So being there on a Monday/Tuesday meant a number of places were closed. Here are a few standout spots we recommend:
And a quick video recap with editing by Altius Productions.
A Weekend in Hudson, New York at Rivertown Lodge from Leslie Musser on Vimeo.