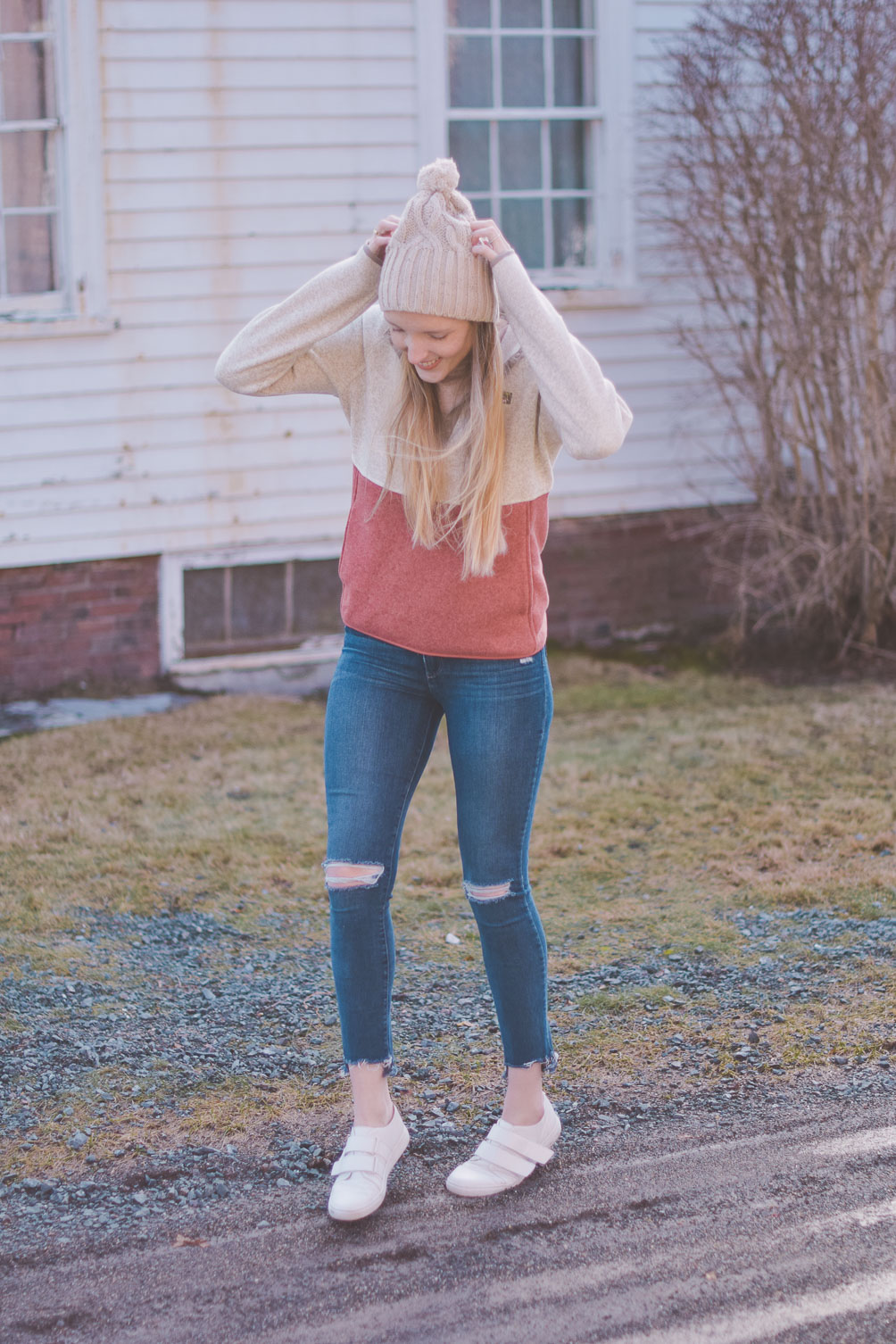 Part of my new years projection for 2018 was to take a more conscious, deliberate approach to my fashion choices. I'm beginning that today with a look at five key pieces added to my closet over the last few months. Each one was patiently purchased (I tend to be trigger happy on the 'buy it now' option), reviewed well on quality and durability, and didn't duplicate anything I already own. Although impulse purchases are fun and rewarding in the short-term, I noticed how often I come to either regret or completely neglect those items. So, instead, I carefully selected these five winter wardrobe additions to first meet function then look fashionable. And, yes, there's a pink theme going on. BUT almost all of the items come in a variety of colors so you're not stuck with my girly picks.
one: L.L. Bean Sweater Fleece Pullover Hoodie (wearing this in the photos) -Being a New Englander, the L.L. Bean brand is a staple. They're highly regarded for long-lasting pieces and stand behind every item produced. I was looking for an easy-to-wear layer that offered warmth without too much bulk. This checked all my boxes plus came in a variety of fun, two-toned color options.
two: Chelsea 28 Loopy Colorblock Cardigan – I pulled this out of the box and E's first reaction was to laugh. I will admit it vaguely resembles a poodle, but it's every bit as cozy as you might imagine. The open front allows me to pull it on over other sweaters for double the toastiness. My unexpected bonus perk is that Colton stays wildly entertaining by pulling at the loops.
three: The North Face Aconcagua Front Zip Jacket – For the dead of winter months I've found nothing else as warm as goose down. I've only ever owned one other jacket with feathers and it got me through a semester of Euro-tripping in college. So I finally invested in this option. The length hits right at my waist so I'm able to layer under another parka if need be. Plus, the pattern of quilting is unique and hits on my desire for stylish details.
four: Patagonia 'Better Sweater' Jacket – I think if I were stranded on an arctic island and could only bring a handful of clothes, this would be one of them. My mom and sister picked it out as a Christmas gift and I'm moderately obsessed. The material perfectly blends that sweater-yet-jacket line. So I constantly wear it around the house yet am also warm enough to walk outside in it. It's not a heavy weight and can easily work for three out of our four Massachusetts seasons.
five: Gap Sherpa Mockneck Pullover – Holy fuzziness, batman. When you pull this sherpa over your head it's like arriving in a cloud. I was skeptical of how much warmth it would actually provide. However, an interior lining helps to lock in body heat while also blocking wind. Confession: I am routinely tempted to make this my go-to pajama top.
When it comes to adding pieces to your wardrobe, are you an impulse buyer or slow to commit?
shop this winter wardrobe additions post