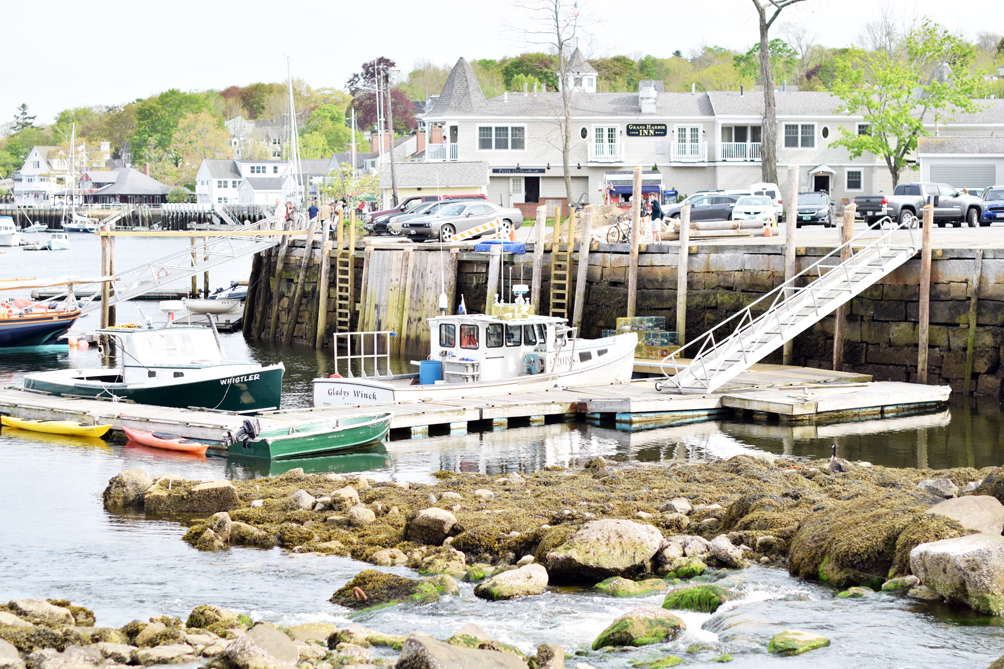 Two weekends ago we took a rather impromptu trip up the coast. Maine is one of E's favorite places in the world and holds many special childhood memories for me as well. We hadn't been there since our outlets adventure, so we planned a two-night getaway. The sweet little town of Rockland Maine was our destination and proved to be the perfect mix of relaxation + recreation. The boutiques and cafes were just barely edged out in beauty by the killer coastline views. So, for today, I've pulled together a recap and travel guide of our favorite spots PLUS a short video at the end of the post.
where we stayed
Hands down one of the best parts of our trip was the lodging. We checked into 250 Main Hotel and instantly felt at home. The mid-century furnishings, lobby-to-top-floor art gallery, and breathtaking roof deck sold us in a second. Then came the rooms. Oh my goodness we wanted to steal their bedding, make like bandits with the bathroom mirrors, and scoop up all of their funky fixtures. Plus, as a cherry on top, every member of the staff was warm + welcoming. This spot gets two lobster claws way, way up.
what we saw + shopped:
For an itty bitty town, E and I were amazed at the amount of art. Everything from outdoor sculptures to painted murals and high-end galleries made it feel like an eclectic museum town. We adored the grounds of the Farnsworth Art Museum where, I kid you not, they have a ginormous wooden camel. That was the best.
We spent the better part of Saturday walking up one side of Main Street and down the other. That included a deliciously long 'layover' at Fiore where we tasted our body weight in balsamic + olive oils. My top pick from all the boutique shops was one called fourTWELVE. The interior was gorgeous and their selection spanned everything from local artisans to national brands.
where we ate:
Well, as soon as the road trip started, we were on the hunt for lobster. It's basically a law of Maine vacations that at least one roll be consumed. And, while it's actually on the way to Rockland instead of in the town, Red's Eats of Wiscasset is the king of kings when it comes to lobster rolls. This was E's first experience and none of that buttery goodness disappointed (hint: come hungry and bring cash).
While we popped into a few cafes and even had the pleasure of live music one night, our other foodie favorite was at a brand new spot, Broken Egg. Unbeknownst to us, they'd only opened their doors three days earlier. But by the dishes, you'd never have known. E chowed down a breakfast flatbread while I found a new obsession: 'fruishi.' To be clear, that's 'fruit sushi.' So, so delicious.
p.s. per the video below, I canNOT do the running man.
video editing by Altius Productions