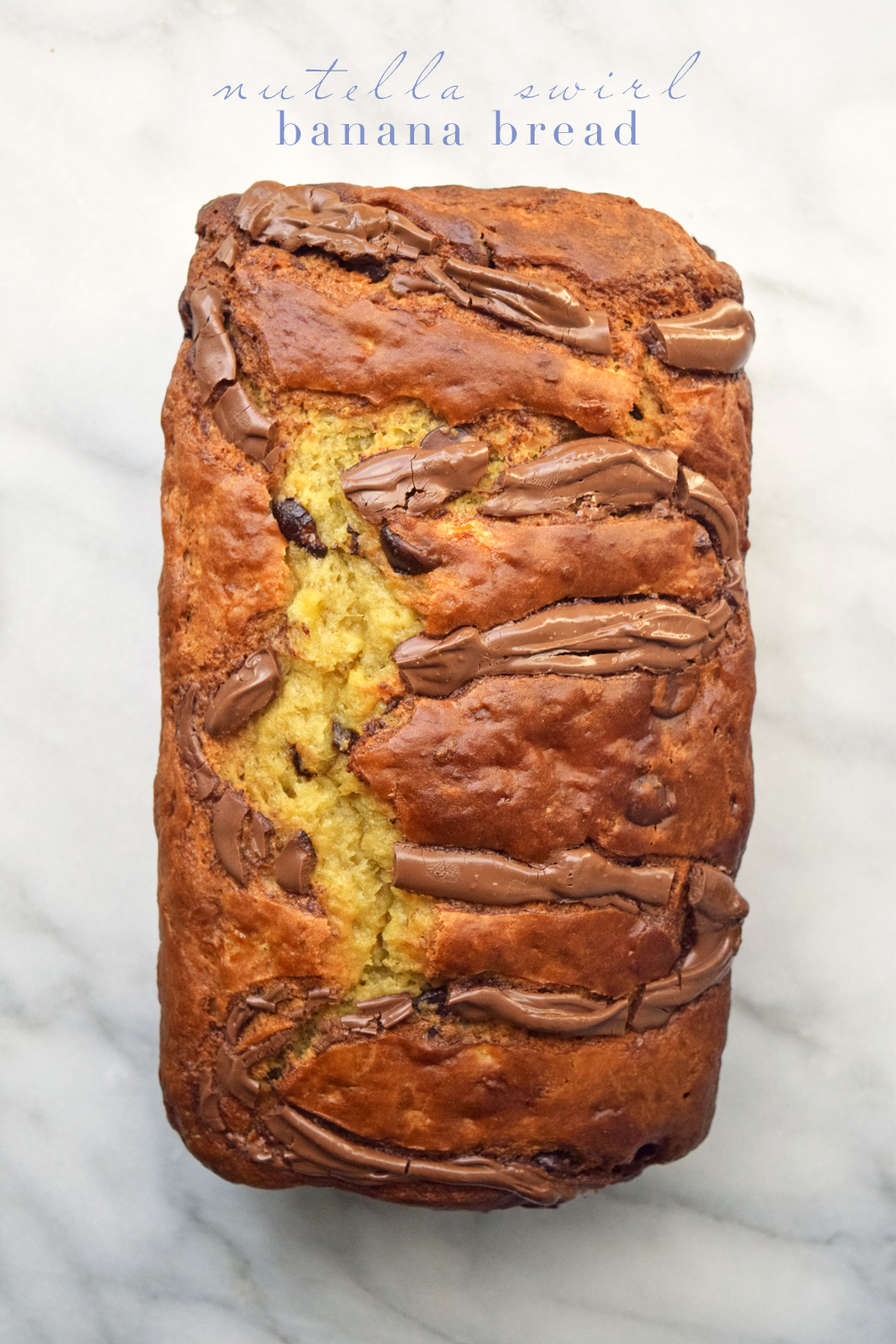 Guys, there almost don't need to be any words for this post. The goodness is right there on the page. But, I did discover a weird fact while baking this banana bread: the top swirl of nutella hardened instead of melting. Isn't that strange!? I kept poking at it (hence some of the cracks) to test the texture. But it just proved to be another way that nutella conquers all. That crunchy topping actually made the perfect contrast. Also, the browner the bananas the better–mine were almost black and the result was amazing. See full recipe below.
---
INGREDIENTS
3 extremely ripe (even brown) bananas, mashed
6 tablespoons butter, melted
2 eggs, room temperature
6 ounces Chobani plain, non-fat greek yogurt
2 teaspoons vanilla extract
2 cups all-purpose flour
1 teaspoon baking soda
¾ cup sugar
1 teaspoon salt
⅔ cup Nutella
DIRECTIONS
Preheat the oven to 350ºF. Line a loaf pan with parchment paper.
In a large bowl, combine the mashed bananas with the melted butter, stirring to combine. Mix in the eggs, greek yogurt, and vanilla. Set aside.
In a separate bowl, combine the flour, baking soda, salt, and sugar.
Fold the dry ingredients into the wet.
Pour half of the batter into the prepared loaf pan. Melt Nutella in microwave for 20 seconds. Drizzle half of Nutella over batter, gently swirling the batter with a knife to form ribbons of Nutella. Pour the second half of the batter on top and repeat with remaining Nutella.
Bake for 60 minutes, or until a knife inserted in the center comes out clean. Allow to cool for 15 minutes before removing from loaf pan.