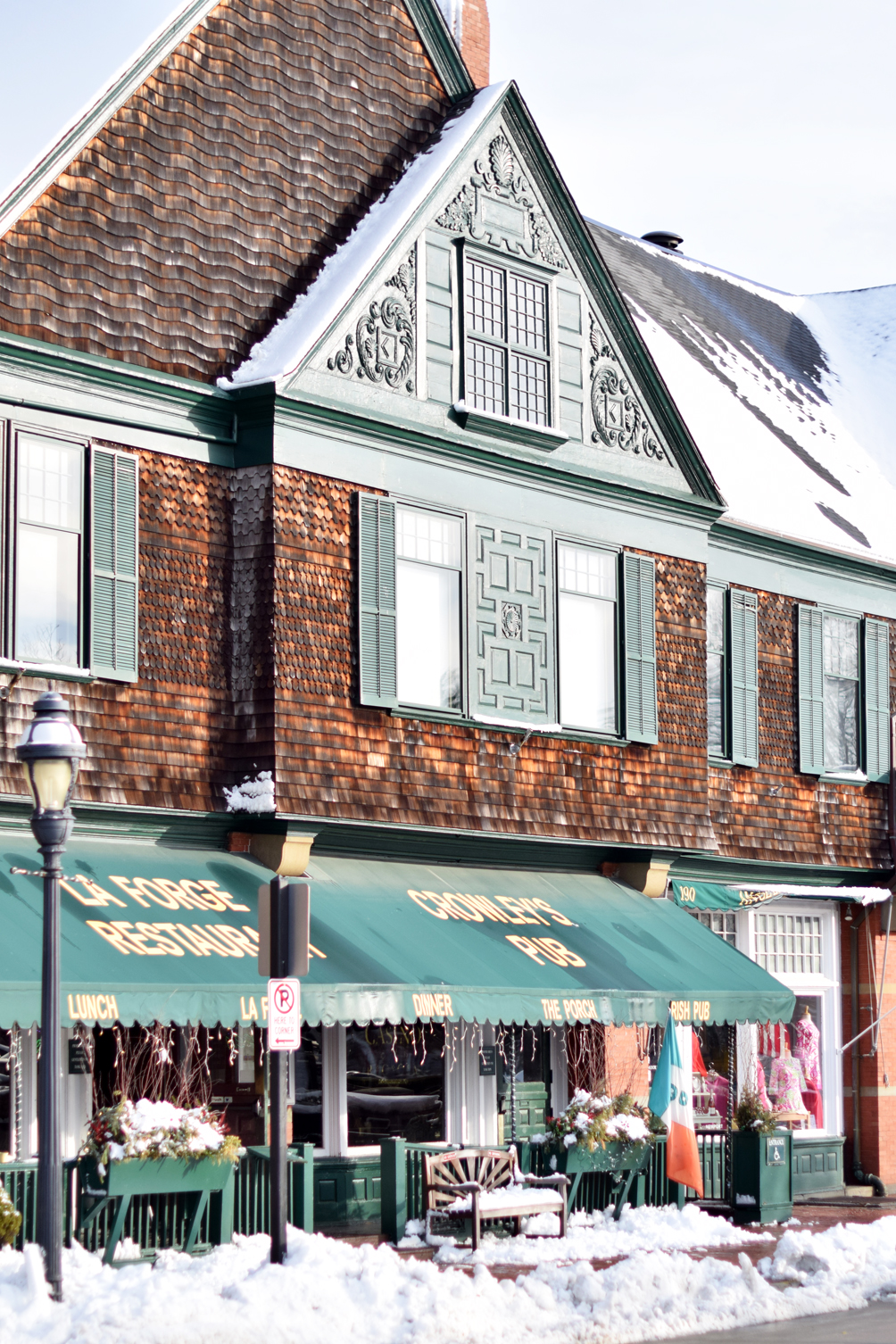 Despite Friday's storm pushing back our travel plans, this little weekend getaway was everything we needed. Getting an early start on Saturday meant we had a full day to explore all the sights, sounds, and delicious dishes of Newport in winter. Now, I've visited before but never at this time of year; and the charm level doesn't change. Every storefront and fudgery is just as sweet as later in the spring/summer (albeit there are more snow piles to hurdle). So today I'm sharing our little 48-hour travel log complete with favorite coffee spots and best photo ops.
where we stayed: The Newport Marriott felt so magically nautical as soon as we stepped through the door. I honestly didn't make it to the reception desk before hauling out our camera and snapping away. The Plank Bar in the lobby was this funky fountain area with hanging basket chairs and rope details. I was so ecstatic when we got to our room and realized it was the cool equivalent of the rest of the property. Also, I'm now determined to find their mega-mammoth-high-speed bedside phone charger. That thing was lightning fast and I'm currently feeling the slow charge withdrawals.
day one: After checking into our room (early, always a win), we lost no time in heading straight toward the mansions. I was bursting for E to catch that initial glimpse of The Breakers front gate. We hopped on a guided tour and spent a couple of enthralling hours viewing the home and grounds. The shock value really never wears off.
Instead of packing in all the houses at once, we drove to downtown and stumbled across Cru Cafe for lunch. Oh my goodness, I wish I could bottle their butternut squash soup and send it virtually through the blog. Were it reasonable and I had a place to store it, I think I'd have ordered a vat-to-go. But next stop was the Tennis Hall of Fame. I'll be honest, I went in there thinking it was just to indulge E, but I was fascinated. Let me rephrase: I turned into a child. They had all these options to interact, voiceover match commentary, and even watch a freakishly realistic hologram of Roger Federer. That was thrilling. Then right next door was the Audrain Automobile Museum that I had to promise we'd come back and visit sometime. There were some sexy vehicles staring us down through their giant windows.
Saturday was topped off and highlighted by dinner at Clarke Cooke House. I went for their daily catch and E dug into a juicy filet. Everything from service to drinks, fun atmosphere and unforgettable dishes made that night a treasure. They even have a Boom Boom Room for late night dancing tucked right into their basement.
day two: By Sunday morning we'd rallied for another mansion extravaganza. Unfortunately, my favorite of all, Rosecliff, was closed until May. But we still made the trek around their property for some sweet views and architectural gawking. And it did push us to see an incredible home, The Marble House, that I hadn't planned. Let me tell you–no disappointments there. Our tour guide was hilariously quirky and incredibly knowledgeable of every detail. Plus, I found some delightful kitchen inspiration.
After (reluctantly) checking out of the hotel, we spent the final hours in Newport browsing the shopping district of Thames Street. It houses everything from chain stores to spice boutiques. Notably, we pressed our faces against multiple candy shops just lusting after confections. And I had a few indulgent moments trying on estate pieces at some local jewelers.
Knowing that weather prohibited some activities, we're already making plans for a return trip to the vineyard area with an afternoon along the Cliff Walk.
other spots we'd travel back for: Newport Creamery breakfast, White Horse Tavern drinks, Newport Sweet Shoppe cupcakes
For more travel resources visit Discover Newport.