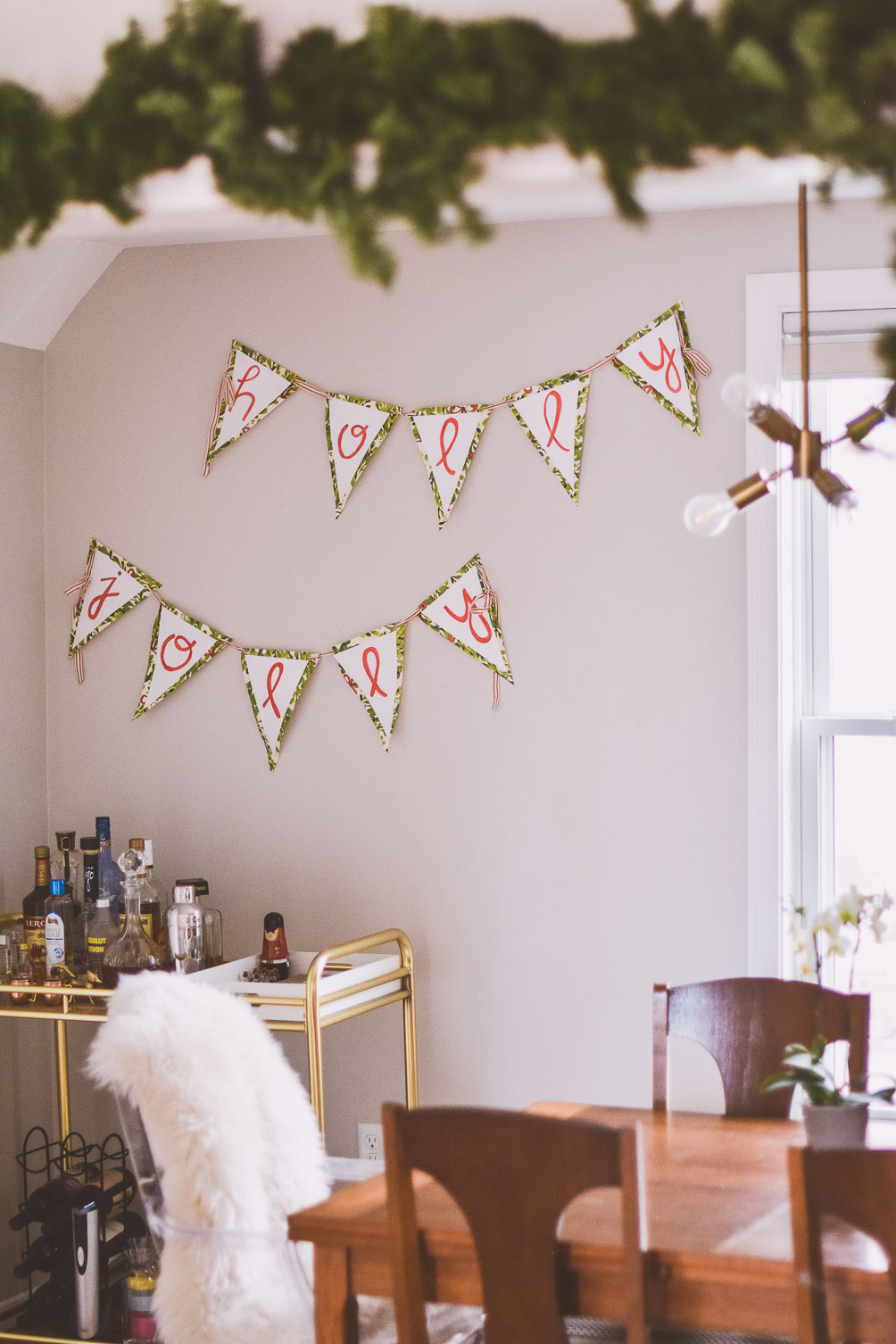 We took an uncharacteristically early approach to decorations this year. The day after Thanksgiving  we trimmed the tree, strung up garland, and hung a wreath on our door. But I guess it's because we have a two-fold reason to get extra festive. This is Colton's first Christmas as well as the first holiday season in our new house. Also, the past two Christmases, we were in transition limbo with our housing and therefore didn't decorate at all. So it's double the fun in Musser-land. However, we didn't want to go overboard. It was a blast to cozy up the place but we kept expenses and aesthetics in check. So I wanted to share a few easy holiday decorating ideas that capture the spirit of Christmas without a burned-through wallet  or overpowering jolliness.
edging with greenery
The first things we start with when it comes to decorating are our garlands. They instantly create a cozy space that ties in natural elements. I tend to frame our doorways or line our staircase with them. That way they're visible from all different spaces in the home. It was a tradition in my family growing up, so I've enjoyed carrying that over into this new house. This year we even added some twinkle lights as well as faux berries, adding spots of brightness and color.
the pillow swap
As someone who very often wants to 'change things up,' I'm a major advocate for stockpiling throw pillows. They're such a simple and relatively inexpensive way to refresh your space or, in this case, get holiday-ified. I mixed and matched a few of our existing pillows with these new red and white ones from Target. They make a statement but also serve the purpose of being comfortable. Going along with the couch refresh, I tossed a jolly colored blanket on our ladder for that finishing touch.
hello, homemade
It's really easy (and tempting) to drop a few dollars here and there on new decor pieces. But what I've quickly realized is how those dollars rapidly add up. So, before purchasing anything new, I made sure to unpack everything we had in storage. I was surprised by a few sweet, homemade pieces that had been hiding away. For instance, the "holly jolly" sign above was made by a friend of mine for our Christmas party a few years ago. I had another bit of bunting I'd crafted as well. It carries a certain nostalgic beauty to look around and have memories attached to our interiors.
everywhere a sprinkle
The general rule to decorating for me is that a little bit in each room goes a long way. Instead of overloading one space, I like to carry the festivities into each room. Our kitchen has bottle brush trees on the table, our during room holds the "holly jolly" sign with a touch of garland, and our living room is celebration-central with the Christmas tree and nutcrackers. That way, no matter where in the house you stand, you'll feel the vibes of this very merry season.
shop this easy holiday decorating ideas post