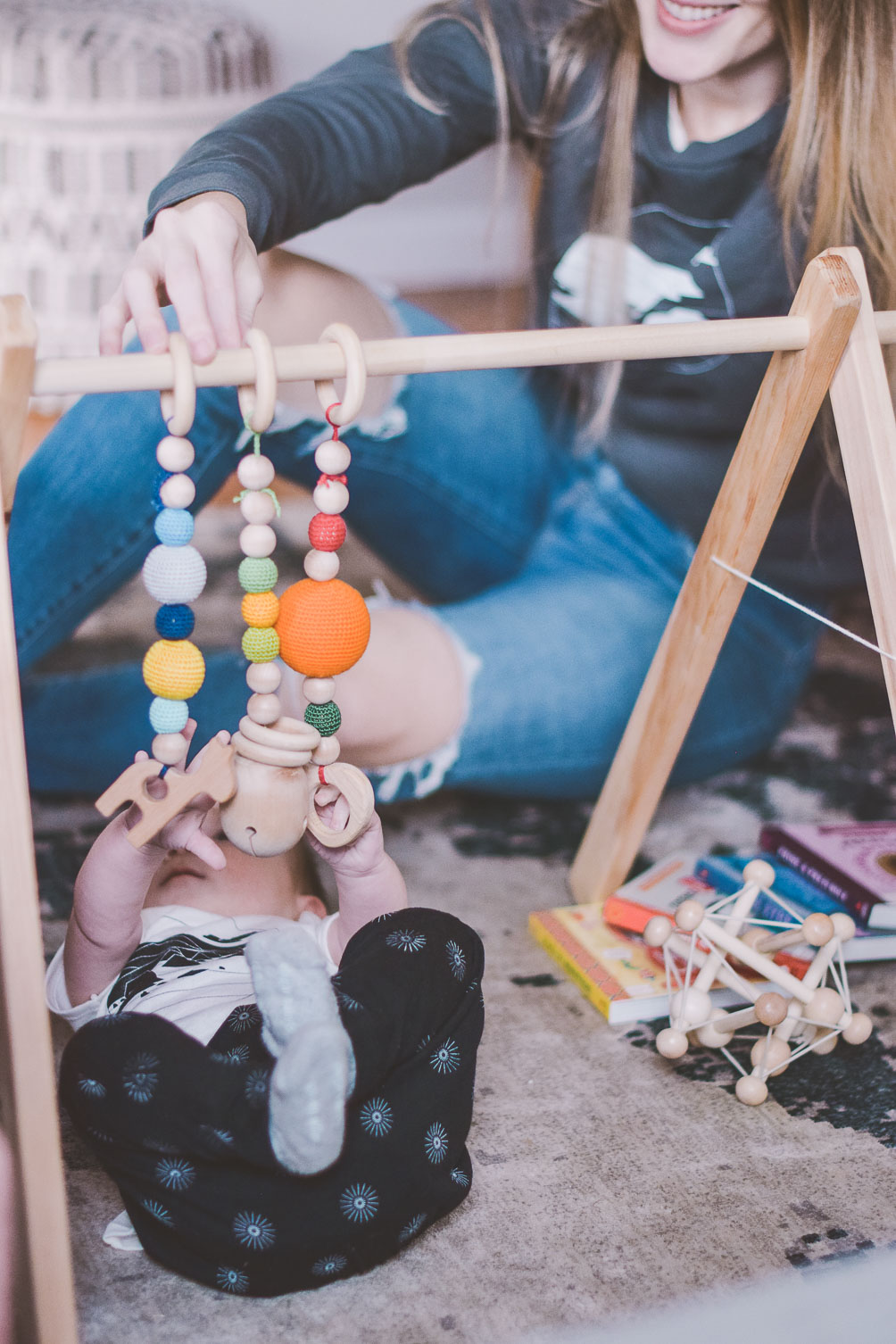 If you've been following this blog for a while, you'll know that conscious consumerism is a major passion of mine. I am inspired by brands that rewrite industry standards and seek to affect change. So I jump at any opportunity to highlight those entrepreneurs. Today I'm ecstatic to introduce you to Kristen Young, founder of the clothing brand Color Cloud Mill. Based out of Northern California and inspired by patterns in nature, Color Cloud Mill uses only organic and sustainable materials for creating clothes to suit kids, women, and men.
Kristen kindly outfitted Colton + I so we could check out the brand and feel their product firsthand. A-MAZE-ING. I'll tell you, baby boy didn't spit up once in any of these outfits so that's like the highest compliment ever. Their onesies come in adjustable sizes (how is this not done for all baby clothes!?), and every piece fits right into an active lifestyle. I got the chance to ask Kristen a few questions about her methods and mission surrounding Color Cloud Mill. Scroll down to read her answers and get a peek at Colton's bulging baby rolls.
EXCLUSIVE OFFER FOR OUR READERS: Color Cloud Mill is extending a 20% discount to our readers with code 'COLORCLOUD20' valid through December 10th.
(shown in this post: women's Antler Hinge sweatshirt, Owl kids sweatshirt, Antler baby snap suit, Shoreline baby tee, Sunburst baby harem pant, Blue baby jeans)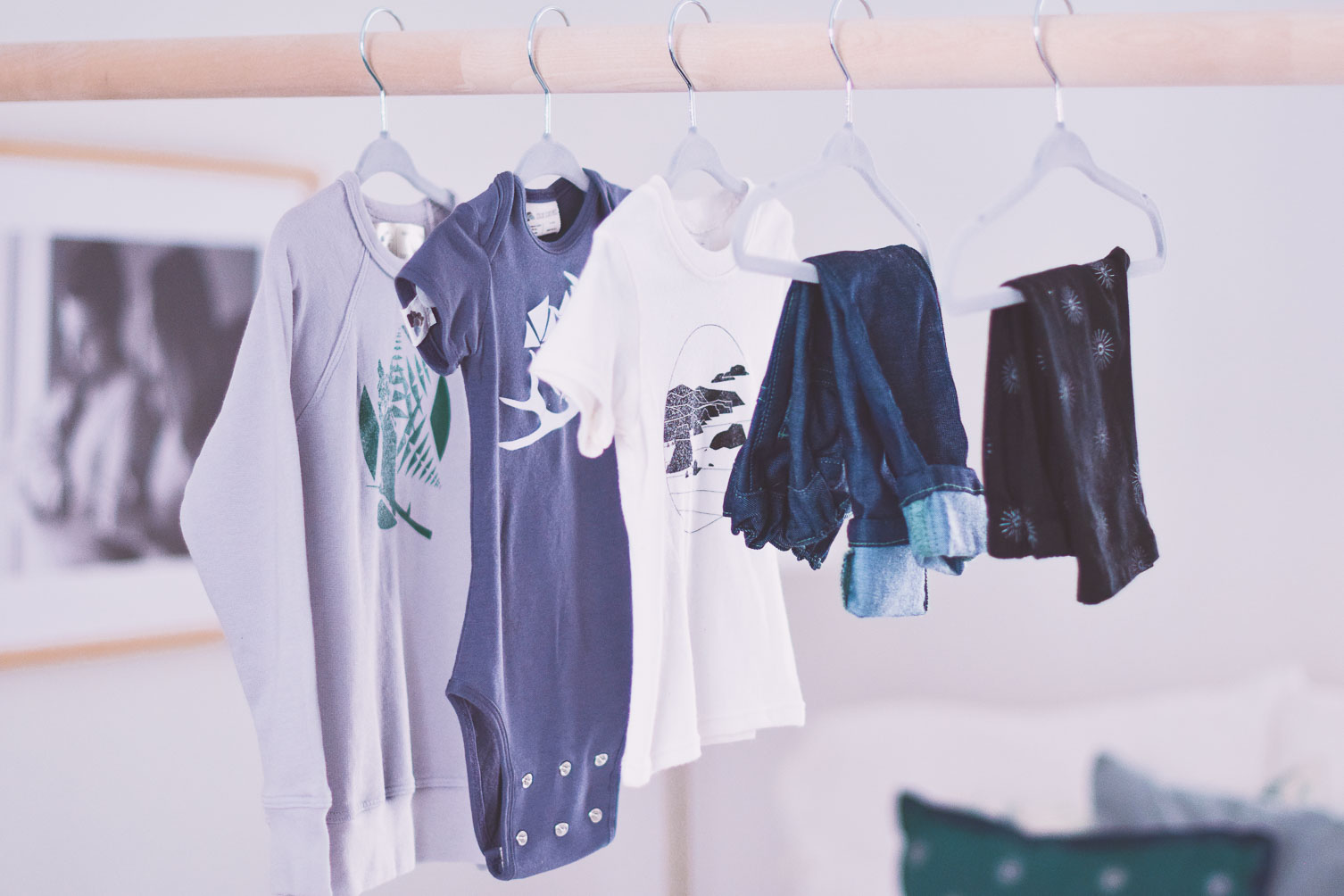 Tell us a bit about Color Cloud Mill—when was itfounded and what brought about the concept.
Color Cloud Mill was founded about two years ago. The inspiration for our brand name stems from the many mornings and evenings spent with my son while either driving to school or headed home, and our love of sunrises and sunsets along the Pacific Coastline. My son would call sunrises and sunsets Color Clouds and it fueled and inspired Color Cloud Mill as a brand name.
Before Color Cloud Mill was born, I first started a brand CLOTH, also inspired by my son. When my son was a wee baby, I used cloth diapers and I wanted to create a children's clothing line that would fit over cloth diapers like a dream. I created a snap suit and baby jean, designed to be cloth diaper friendly and/or grow with baby, using only organic and sustainable fibers and cut/sewn in the USA. As my son grew older I knew my brand needed to evolve and I wanted to offer a broader range of sizes and offerings, this is when I chose to rebrand to Color Cloud Mill.
Where do you get your inspiration for theclothing designs?
I have this intrinsic draw to nature and abstract design. I love combining nature's raw beauty with modern, clean lines. I've been living in the Pacific Northwest for about 15 years now, and most of the raw beauty that inspires me parallels my surroundings – the ocean, the trees, the wild life, the plant life, and the sun, moon and stars.
You've shared with us that you're deeply passionate about supporting female entrepreneurs. How does Color Cloud Mill make that happen?
I work closely with a women owned micro-factory in Northern California for production and have worked alongside two incredible graphic designers & artists to bring my artistic visions to life for my prints. What I have fallen into is a realization that I have been working alongside such a talented and amazing group of female entrepreneurs and it makes me feel stronger and connected as a female entrepreneur knowing that.
Who are some of your role models in the fashion industry?
There are two lines that I fell in love with before opening up our Brick & Mortar store: Barge North Company, a shop that only carries Made in USA clothing & goods, North of West (formerly Make It Good Apparel) & Nooworks. Both of these lines were created by women, who not only construct wonderful garments, but create such beautiful fabric designs.
Name three things you're excited about for thecoming year.
This is a big question J I am excited to evolve and see where my inspiration takes our designs. I am excited to start collaborating with more women entrepreneurs and feel more creative and alive. I am excited to strengthen my knowledge and skill set in textile design.
In what ways has Color Cloud Mill worked to redefine or change industry standards?
Since the beginning, I have always maintained that I wanted to produce all garments in the USA. It has not been easy. So many people in the industry, told me that I would have a hard time manufacturing in the USA, as well as using organic/sustainable fibers or vice versa, that it will be too hard to source the fabric and too costly to manufacture here. But, I have kept pushing forward, working hard to maintain being Made in the USA and as sustainable as possible. I feel it is of the upmost importance, not only for my own personal values, but because our nation's industry is disappearing, which means jobs are disappearing, which means craft is disappearing. By manufacturing in the USA I am supporting local craft, supporting local industry and ultimately supporting other human beings.
Thank you to Color Cloud Mill for partnering with us on this post!