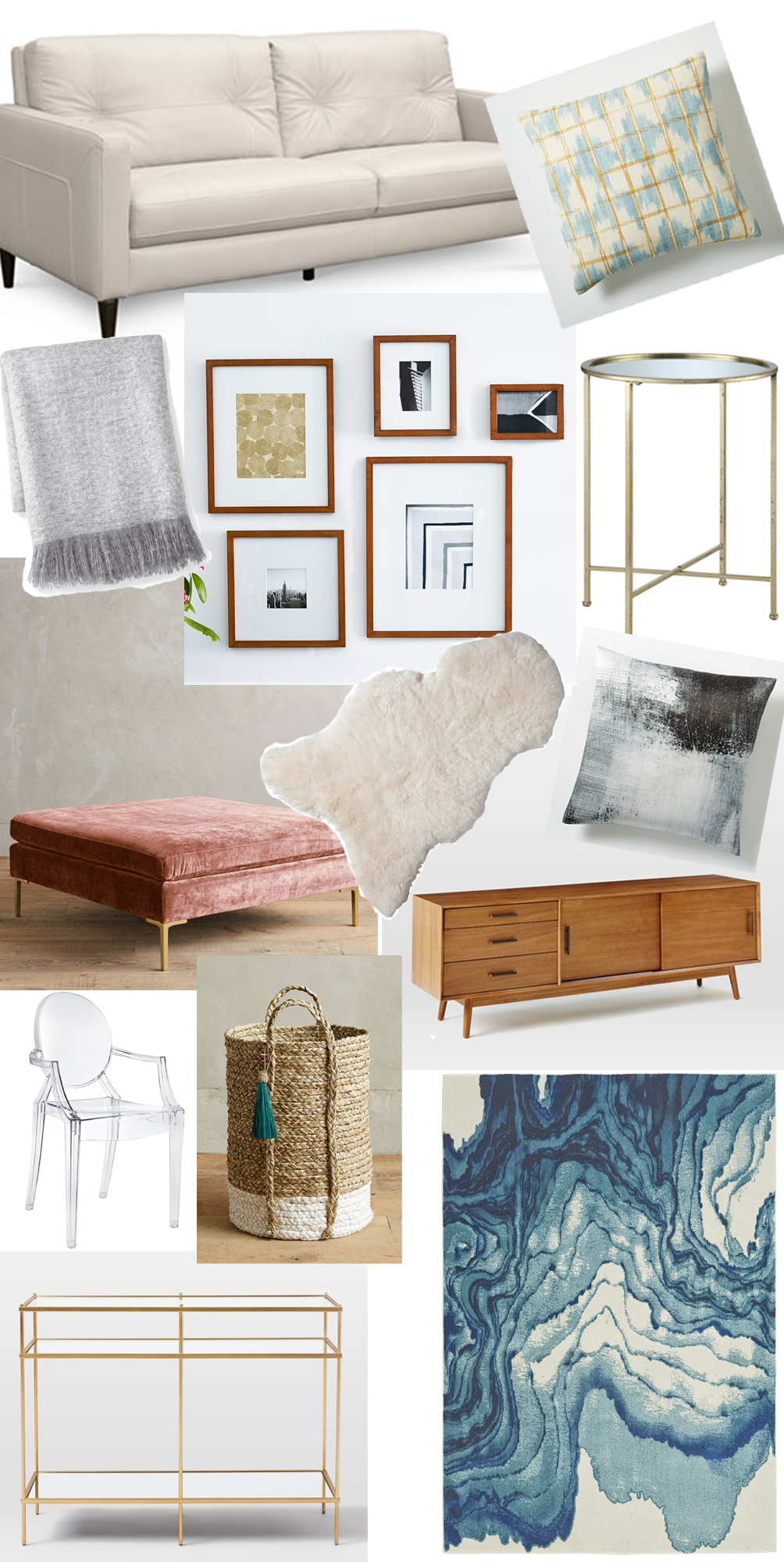 I'm learning to love the prospect of bringing a room to life, crafting a space, and being intentional about even the tiniest details. So this board of tv room inspiration is a product of that excitement. We're again channeling a bit of mid century modern with some standout pieces. Overall I keep to solid tones or abstract patterns. It's not that I'm a very 'abstract' person; instead, I get less bored of those designs. Fixed lines or repetitive patterns look duller to me over time (and on such a large scale). So we're gradually acquiring furniture and decor to finish this area of our home.
one: a tufted leather sofa to balance elegance with comfort for long-night Netflix binges
two: this gold grid pillow that looks structured but not rigid
three: the tasseled plush throw blanket to drape the couch (or be a new permanent kitty perch)
four: a gallery wall to frame the television and enhance that focal point of the room
five: metallic end tables for coasters, magazines, and take-out dinners
six: this gorgeous blush velvet ottoman to also function as a coffee table and give feminine warmth to the space
seven: small sheepskin rugs for adding a touch of glam to the accent chairs
eight: a neutral, abstract design pillow to reinforce the modern vibe
nine: lucite ghost armchairs that offer seating without visually cluttering a room
ten: this sweet tasseled and braided basket to store blankets galore
eleven: a mid century modern media console to be a base for the television + home for games, movies, etc.
twelve: the classic lines of a gold and glass sofa table to add another solid surface
thirteen: this wave rug reminiscent of both an ocean and agate slice to bring color + texture to the room