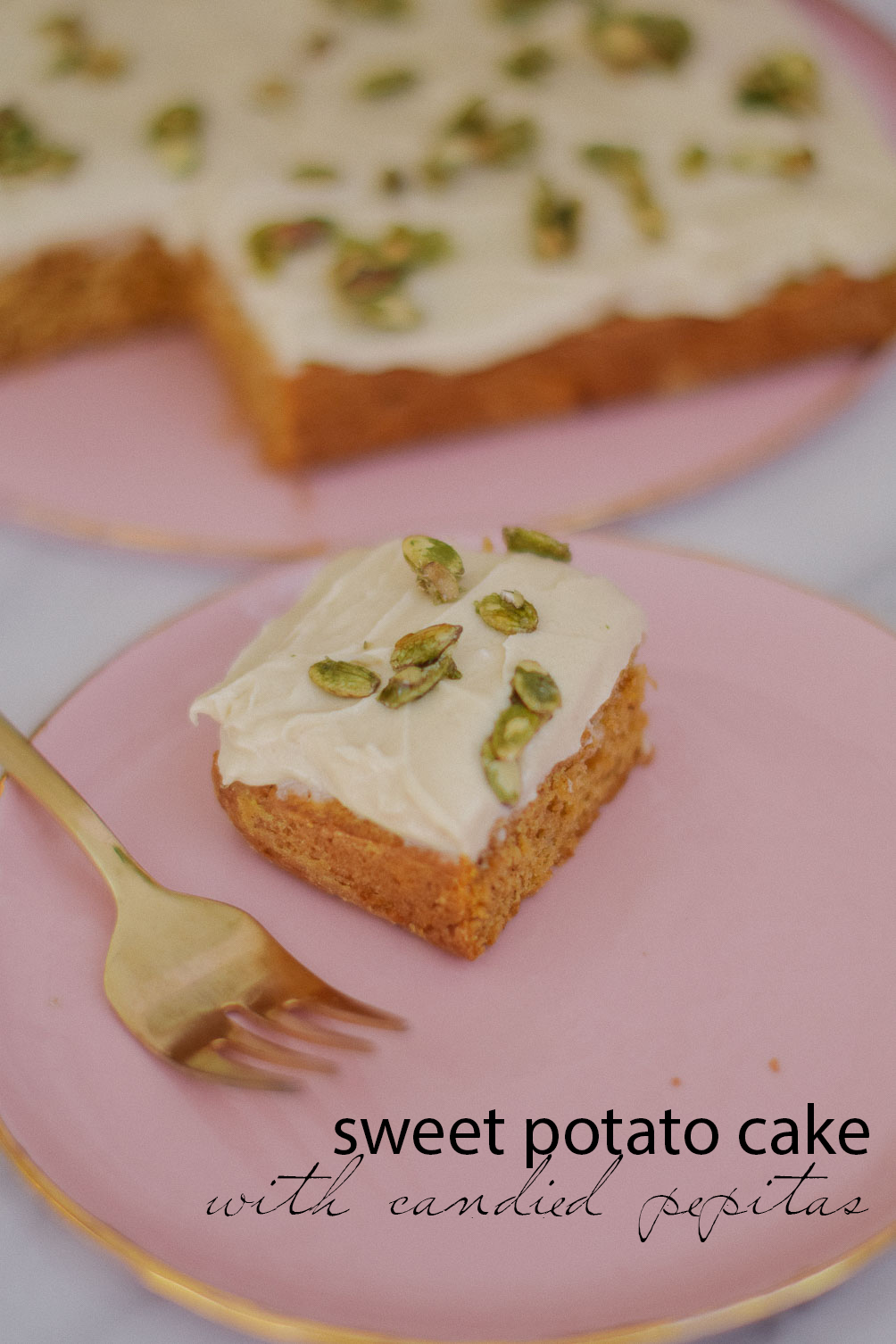 I've been asked the icebreaker question of, "If you had to live off one food for the rest of your life, what would be be?" And my answer is repeatedly sweet potatoes. They're one of the most versatile foods. I can transform them from savory into sweet by changing up the cooking process or varying spices. So this fall recipe for sweet potato cake with cream cheese frosting just further proves the theory. These orange gems are the superhero of my pantry. It's an incredibly easy cake that's not overly sweet so could be perfect to top off Thanksgiving dinner. See full details below.
---
INGREDIENTS
For the cake:
1 large sweet potato (you will need one cup puree, so make sure it's a biggie, or just grab a few small ones to be safe)
1 2/3 cup flour
1 1/2 tsp. baking powder
1/2 tsp. baking soda
2 tsp. cinnamon
1/2 tsp. ginger
1/4 tsp. cloves
1/2 tsp. salt
3/4 cup vegetable or canola oil
1/2 tsp. vanilla
2 eggs
For the frosting:
4 oz. cream cheese, room temperature
2 tbsp. butter, softened
1 1/4 cup powdered sugar
1/2 tsp. vanilla
2 tbsp. brown sugar
For the candied pepitas:
1 tbsp. sugar
1/3 cup pepitas
DIRECTIONS
Poke holes in the sweet potato with a fork. Microwave on high until cooked through, about 4 minutes per side or 8 minutes total. Once sweet potato has cooled, remove skin and mash thoroughly. Set aside 1 cup.
Preheat oven to 350. Butter and flour an 8×8 inch pan.
In a medium bowl, combine flour, baking powder, baking soda, cinnamon, ginger, cloves and salt.
In the bowl of a stand mixer, beat together oil, mashed sweet potato and vanilla. Add eggs and beat to combine.
Add dry ingredients to wet and mix just until incorporated.
Pour batter into prepared cake pan and smooth with a spatula. Bake 25-30 minutes, or until a toothpick inserted in the center comes out clean. Allow to cool in pan for 10 minutes, then remove from pan and finish cooling on a wire rack.
To make the frosting, beat cream cheese and butter until completely smooth. Mix in vanilla. Gradually add powdered sugar, scraping down the bowl as you go. Add brown sugar and beat until frosting is thick and creamy. Store in the refrigerator until ready to use.
In a small saucepan, over medium-high heat, melt sugar until it is a dark amber color.
Add pepitas to the pan and stir until they are coated in the caramel. Pour onto a piece or parchment paper or a non-stick mat and spread into an even layer. Once they have cooled and hardened, break apart any large chunks.
Once cake has cooled, spread an even layer of frosting and top with candied pepitas (see below).