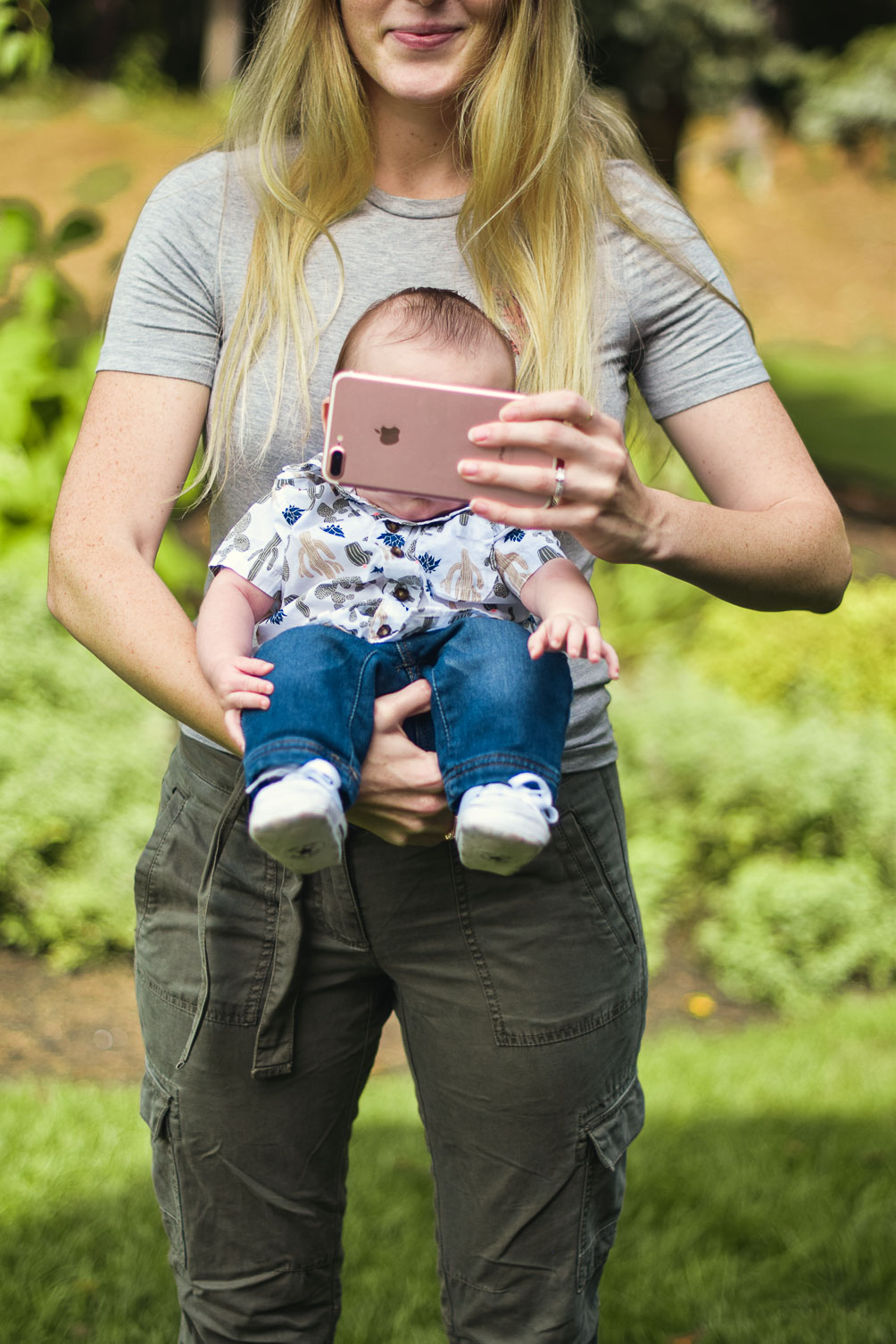 Since Colton was born, I've gotten a number of questions about how or even if I plan on incorporating him into one brass fox. On top of that, a lot of comments come in via my social channels wondering why I cover his face with filters or silly sunglasses. So I decided to put together a blog post addressing the topic and how we approach being a social media family.
First of all, I simply want to say that this is what we've decided is right for our family. It does not reflect anything about how we feel toward families who may have a different take. I follow many moms whom I greatly respect that beautifully incorporate their children into an online presence.
So, taking it back to before Colton was in the picture, E + I had conversations about what we'd do when kids came along regarding social media. I was the one more on the fence. After all, they'd be a huge part of our life (okay, basically all of our life for a while). And, like I said, I've seen so many women do it with class. But our ultimate decision has been to not show Colton's face (beyond the birth announcement + newborn photos) so that he can't be recognized. We came to this conclusion for a couple of reasons.
Our first intention is for privacy. There's a lot of our lives that we share on social media or this blog. We love doing it and we've built a great community as a result. But we want to draw a line between digital and reality. Parenthood is a part of us now and we look forward to sharing more about that journey here. However, we don't plan on making our child (or future children) the face of those discussions.
The second facet is one way, we believe, of showing Colton respect. There are a lot of things we will dictate for him in the coming years. For a while he won't choose his own clothes, we'll pick the schools, the places he lives, and decide where to invest our money when it comes to sports or musical instruments or the arts. But we feel it's important not to take away his ability to choose what's exposed about him online. Because, unlike an embarrassing bathtub photo in your mom's photo album, you can't ever hide what's been posted digitally.
Even after E + I made this decision, we still had two things left to consider: how to share with family as well as ackownledge Colton for the ginormous, wonderful part of our lives that he is.
What we've discovered in not making photos accessible on social media is that we're forced to be more intentional about connecting with family + loved ones. Instead of just uploading an album for anyone to see, we directly send them pictures with sweet stories or anecdotes about his newest 'tricks.' It feels far more personal and therefore special to us.
Another thing we're exploring is how to creatively include him in our digital presence. Whether that's an Instagram story or outfit post, we've played around at including him but just not showing his face/allowing him to be recognized. We don't do this to be 'sneaky' or clever; rather, it's our way of showing to the world how much we adore this nugget while still maintaining the social media boundaries. Oh, and just so you know, it's still not always an easy decision for me. I mean, what mom doesn't want to show off her most cutest child in the whole wide world?! I've had to restrain myself (or E has had to do so) on many occasions already. It's a long roadblock ahead, I guess!
If you have any other thoughts or experiences on this 'social media family' topic, I'd really love to know. It's still a relatively new arena so I'm sure everyone has a slightly different approach.
shop this post