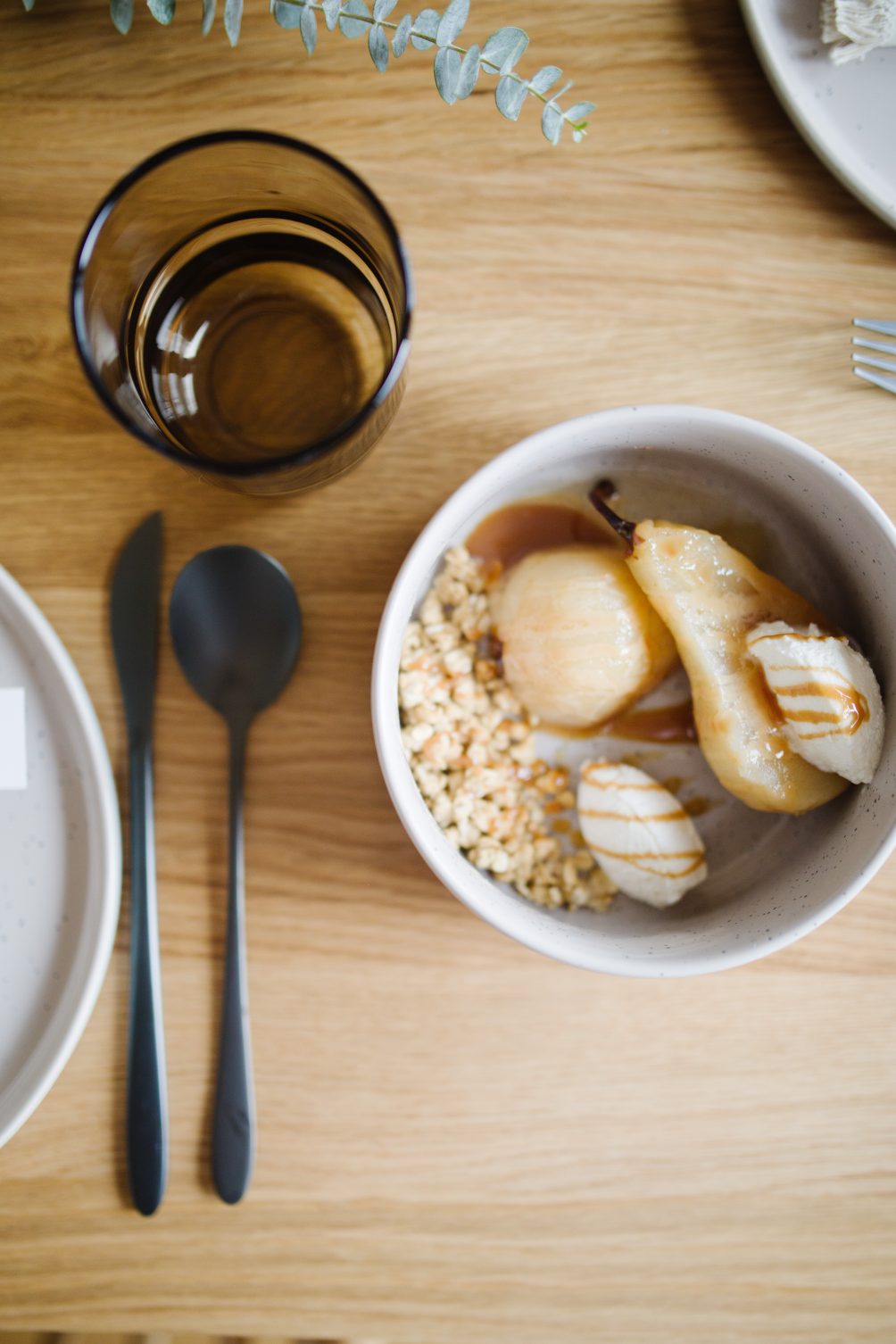 For our recent holiday brunch shoot, I had the absolute pleasuring of partnering with a dream brand: Our Place. From their dinnerware to the famed Always Pan, this company has been top of my home list for quite some time. I actually think I squealed when I got their first email (and yeah, that's so not like me). I crafted a delicious recipe for cider poached pears to be served on their hand-painted porcelain collection.
Before I dive into the recipe, there's some shout out to be done for this dinnerware set. In a home with young kids I've been hesitant to invest in 'adult' dishes. Until I felt these pieces myself, I figured they'd be just that. I'd have to put them away after our shoot and only use them on special occasions (like when the Queen comes). Wrong. They are sturdy but not clunky. They are chic but also effortless. I'm not afraid to use them but I'm also proud to show them off. I feel like an adulting win has happened here.
(USE CODE 'ONEBRASSFOX10' FOR $10 OFF YOUR ORDER)
Now we can move onto the cidery goodness of this poached pear recipe:
INGREDIENTS
6 pears (Bosc are best)
1/2 gallon cider
2 c water
2 tsp cinnamon/pumpkin pie spice
1/2 c ricotta cheese
1/4 c caramel sauce
1 c granola
RECIPE
Peel pears
In a large stock pot, combine cider, water, and spices
Place pears in the liquid and make sure they're fully covered
Bring liquid to a simmer and pouch for 15-20 minutes until pears are tender but not mushy
After poaching, allow pears to cool completely
Cut pears in half and plate in bowls of choice
Top pears with two quenelles of ricotta (that's fancy restaurant speak for making them into orbs using two spoons. Just scrape the cheese back and forth between two spoons to achieve this chic shape)
Divide granola evenly among the dishes
Finish off with a drizzle of caramel sauce and serve immediately
**NOTE: the pears can be made ahead of time. Store them in their poaching liquid in the refrigerator for up to a week.
Thank you to Our Place for partnering with us on this post.
shop this post

Images by Josh Jamison Photography