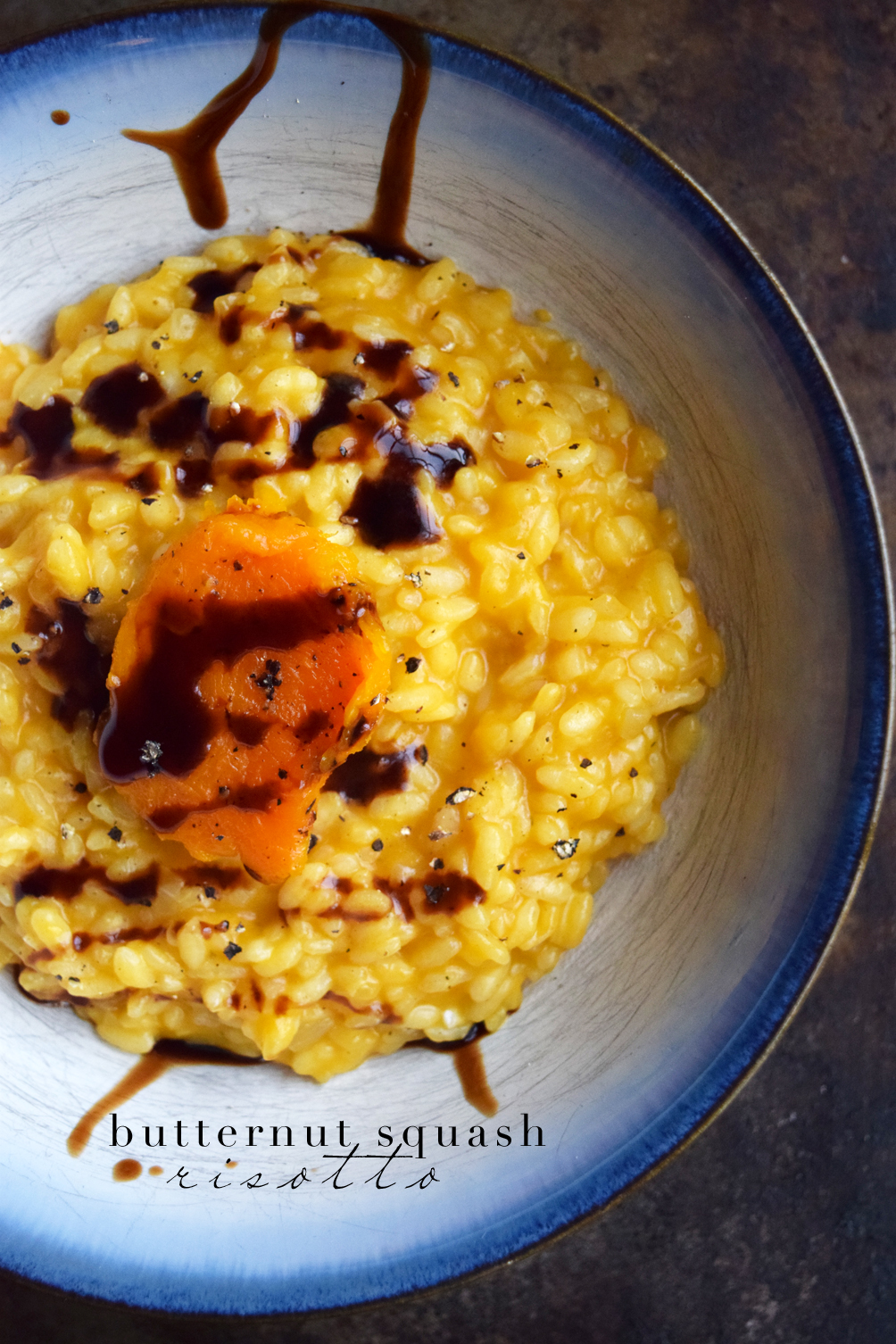 This hearty winter recipe is the perfect way to kick off a new year. Because if I could name my favorite food texture, it would absolutely be risotto. Al dente rice in a creamy sauce is the best of both worlds. So I started a brief love affair with my bowl of butternut squash risotto (can you tell?). And surprisingly, I opted not to use the cheese but the result was still perfect. It takes some 'tender loving care' to make this dish, but that's can be a sweet way to spend date night or a girls get-together. Just grab a bottle of wine and make an evening out of it. See full recipe details below.
---
Ingredients
For Risotto:
1 small butternut squash
4 cups chicken stock
2 tablespoons extra virgin olive oil
3 shallots, chopped
2 cloves garlic
1 tablespoon chopped fresh sage
1 cup arborio rice
1/4 cup dry white wine
1 tablespoon unsalted butter
salt and black pepper, to taste
1/2 cup grated Asiago cheese, divided
For Garnishes:
1/4 cup pine nuts
1/4 cup extra virgin olive oil, divided
8-10 fresh sage leaves
Balsamic Glaze*
*Balsamic glaze can be purchased in the Italian aisle of most grocery stores, or you can also make it yourself by simply reducing 1/2 cup of balsamic vinegar with a spoonful of brown sugar until thick and syrupy.
Directions
Preheat oven to 350 degrees F.
Cut squash in half lengthwise. Rub with olive oil and season with salt and pepper. Arrange on a foil-lined baking sheet, cut side down. Prick outside skin a few times with a fork. Roast for 35 to 40 minutes, or until tender. Remove from oven and let cool slightly. Scoop flesh out of skin and purée in a food processor until smooth. Measure out 1 cup of purée and set aside.
Meanwhile, warm chicken stock in a small saucepan set over low heat. Cover and keep warm.
To prepare garnishes, heat 1 tablespoon of olive oil in a very small saucepan set over medium heat. When oil is hot, add pine nuts, stirring until coated with oil. Toast for 2 to 3 minutes or until nuts start to turn golden brown. Keep an eye on them, they can go from toasted to burnt very quickly.
Remove nuts from pan with a slotted spoon and transfer to a paper towel lined plate. Return pan to heat and add remaining 4 tablespoons oil, or enough to form a 1/4-thick layer in the bottom of the pan. When the oil is hot and shimmering, add sage leaves, 2 or 3 at a time (be careful, they will crackle). Cook for about 30 seconds then quickly remove from oil and transfer to a paper-towel lined plate to cool. Repeat with remaining leaves.
Heat olive oil in a large saucepan set over medium heat. Add shallots and garlic and saute until softened and fragrant, 2 to 3 minutes. Add chopped sage and cook for another minute. Add rice and stir until grains are coated and start to turn transparent, about 2 minutes.
Add wine and stir the wine has completely absorbed. Add 1/2 cup of warm chicken stock to the rice, stirring until liquid is mostly absorbed before adding more. Continue to add broth, 1/2 cup at a time, stirring constantly after each addition. After about 15 to 18 minutes, when the rice is almost done, stir in squash purée. Continue to cook until rice is creamy and al dente. Season with salt and pepper.
Finish with butter and 1/4 cup grated Asiago, stirring until fully incorporated. Divide among serving bowls and top with remaining cheese, a drizzle of balsamic glaze, pine nuts, and sage leaves.