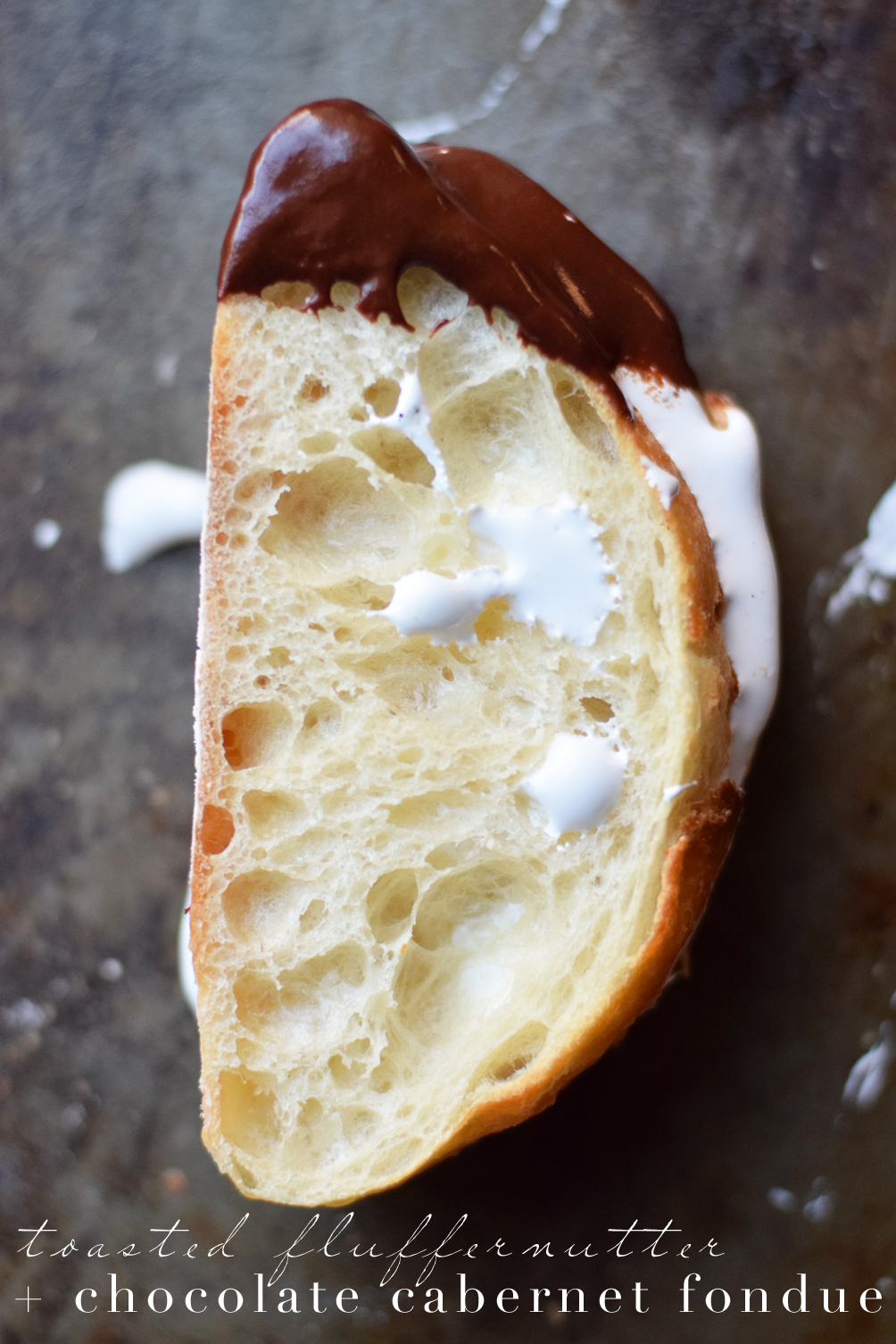 When I studied abroad in Scotland I had the distinct horror of realizing that Europeans don't eat Fluff. True to my sweet-tooth-American-self, I made it a mission to change that (well, not for all the Europeans, just the ones I knew). I tacked a peanut butter and fluff platter onto our makeshift Thanksgiving display and had them all take a bite. While I felt I'd done them a great service, the most I got out of it was, "so that's a dessert?" No, not really. In America we eat that for lunch (or at least we wish we did).
So I recently decided to revisit the childhood favorite and add an elevated (read: more adult) touch with chocolate cabernet fondue sauce. It was unreal. It was so delicious, in fact, that I'd have to agree with those friends of mine: this is a dessert. See full recipe details below.
---
Ingredients
6 ounces dark chocolate, chopped
6 ounces milk or semi-sweet chocolate, chopped
1 cup heavy cream
2 tablespoons Cabernet
1 teaspoon espresso powder (optional)
pinch of salt
4 slices whole grain bread (I used fresh white bread from the bakery)
4-8 tablespoons peanut butter
4-8 tablespoons homemade marshmallow fluff or store bought
Directions
To make the fondue, warm the heavy cream over medium-low heat until bubbles show and it begins to lightly and slowly boil. Add the chocolate and whisk until smooth and fully incorporated.
Remove from the heat and stir in the Cabernet wine and expresso powder. Transfer to a fondue pot heated over a low flame. Or use a cast iron sauce pot and keep the pot over the lowest flame possible. If the fondue begins to feel a little stiff, add a tablespoon of heavy cream and stir.
To make the fluffernutters, toast your toast, either in the toaster or in a skillet, with a little butter (I used butter and a skillet).
Spread a layer of marshmallow fluff on one piece and then a layer of peanut butter on another. Sandwich the two pieces of toast together. Repeat with the remaining toast.
Start dipping immediately.