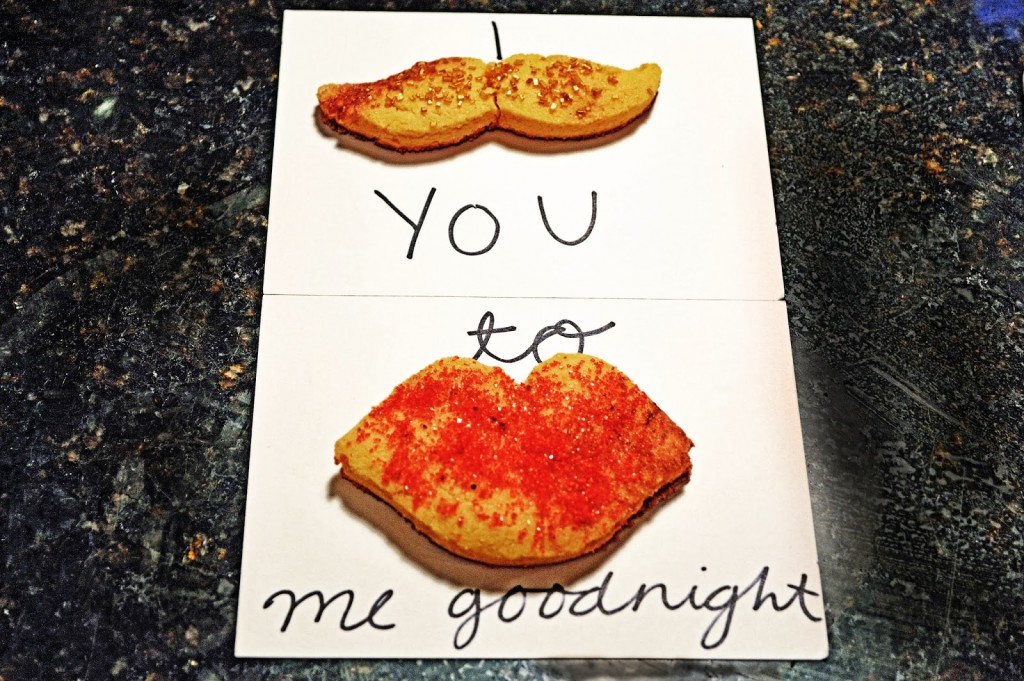 Usually, for an after-meal treat, I head straight to chocolate. If there isn't a drizzle, chip, or frost of chocolate, then it simply can't be dessert. For no clear reason, I've started to feel that maybe the more "adult" choice would be a simpler option, not slathered with cocoa products. So this recipe for Sugar Cookies was the perfect fit during my (temporary) chocolate hiatus. It is a light and sweet option with ridiculously easy prep!
I came across the fun cookie cutters earlier this week and couldn't pass up the purchase. Their fun and spunky shapes even made the perfect "welcome home" note for my husband (see image above).
Ingredients
4 large eggs
3/4 c plus 2 tbsps sugar
1/2 tsp vanilla
1/4 tsp salt
1/2 c melted butter (I used coconut oil)
3/4 c sifted coconut flour and extra for dusting
2 tsp cinnamon, ground
Optional (for decoration)
edible shimmer, for decoration
cookie cutters
Set your oven to 375. Combine eggs, vanilla, 3/4 c sugar, and butter in medium-sized bowl. Set liquid mixture aside. Combine flour and salt and gradually add to liquid ingredients. Let dough sit for 5 minutes to thicken. Form dough into large ball, wrap in saran wrap and let harden in the freezer for 15 minutes. Remove dough from freezer and roll flat. Be sure to use the leftover flour to dust your rolling pin as this dough is quite moist. Once rolled, press your cookie cutters firmly into the dough. Remove, and set on baking sheet. (Note: the cookies do not spread/rise much so feel free to place them close together). In a small bowl, combine remaining sugar and cinnamon. Lightly sift over the cookies for a thin coating. Place in oven and bake for 15 minutes. Remove cookies from oven and allow to sit for 2 minutes. Decorate as desired and serve!