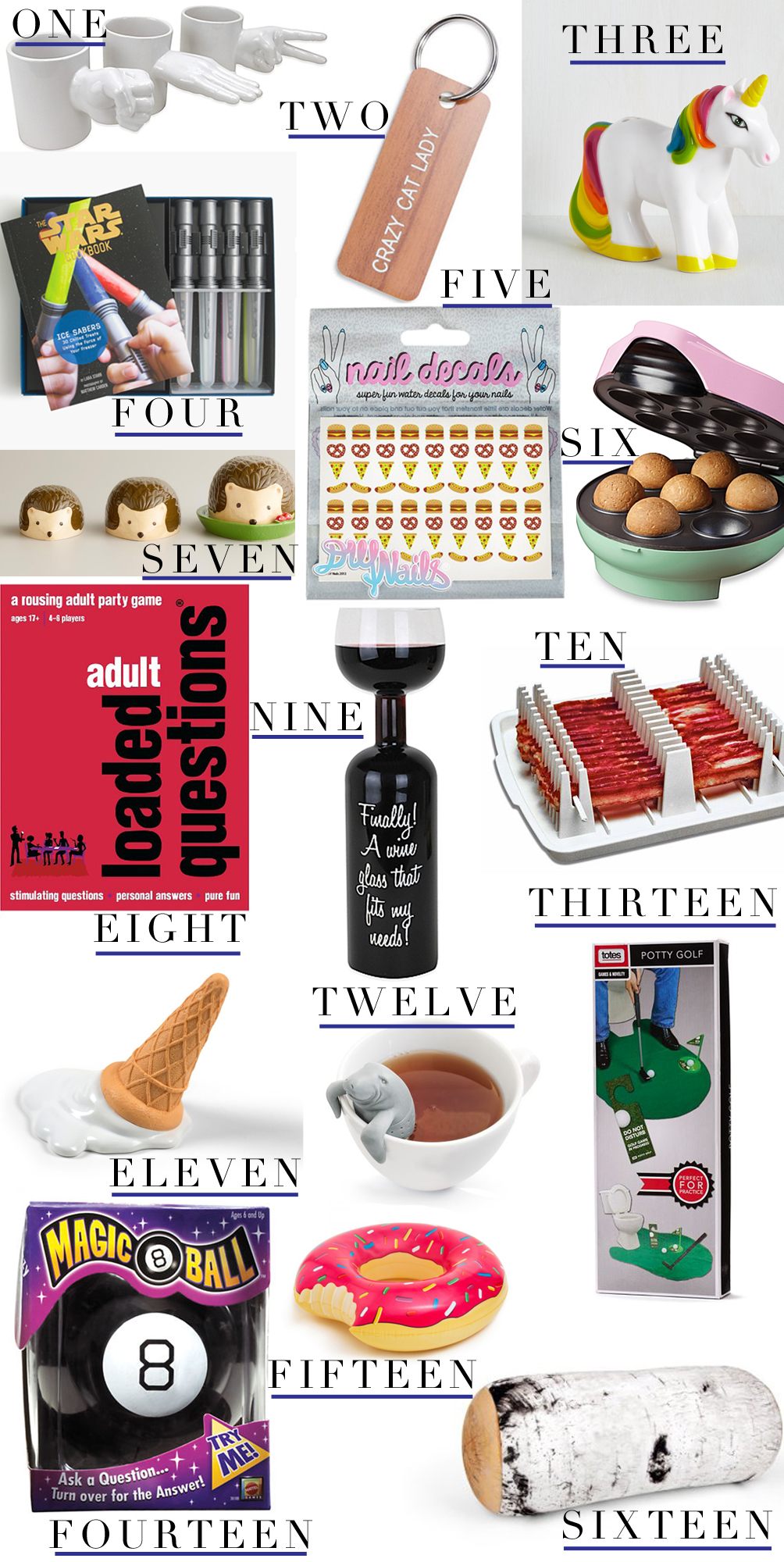 This Secret Santa gift guide was an absolute blast. I found so many absurd items  for $25 and under that it was a major challenge to narrow down. I'm secretly hoping my stocking has a couple of them included. And whether you call it a White Elephant, Secret Santa, Yankee Swap or something else, get ready to rock the party with these ingenious items.
one: Drinking coffee will never be the same with these rock, paper, scissor mugs. ($20)
two: Because everybody has one friend who needs this crazy cat lady keychain. ($15)
three: Add a rainbow of joy to every ice cream sundae with a unicorn sprinkle shaker. ($15)
four: Light saber popsicle molds are key for every jedi wanting a cool treat. ($25)
five: Stepping up the manicure game with almost-good-enough-to-eat junk food nail decals. ($10)
six: The donut hole machine that changes a dessert lover's life forever.
seven: Kitchen duties get a lot more fun with hedgehog measuring cups. $13
eight: Infinite laughs and a little intrigue with this board game for adults. ($21)
nine: The 'one size fits all' wine bottle glass for a post-work wind down. ($17)
ten: Perfectly cooked bacon with a bacon strip tray? One for everybody. ($15)
eleven: See who cries over spilled ice cream with this whimsical door stop. ($9)
twelve: Tea steeped by this manatee is all their Earl Grey dreams come true. ($20)
thirteen: Let them work on their putting skills a few times a day with this potty golf set. ($24)
fourteen: Every question they never wanted answered can be asked of a magic 8 ball. ($10)
fifteen: This bitten donut inner tube will beckon summer's quick (and tasty) return. ($20)
sixteen: The new meaning of 'keeping a travel log' is this birchwood neck pillow.