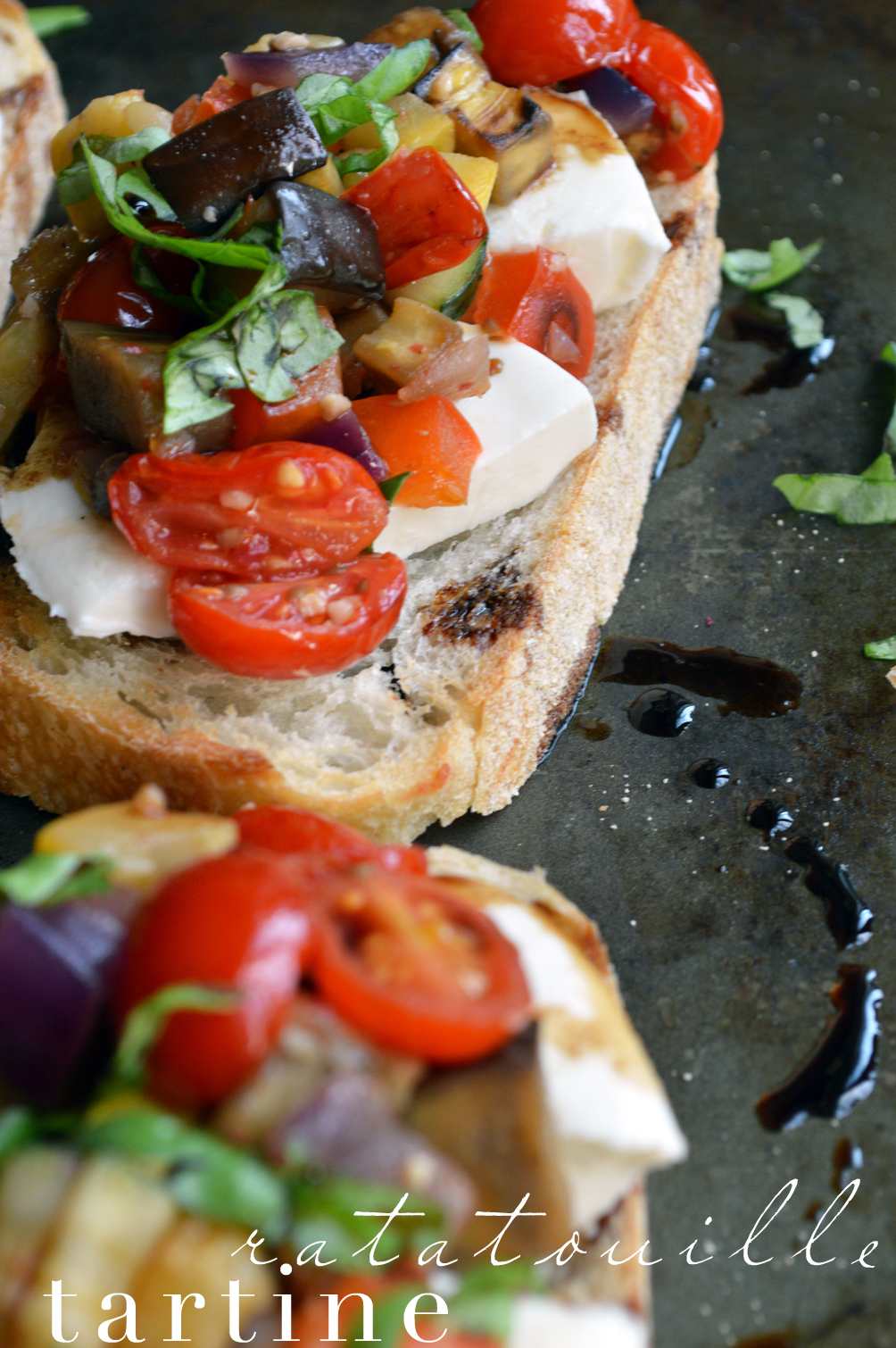 This may be the most wonderfully colorful dish I've ever made. The process is kind of lengthy but not at all difficult and well worth the effort. Truly, I think if veggie crops and time permitted, I would make this every night. And for those end of summer barbecues, ratatouille tartine is definitely a way to show up the 'chips and dip' stereotype. I warn you, though, if this is your chosen party dish you better double-batch. All those hearty flavors with the creaminess of mozzarella and sweet zing of honey balsamic will likely make you potluck-famous. See full recipe details below.
---
INGREDIENTS
½ cup balsamic vinegar
1 tablespoon honey
4 tablespoons extra virgin olive oil, divided
1 medium zucchini, diced
1 mediums summer squash, diced
1 small red onion, diced
1 red bell pepper, diced
½ small eggplant, diced
12 ounces (1½ dry pints) cherry tomatoes, halved (I used heirloom cherry tomatoes because they were so pretty, but you do you.)
3 cloves garlic, minced
½-1 teaspoon crushed red pepper flakes (depending on how much heat you like)
Kosher salt
Coarse black pepper
¼ cup thinly sliced basil, plus extra for serving
4 slices whole wheat sourdough (or bread of your choice)
8 ounces burrata cheese, sliced (or torn with your hands)
DIRECTIONS
Place the balsamic vinegar and honey in a small saucepan over medium-high heat. Bring to a boil, reduce to a simmer, and cook for about 10-12 minutes until it has reduced by half and become nice and syrupy. Set aside until ready to use.
In a large saucepan, heat 2 tablespoons olive oil over medium-high heat. When hot, add the diced zucchini, squash, red onion and bell pepper. Cook for about 7 minutes until the vegetables are just tender.
Meanwhile, heat the remaining 2 tablespoons olive oil in a small pan over medium-high heat. When hot, add the eggplant and cook for about 5 minutes until tender. Add the cooked eggplant, halved cherry tomatoes, and minced garlic to the vegetable mixture. Stir in the crushed red pepper and a good pinch of salt and coarse black pepper, and cook for two minutes. Reduce the heat to low, cover, and simmer gently for 10 minutes, stirring once or twice.
Remove the cover, and stir in the thinly sliced basil. Taste and season with extra salt and pepper if necessary.
Toast bread on the grill or in a toaster oven until golden brown.
Divide the burrata among the four pieces of toast. Top with ratatouille. Drizzle each tartine with some honey-balsamic reduction.