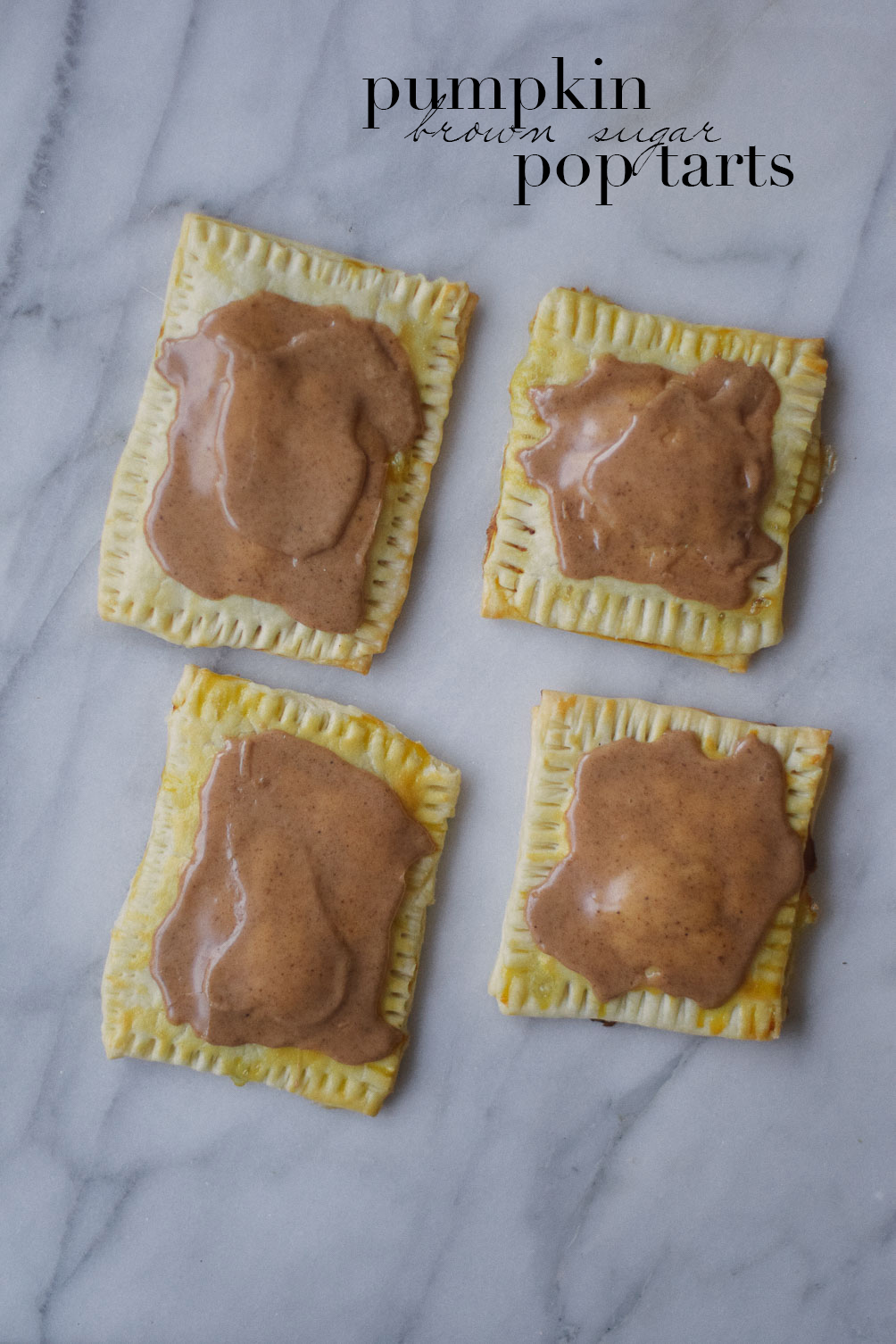 Pretty much everything in life right now is coming up fall. We've been to the Topsfield Fair, seen our fair share of foliage, and indulged in apple crisp. So I brought those vibes back to the kitchen with these pumpkin brown sugar pop tarts. They're flaky, delicious, and rich in cinnamon. But nothing comes close to the sugary glaze goodness. I highly recommend them as a breakfast bite; but I'm also an advocate for an after-dinner snack. See full details below.
---
INGREDIENTS
1 box pie crusts (one with 2 layers)
Egg Wash:
1 egg, beaten
2 teaspoons almond milk (or milk of choice)
Filling:
⅓ cup pumpkin puree
¼ cup Truvia Brown Sugar or ½ cup coconut sugar
1 teaspoon cinnamon
½ tablespoon flour
Glaze:
¾ cup powdered sugar, sifted
2-4 teaspoons milk, plus more as needed
½ teaspoon ground cinnamon
¼ teaspoon vanilla extract
DIRECTIONS
Preheat the oven to 425 degrees F.
Line a large cookie sheet with parchment paper.
Unroll the pie crusts and square the edges. Cut each into 9 rectangles.
In a small bowl, whisk together the egg and the milk. Brush half of the pie crusts (the bottoms) with the egg wash. (This will help the filling adhere to the crusts.)
In another small bowl, combine the pumpkin puree, Truvia brown sugar, cinnamon and flour.
Place 1 tablespoon in the center of 9 rectangles. Spread out but keep about ¼ inch from the edges. Top with another piece of pie crusts. Using a fork, crimp all four edges. Repeat until all of the pie crust is used; you will have 9 pop tarts.
Brush the top of the pop tarts with the remaining egg wash.
Bake the pop tarts for about 8-9 minutes or until slightly brown.
Allow the pop tarts to cool for 10 to 15 minutes.
Meanwhile, add the powdered sugar, 2 teaspoons of creamer, cinnamon and vanilla to a bowl. Whisk until smooth, adding more creamer until desired consistency is achieved. Pour over pop.
Serve immediately.
Store the remaining pop tarts in an airtight container.
To serve warm, heat in the microwave for 10 seconds.