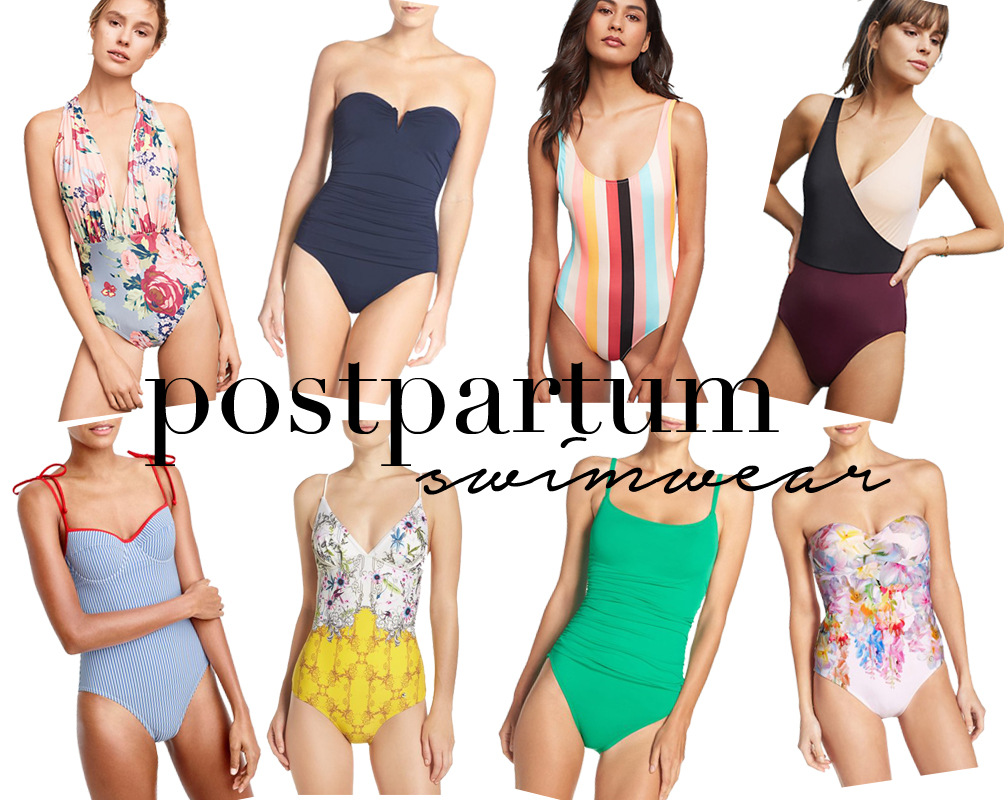 About one month before my due date I started searching for a sweet little swimsuit that baby boy could wear. It made me so happy to think he'd be born in summer and have the opportunity to experience my parent's pool for the first time. What didn't hit me until a few days later is that I too would have to venture into that world of scary, skin-tight exposure. So, instead of torturing myself with whether or not I'd fit into suits I already own, I took the proactive approach. I tried out different styles, cuts, and prints in one size up that would keep me from cringing at the thought of sunbathing. Today I've put together a postpartum swimwear guide with ideas on what to look for, the most flattering fits, and how to embrace your current body.

Call it distraction or an optical illusion, but loud prints can be your best friend. While that may feel counterintuitive because they draw attention, it actually works to our benefit. The focus shifts from the silhouette of the suit (a.k.a. any areas we want to hide) to its striking design.


No, I'm not kidding here with stripes. I know they can feel like the most unflattering pattern possible but try this on for size: vertical stripes elongate the body. You're going to gain a few inches of (perceived) height with a well-tailored line. Similar to the above loud patterns, we're aiming for an illusion tactic with these.


Ruched fabric is a tried-and-true method for obtaining that flattering silhouette. The slightly gathered fabric offers movement and a 3-D effect. These suits offer confidence without needing lots of flashy colors (in case those patterns aren't your thing).


The appeal of colorblocking as a postpartum option was new to me. Since this tends to be more geometric or harsh in contrast, I just assumed it would 'cut' my body in all the wrong places. So I was pleasantly surprised to try to style and realize it could enhance rather than detract from my figure. I will say that it may be more subjective. By that, I mean you want to try out exactly where the colorblocking hits and ensure it's best for you. Someone with a longer torso may need more of a drop waist version that someone with a shorter upper body.