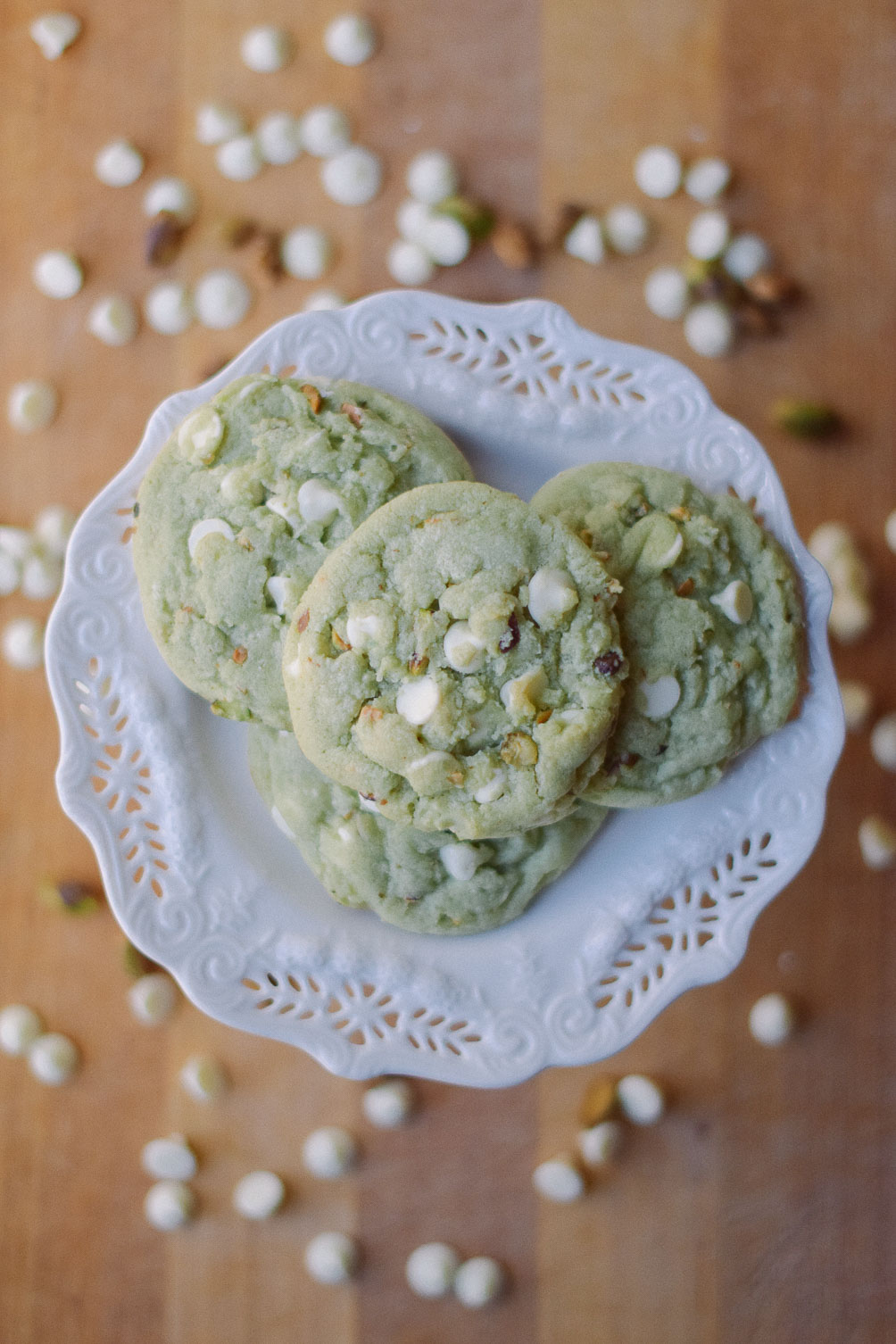 Despite my freckled complexion and pale skin, I've hardly got a streak of Irish in me. But that doesn't seem to stop anyone from indulging in some St. Patrick's Day celebration. So this year I took a baking approach with these pistachio white chocolate cookies. Their subtle green color and enticing flavor make them a no-brainer for any holiday gathering. I adapted this recipe and omitted any extra food coloring. I loved the pastel tone which didn't veer into neon realms. Plus, using a pudding mix as part of the dry ingredients actually lends an incredibly moist, tender cookie. See full details below.
---
INGREDIENTS
1⅔ cups all purpose flour
(1) 3.4 oz box instant pistachio pudding mix
1 tsp baking soda
½ tsp salt
¼ cup light brown sugar
¾ cup granulated sugar
¾ cup unsalted butter, softened
1 tsp vanilla extract
1 egg, room temperature
1 cup white chocolate chips
½ cup chopped pistachios
DIRECTIONS
Whisk together flour, pudding mix, baking soda and salt. Set aside.
Cream sugars and butter together until light and fluffy.
Add in egg and vanilla and beat until well blended.
Gradually stir in dry ingredients. Add food color if desired for a deeper green.
Fold in chocolate chips and pistachios. Refrigerate dough for at least 30 minutes.
Preheat oven to 325F.
Line cookie sheet with parchment paper or lightly grease.
Scoop out rounded tablespoons of cookie dough and place on prepared cookie sheet.
Bake for 12-14 minutes or just until they are set. If you see any brown, pull them out.
Remove from oven gently press a few white chocolate chips into the top of each cookie.
Let cool on baking sheet for several minutes before moving to a rack.