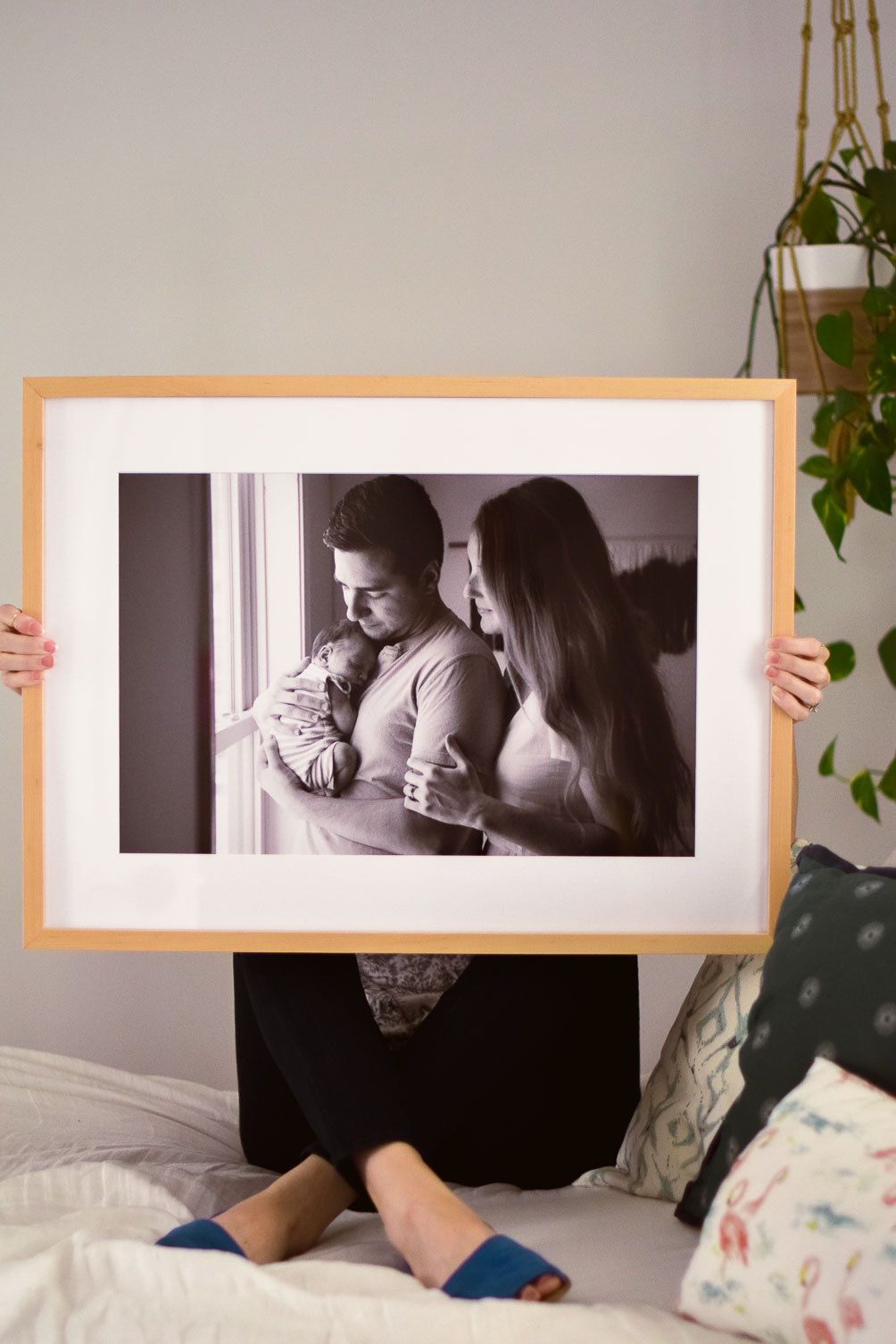 Thank you to Framebridge for partnering with us on this post. Affiliate links are included in this post, I'll be compensated if someone clicks on an affiliate link and makes a purchase.
Two weeks after Colton was born we had our dear friend (and wedding photographer), Katie Noble, come to capture his newborn photos. We've joked that she's our resident 'life event' documenter. And despite the fact that sweet baby boy was wildly unhappy every minute of it, she managed to snap the most precious images.
So when Frambridge reached out with the opportunity to celebrate a recent milestone, I jumped at the chance. Because, to be honest, I have almost no pictures of Colton around the house. Don't get me wrong, I have half an iPhone's storage worth as well as plenty on my computer. But getting them in physical form simply hasn't happened (until now).
The way Framebridge works is that you either mail in an image/memorabilia item to frame or send something digital for them to print. We opted for the latter instead of trying to coordinate getting the picture ourselves. From there, the team at Framebridge custom builds every single one of their gorgeous frames. With a shockingly quick turnaround time, a piece is shipped right back to your door in perfect display condition. And while it's irrelevant once the frame is actually hung, they use the cutest paper to back each one. Accompanying the frame is a sweet bag thanking you for your order (I'm always a sucker for that), and providing the tools needed to wall hang.
This picture Katie took of our family of three is my absolute favorite out of his newborn photos. It encapsulates how much love E + I have for one another as well as our total adoration of Colton. And with the services of Framebridge, it hangs in our bedroom where I now get to see it as the first thing in the morning and last view at night.
p.s. for more of the Framebridge experience or to start your own framing process, click here. Use promo code 'onebrassfox15' at Framebridge.com to get 15% off your first order with Framebridge. Valid until 12/31/2017.