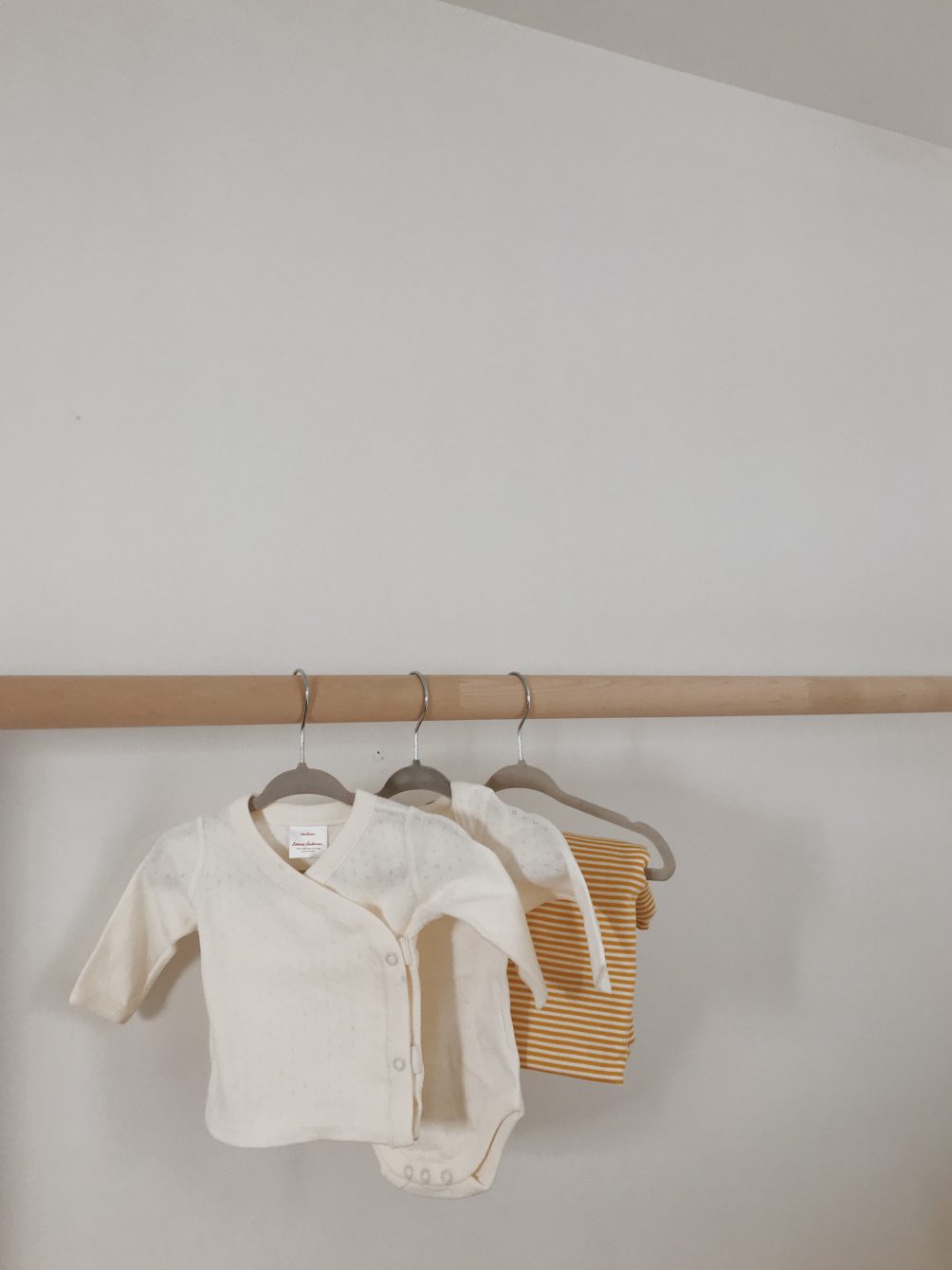 Well, to be honest, I thought I'd written this post after Colton was born. I went to search for it myself in the hopes of letting it be a resource but it had never actually happened. So, instead, I'm now sharing it as we prepare for baby two and take stock of things we need or need to replace. I've had lots of friends and fellow moms ask me the same question, "What do I actually need for the baby?" This is my holy grail list. In my opinion these are the newborn essentials that'll make your family's transition smoother and more comfortable. Everything is outlined below including the reasons for choosing each item.
Is there anything else you'd add to this newborn essentials list?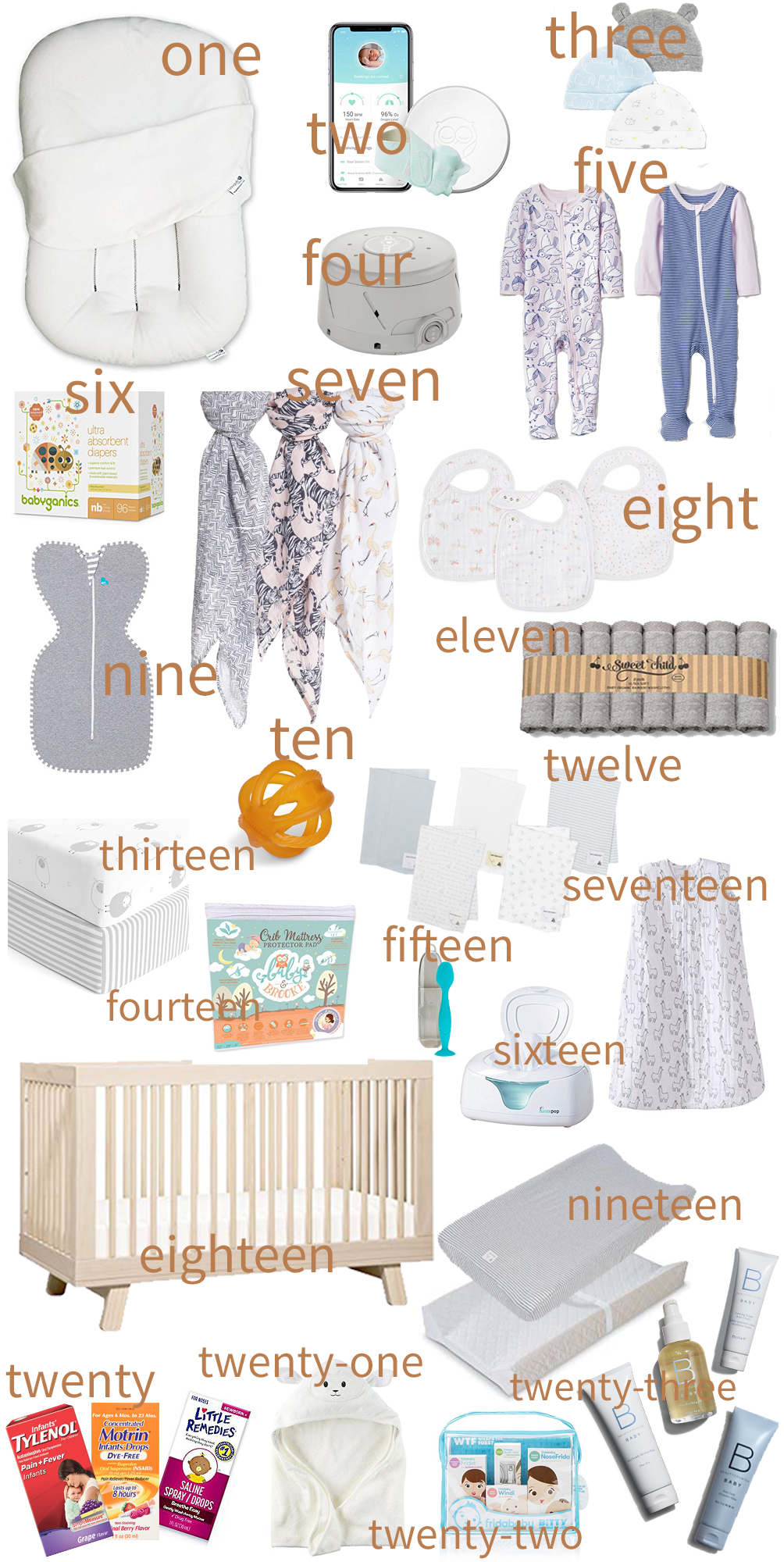 one: Snuggle Me Organic lounger — this little sleeper is like a hug for your newborn. Colton was a baby who never wanted to be put down yet he'd sleep like a champ once with discovered our Snuggle Me.
two: Owlet — I could go on forever about this one. But, since I did that in a whole other post (here), I won't rehash my love affair. In summary, this pulse oximeter monitor is the number one newborn essential I could ever recommend.
three: infant hats — no matter what season your child is born, those little nuggets need warmth. Having a number of hats on hand is key to keeping them comfortable as they adjust to life outside of mom.
four: döhm sound machine — this is the most natural sounding white noise machine I've found. it's loud enough to distract from other noises yet not tinny or overwhelming for the ears.
five: Cat & Jack sleepers — for the repeated middle-of-the-night diaper changes these sleeper onesies were a Godsend. they zip from the bottom up meaning you don't have to completely undress baby every time. i will admit they're not super high quality but they get the job done.
six: newborn diapers — nobody buys anything for new moms in newborn sizes. the theory is, 'babies grow so fast they won't fit them in a few weeks!' well, that may be true. but I promise you those few weeks will be well worth your while to have some newborn options.
seven: Aden & Anais swaddles — I loved these all-in-one muslin swaddles. they acted as a nursing cover, burp cloth, bib, and genuine swaddle. I'd constantly stash one in my car, diaper bag, and most rooms in the house to have them handy at a moments notice.
eight: Aden & Anais bibs — these muslin bibs are machine-washable, very absorbent, and come in sweet patterns to cover your little one.
nine: Love to Dream swaddle — we gave up trying to swaddle Colton the first night we got home from the hospital. he'd break his arms out and always want them near his head. but I majorly regret that because I think he would've benefitted from the coziness. so i've had a lot of people recommend this particular swaddle as a genius way to keep your nugget in their preferred position while staying cozy.
ten: teether toys — when you bring that bundle of joy home teething may seem like a far off notion. but it comes sooner than you'd think and it helps to be prepared ahead of time.
eleven: baby wash cloths — until i had a set of my own, I thought baby wash cloths were a sham. why just sell something in a smaller size and force parents to buy it? welp, i was wrong. they are infinitely softer and gentler on newborn skin than your standard washcloth.
twelve: Burt's Bees burp cloths — out of all the brands I tried, these burp cloths were my favorite. they absorbed a lot, never shrunk in the wash, and maintained their softness.
thirteen: TWO (or more) crib sheets — getting double of baby items is usually a smart idea. when nap time rolls around but you've got laundry in the wash, it's going to make life a lot easier if you have a backup option in their closet.
fourteen: mattress pad — for comfort and to add a moisture barrier, pop on an organic mattress cover to your crib.
fifteen: diaper cream brush — my sister made so much fun of me for this product when I bought it. then, eight months later, she had a baby boy of her own and bought two. that diaper cream is a goopy mess and this just takes a little of the messy edge off.
sixteen: wipe warmer — maybe I say this only as a New Englander, but diaper changes got way less dramatic when i caved and bought this wipe warmer. it was a simple and inexpensive fix to the 'traumatic cold' Colton so deeply hated in the middle of the night.
seventeen: sleep sack — when blankets aren't safe and your little one needs that extra layer of warmth, these kinds of sleep sacks are perfect. a muslin options works well for warmer weather months while fleece versions are great in the winter.
eighteen: crib (or pack n play) — we coslept with Colton for a few months at the beginning. it was something I never thought i'd do but the Swaddle Me Lounger made me feel more comfortable about the setup. however, there was a time when it was best for everyone in the family to transition to their own sleeping arrangements. in that case a crib (or pack n play if your space is limited) makes for a definite newborn necessity.
nineteen: changing pad + cover — there's no way around the fact that diaper changes become your life. and having a consistent setup space for them makes life a lot easier.
twenty: the pharmacy trio — from baby's first shots to their first cold or nasty teething bout, these three remedies will keep you all a bit happier, healthier, and sane
twenty-one: baby towel — along the same lines as the baby wash cloths, towels for infants and toddlers are infinitely softer than usual and well worth having at least one on hand (and the hood effect is always an adorable bonus)
twenty-two: FridaBaby kit —
twenty-three: Beautycounter baby essentials — from the earliest days with Colton I wanted to commit to using clean products on his skin, in the same way I hoped to feed him healthy nutritious food. these items are top of their class for purity, safety, and effectiveness. that baby soft skin deserves the best.