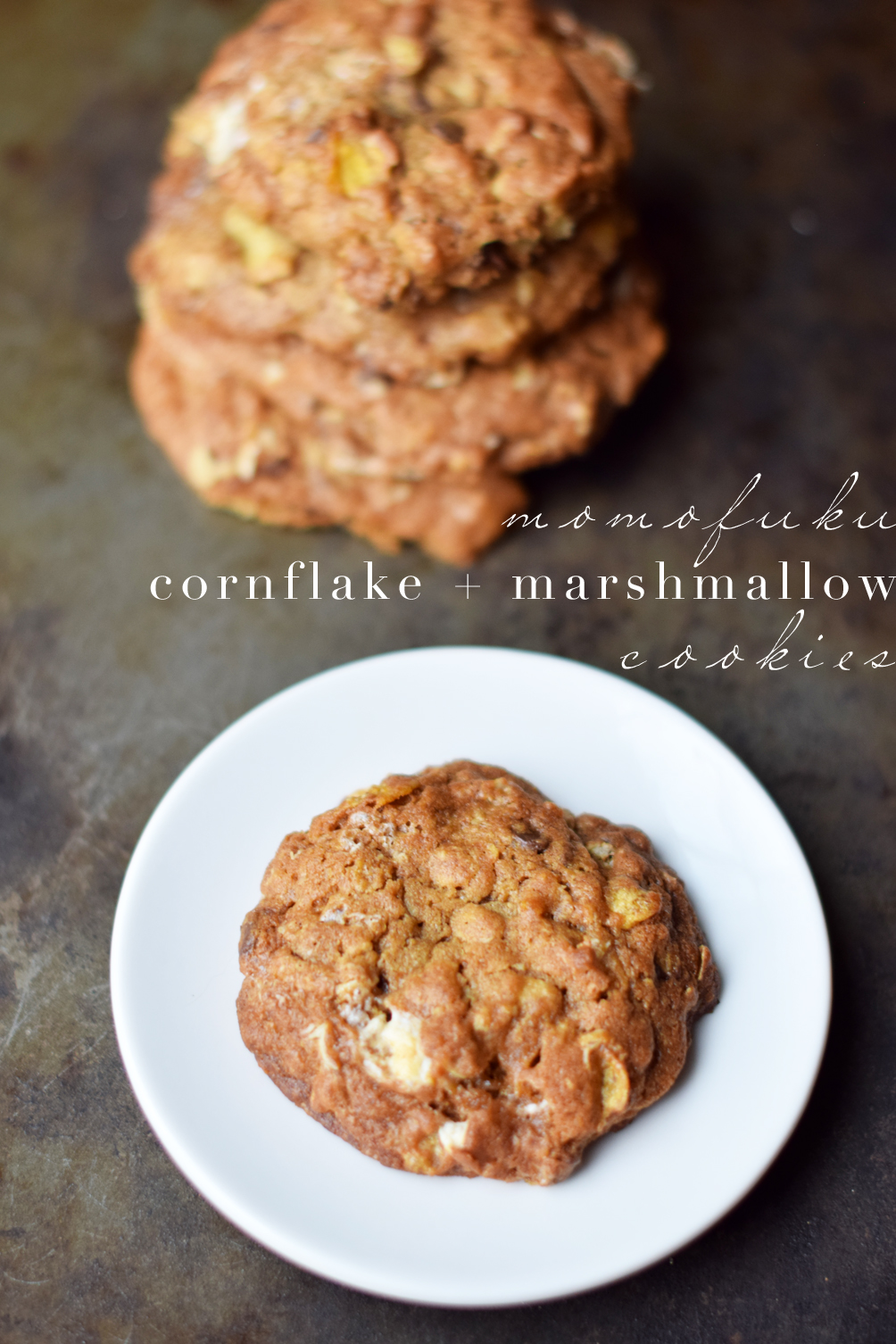 If you've never tried these cookies from one of their original locations, you're going to have to trust me on the ingredient list. Adding cereal and oatmeal may not be the average recipe, but that's because these morsels are way above your average bite. So momofuku cornflake marshmallow cookies are now a household favorite. They are, surprisingly, rather sweet-and-salty as opposed to overly sweet. And the mix of textures is spot on for pleasing every palate. Just make sure you really refrigerate the dough (sometimes, in other recipes, I skip this step and don't notice it–here's it's very important). See full recipe details below.
---
Ingredients
2 sticks unsalted butter, softened
1¼ cups brown sugar, packed
⅓ cup granulated sugar
2 eggs
2 teaspoons vanilla extract
1¾ cups all-purpose flour
1 teaspoon baking soda
½ teaspoon baking powder
1½ teaspoons Kosher salt
½ teaspoon cinnamon
¾ cup oatmeal
1¼ cup lightly crushed cornflakes
⅔ cup mini chocolate chips
1 cup mini marshmallows
Directions
In a large mixing bowl combine flour, baking soda, baking powder, salt and cinnamon.
In the bowl of a stand mixer fitted with the paddle attachment cream butter and both sugars on medium speed, 2-3 minutes. Crack in eggs and pour in vanilla and beat well. Add dry ingredients and mix until just combined. Incorporate oatmeal, cornflakes, marshmallows and chocolate chips. Refrigerate dough for at least 2 hours.
Preheat oven to 375. Drop rounded tablespoons of chilled cookie dough and slightly flatten on a baking sheet. Bake 15 minutes. Cool on the pan before transferring to a rack to cool completely.