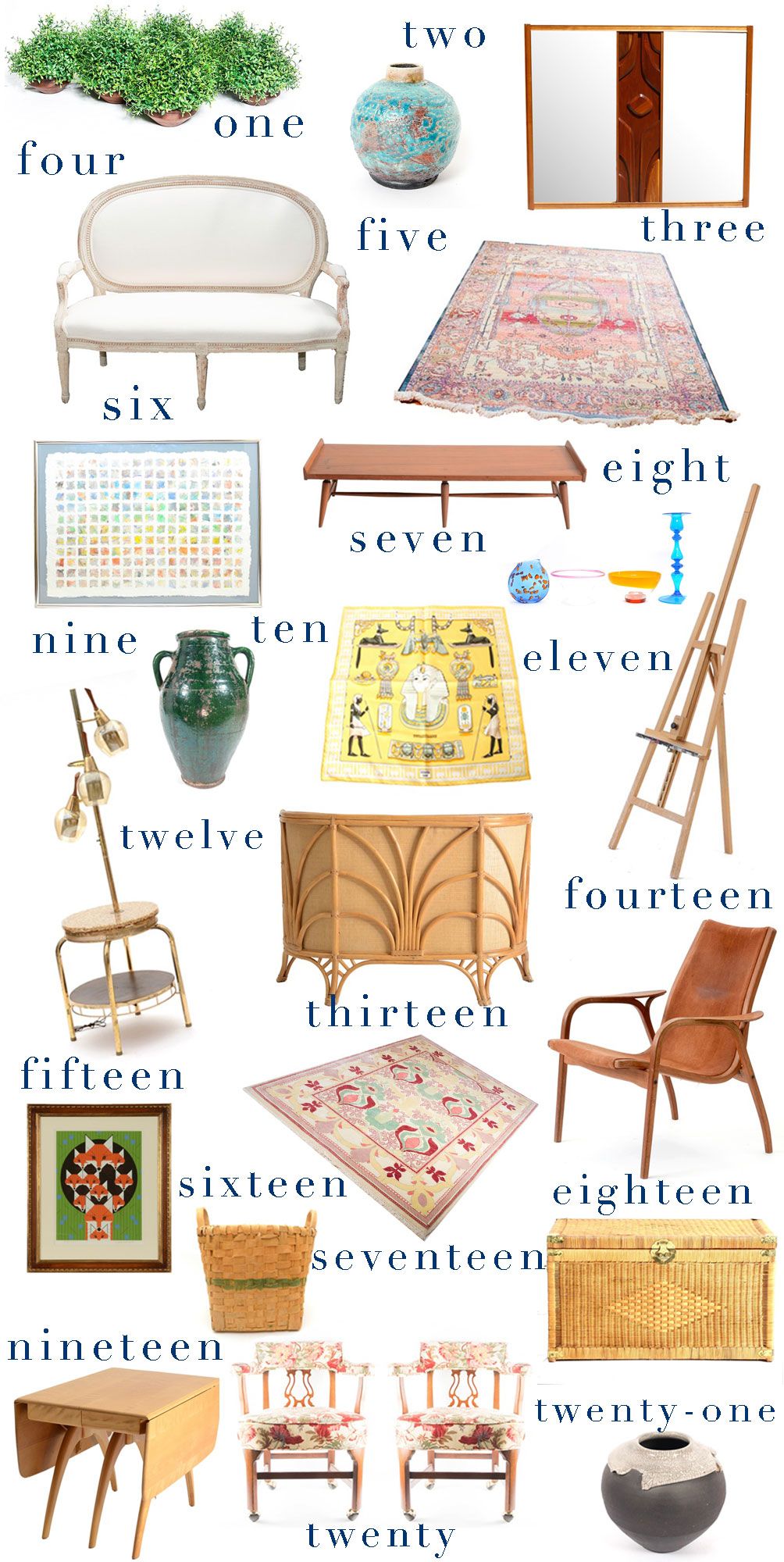 Our recent home tour on Style Me Pretty Living had one thing missing: the upstairs. We have an entire second floor of our condo that's untouched by a decorating hand. In all honesty it simply got shoved to the back burner when we decided to stay and redecorate our home. It has these funky angled ceilings and some odd nooks we weren't ready to conquer. But, now that the downstairs is finished, we're focusing our attention on that neglected area. And, similar to the way we approached the rest of the house, our process starts with sourcing key, vintage pieces. And that's where we've fallen in love with Everything But the House. Essentially it's an online estate sale marketplace with constantly changing inventory from around the country.
I've been combing their site, getting inspiration and finding furniture as well as decor items to stock the upstairs. While I want it to feel  connected with our downstairs, I also hope to differentiate the two. So I'm gravitating toward lighter woods tones and bright, punchy accents. Although we're still in beginning stages, here's what has caught my eye so far. And, as our space evolves, I'll be sharing more of the transformation in my home series!
one: a nugget of outdoors to liven up the space
two: enough colorful vases to hold an endless cycle of flowers
three: this intricate mirror with wood detailing for an accent + extra light source
four: feminine furniture with a french country inspired loveseat
five: a focal piece rug with fringe
six: watercolor art with a modernist twist
seven: this simple, sleek bench to line the funky angle walls
eight: a set of lively glassware that'll give vibrance to our bookshelves
nine: one tall urn to accommodate faux branches or greenery
ten: silk scarf to be framed into unique art piece
eleven: an easel as the playful alternative to always hanging artwork
twelve: double-duty lamp that functions as an accent table as well
thirteen: one-stop-shop bar space with some retro flair
fourteen: a masculine chair in leather to contrast the feminine accents
fifteen: this fox print 'cause, well, you know..
sixteen: at least one catch-all basket for blankets etc.
seventeen: another eye-catching rug to either layer together or stand on its own
eighteen: this fun, wicker twist on a traditional chest for extra storage
nineteen: a foldaway table with room to expand for company
twenty: this set of adorable rolling chairs for an office area or simply additional seating
twenty-one: the final vase in a more manly finish to complement our vibe
Thank you to Everything But The House for partnering with us on this post.